UConn Students, Labor Union Organize Events to Oppose 'White Supremacy' of Charlie Kirk, Candace Owens
Ahead of the arrival of Turning Point USA's Charlie Kirk and Candace Owens, student-run and outside organizations at the University of Connecticut have planned events to speak out against them.
The Campus Clash tour has Kirk, the founder of the conservative campus organization, and Owens, its communications director, traveling across the country with special guests to speak to college students at various campuses. On Tuesday, the conservative duo is scheduled to appear at the University of Connecticut, where, according to the event page, they will discuss big government, culture and the political left. Newsweek reached out to Turning Point USA but did not receive a response in time for publication.
Detractors of Owens and Kirk can attend a counterrally, "Stand Against Islamophobia and the Far-Right," intended to be a stance against "elitism, white supremacy and misogyny," according to the Facebook event.
"As Muslims, Jews, undocumented students, members of the LGBTQ+ community, working people, and students of color, we stand resolutely opposed to the ideas and principles espoused by Kirk and Owens," the event's statement read.
Event organizers acknowledged that the University of Connecticut administration cannot provide a "positive solution" to the problem because the regulation of student groups made it more difficult for social justice organization. The organizers noted they'd had difficulties bringing in certain speakers, and as of Monday morning, 11 groups co-signed the event, including:
UConn Muslim Students Association
UConn Students for Justice in Palestine
UConn Bangladeshi Student Association
UConn Revolution Against Rape
Queer Asians and Allies
UConn Black Environmentalists for Social Justice
GEU-UAW UConn Graduate Employee Union
UConn Young Democratic Socialists
UConn Youth for Socialist Action
UConn Stamford Young Democratic Socialists
UConn Campus Antifascist Network
Conservative speakers often face opposition on college campuses, and some detractors pushed for this event to be canceled entirely. Rather than shutting down the Campus Clash event, the counterrally is meant to voice opposition to Kirk and Owens' ideas and serve as an affirmation of the opposing organizations' free speech and organization rights.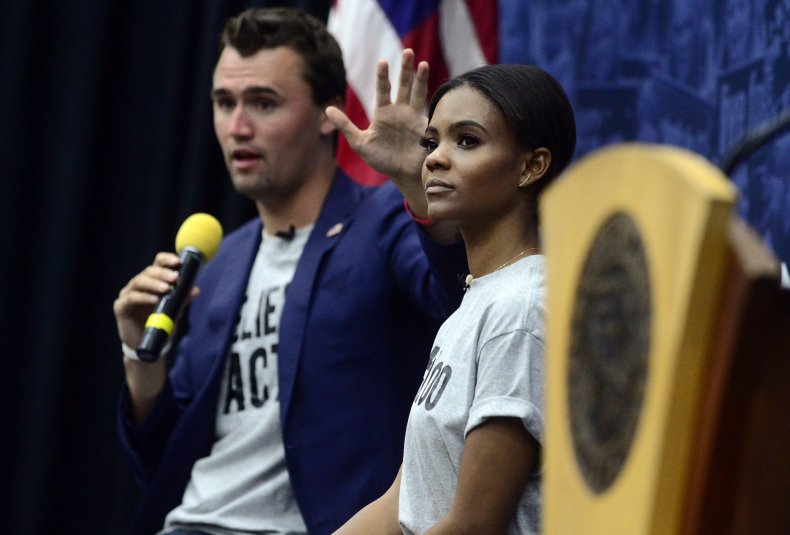 Stephanie Reitz, a spokesperson for the University of Connecticut, told Newsweek that the event was put together by a student organization, which invited the speakers.
"A speaker's presence on campus doesn't mean that UConn as an institution supports or endorses that person's message," Reitz said. "However, we believe universities should be places where differing views can be expressed respectfully, and where our students and other guests can consider and challenge a variety of opinions."
Reitz acknowledged that some events spark strong responses from those who disagree with the speakers' views but said the university's goal is to "ensure that free speech is protected and promoted on campus in a safe manner, regardless of the content."
The student-led coalition isn't the only group to hold an event countering Kirk and Owens. In partnership with the New Haven Antifascists, the Connecticut branch of the Industrial Workers of the World, a labor union, is hosting a separate protest at the university.
By allowing Kirk and Owens, which the group labeled "xenophobic bigots," to speak, the protest accused the university administration of putting the campus and community at an increased risk of hate crimes.
Aaron Stephens, who is with Industrial Workers of the World, told Newsweek the goal of the event is to amplify the voices of those targeted by Turning Point USA's "xenophobic, genocidal agenda."
"We will be outside, in the public eye, so that the campus community can see that there is a loud and angry opposition to hate crimes and the deeply authoritarian white nationalism of the Trump administration," Stephens said. "We hope to connect with other anti-fascists who show up that are willing to fight back."
Stephens wished the other event well but said his organization decided it couldn't be scared away from "opposing fascist incitement and recruitment."