Two UConn Students Could Face 30 Days in Jail for Arrest For Shouting N-Word on Campus
Two University of Connecticut students were arrested Monday night after shouting the N-word on campus and the comment could land them in jail for 30 days.
Jarred Karal, 21, and Ryan Mucaj, 21, were charged under Connecticut General Statute 53-37, with ridicule on account of creed, religion, color, denomination, nationality or race. As a class D misdemeanor, the charge comes with a maximum term of imprisonment of 30 days, according to Connecticut law.
"It is supportive of our core values to pursue accountability, through due process, for an egregious assault on our community that has caused considerable harm," University President Thomas C. Katsouleas said in a statement.
On October 11, three male students were videotaped shouting the N-word as they walked through the parking lot of the Charter Oaks Apartments, which is on-campus student housing. The video circulated on social media, prompting outrage among students, who met with officials Sunday night and protested Monday. They called for the administration, which launched an investigation in addition to one conducted by the UConn Police Department.
Stephanie Reitz, UConn's spokesperson, told Newsweek the UConn Police Department determined that the third student, who was present at the time of the incident, did not participate in the behavior that landed Karal and Mucaj in police custody.
Data showed hate crimes and white supremacy propaganda on college campuses have increased since 2016. The Anti-Defamation League and the Southern Poverty Law Center raised concerns about the rise in incidents and hateful rhetoric, which makes campuses uncomfortable and possibly unsafe for students of color and possibly a recruiting ground for hate-based organizations.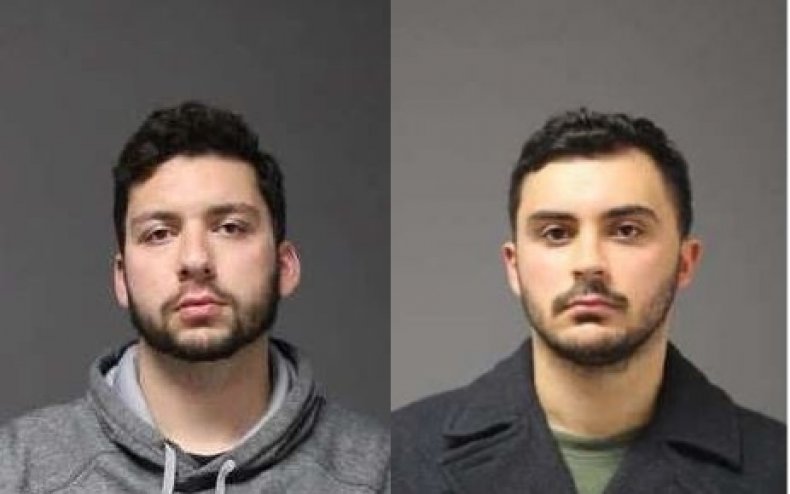 UConn police officers said that the three students left a local business and were playing a game that involved yelling vulgar words before they shouting the racial slur on campus.
Karal and Mucaj are due back in Rockville Superior Court on October 30. They may not be the only UConn students to face a judge. The day after the incident in the Charter Oaks Apartment parking lot, a student claimed members of Delta Epsilon Psi fraternity called her a racial slur. Reitz told Newsweek the incident occurred off-campus and therefore was outside the school's jurisdiction, but said it was reported to Connecticut State Police.
On Monday, the NAACP UConn executive board called the pair of incidents "highlights of bigotry and the regurgitation of white supremacy" and released a list of demands in a letter to the editor of The Daily Campus, the student newspaper. Their requests included the creation of specific guidelines and punishments for racist and hate speech incidents, as well as, a required First-Year Experience course that would convey the consequences.
"As representatives for students of color on this campus, we are on high alert," the NAACP UConn executive board wrote in the letter. "If the university does not adequately address and handle these occurrences of racism appropriately, it will create a culture in which racism is tolerated and normalized."
Correction 6/14/21: Newsweek did not intend to imply that Nicholas Roy Cody, a member of the Delta Epsilon Psi fraternity, used a racial slur or acted in a racist manner in connection with the above-reported incidents. He did not. Nor was any member of the Delta Epsilon Psi fraternity involved in the Charter Oaks incident. Newsweek apologizes for any implication to the contrary.