The UEFA Champions League Is a Cure for Sport's Winter Doldrums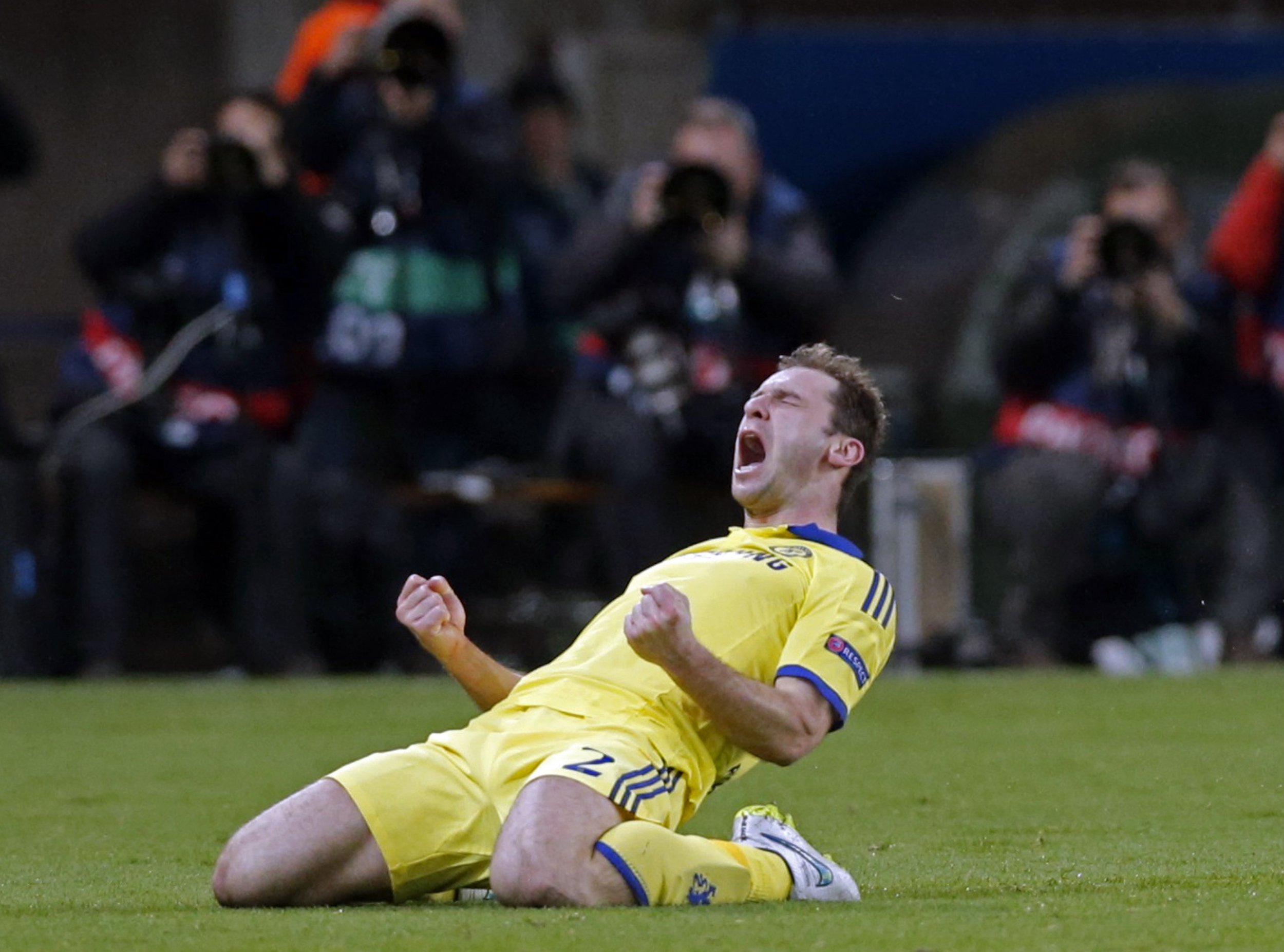 February's latter fortnight has long been viewed as a fallow period for the American sports fan. The Super Bowl is over--in New England, talk has turned from Belichick and Brady to blizzards. Basketball is in its doldrums, as the NBA recovers from its All-Star Weekend hangover and college basketball is weeks away from March Madness. Baseball umpires are still a few weeks from bellowing, "Play ball!" in early March, and even then only for spring training games.
These are the dog days, and not just because the Westminster Kennel Club dog show was staged earlier this week at Madison Square Garden. ESPN is actively endeavoring to engage us in World Cup Cricket and the glorified livestock show that is this weekend's NFL Combine. What is an American sports fan to do other than stare out the window at a driveway that needs more shoveling while feigning interest in the Oscars?
Actually, there is something. The most popular sport on the globe, soccer, is in the midst of waging its most glorious tournament: the UEFA Champions League. While we Yanks may be more aware of the World Cup ("I believe…!"), a quadrennial happening, the Champions League takes place each year on the European continent, pitting the world's premier clubs and players against one another.
"Expectations are high and the big boys are out," says Fox Sports soccer analyst Warren Barton. "It's a massive world market of world stars."
The Champions League is a 32-club tournament composed of teams that were either the previous year's champions or high finishers from manifold European domestic leagues. Some leagues, such as England's Premier League, Germany's Bundesliga and Spain's La Liga, may qualify as many as four teams, while more than half of the 54 member European nations must play qualifying rounds in hopes of securing at-large berths. This year, for example, Gibraltar earned a spot.
Four of the seven most valuable franchises in all of professional sports, according to a 2014 Forbes magazine study, are European soccer clubs: Real Madrid (1st), FC Barcelona (2nd), Manchester United (3rd) and Bayern Munich (7th). Only Man U. is not taking part in the knockout stage, while three other clubs in Forbes's Top 50 (Arsenal, Chelsea and Manchester City) are.
The soccer oligarchs are only getting wealthier: Last week the Barclays Premier League in England announced a three-year (2016-2019) domestic rights television package of $7 billion. That's not quite what the NBA and NFL garner in their rights deals, but it is more than Major League Baseball collects and represents a 70% increase from its existing package. Other prominent Europeans domestic leagues, such as the Bundesliga and La Liga, certainly took notice.
Because the wealthiest soccer clubs are all based in Europe, the world's top footballers from all over the globe call Europe home. And thus, the Champions League boasts even more top talent than the World Cup.
"You look at someone like Zlatan Ibrahimovic," says Barton. "He's from Sweden, which has not qualified for the past two World Cups. But he's one of the top strikers in the world and he plays for Paris Saint-Germain."
That French club earned a draw on Tuesday versus Chelsea, which currently leads England's Premier League and won the Champions League final in 2012.
Also, Gareth Bale is a Welsh winger who is regarded by many as the world's top player 25 years or younger, but you did not see him in Brazil last summer--Wales last qualified for the World Cup in 1958. However, Bale did score a goal in extra time of last May's Champions League final as his Real Madrid side, which also employs the man who is currently the world's top player, Cristiano Ronaldo, defeated their crosstown rivals, Atletico Madrid, 4-1. That match took place in Lisbon, Portugal.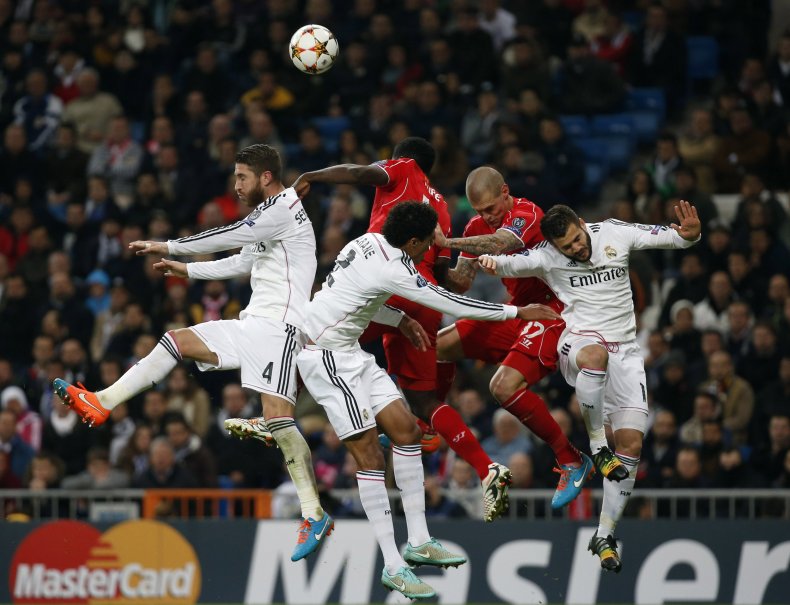 That, too, is part of the beauty of the Champions League, for which there is no true analog in American sport. Last year's final pitted two clubs from the same city and the year before it had two sides from the same country (Bayern Munich and Borussia Dortmund from the Bundesliga). However, the final is no less likely to pit two sides from different countries meeting in a third sovereign nation, as most recently happened in 2010 when Internazionale, an Italian club from Milan, defeated Bayern Munich in Madrid.
"It's a tournament that transcends borders," says Barton, a former English footballer. "In fact, it even perseveres during matters of national crisis."
To wit, Tuesday's match between Bayern Munich and Shakhtar Donetsk took place 750 miles west of the latter club's home venue. Why? Because Donetsk is situated in the eastern portion of Ukraine, which Ukrainian troops and separatist rebels have transformed into a war zone. Shakhtar's state-of-the-art home turf, Donbass Arena, which opened in the summer of 2009, was damaged by shelling last October. Some of the team's players evacuated their homes with no more than the clothes on their backs.
Still, Tuesday's match took place on Ukrainian turf, in the western city of Lviv. And Shakhtar Donetsk, decided underdogs, played the mighty Munich-based team, which features a few stars from last summer's World Cup champion, Germany, to a draw.
The Champions League may be the most brilliant idea hatched in Europe since Gutenberg's printing press. The tournament is flush with the sport's biggest names. Beside Ronaldo and Bale, there is FC Barcelona's three-headed South American monster of Lionel Messi (Argentina), Neymar (Brazil) and Luis Suarez (Uruguay). Bayern Munich has World Cup heroes Thomas Muller and Bastian Schweinsteiger of Germany as well as Dutch standout Arjen Robben. Chelsea has Belgians Eden Hazard and Thibaut Courtois, the latter of whom is considered the world's best goalkeeper. And Manchester City has Ivory Coast legend YaYa Toure, whose name, let's face it, is simply fun to pronounce.
Although the current tournament began way back in July with qualifying rounds, it started in earnest this week as the 16 remaining sides commenced the knockout round stage. All autumn the field winnows itself in half, from 32 to 16, via a group stage: eight pods of four teams each playing home-and-home legs so that every side plays six matches. All of this takes place, remember, as sides also compete in their domestic leagues.
Once the group stage matches are completed, the top two teams from each pod advance. That is when the Round of 16, which began on Tuesday, commences and the real fun starts.
Unlike March Madness, the Champions League Round of 16 is not a single-elimination format. Teams play a home-and-home series in this round and all subsequent rounds save the final match. If, after the two legs, the teams each have one win (or a pair of draws), the winner is decided on aggregate goals (who scored more). If there is still a draw, the side that scored more goals as the visitor advances to the next round.
The final match will take place on June 6 in Berlin.
For now, the most anticipated annual soccer event in the world is still a relative sleeper hit here in the U.S. College basketball may have its March Madness--with an opening weekend in which CBS offers noon-to-midnight (and beyond) coverage and partners with as many as three other cable networks to bring 16 games per day on the first two days--but the Champions League has not yet assaulted us Yanks with a February Fervor: It still only airs on Fox Sports 1 (at least until the final) and its two games per day, Tuesdays and Wednesdays over four of the next five weeks, actually kick off at the same time.
While the tournament is celebrating its 60th anniversary this year, the Champions League remains, for the casual American sports fan, an afterthought. For now. "When I travel around America now," says Barton, who is based in Los Angeles, "I see as many kids wearing jerseys from Premier League clubs as I do from from baseball teams."
The Champions League is growing. And for American sports fans awaiting the thaw, it's a great way to get your kicks.