Champions League Bracket 2020: New Format Explained, TV Schedule, Live Stream
Five months after the novel coronavirus pandemic halted European soccer, the UEFA Champions League makes its long-awaited return this weekend with an almost entirely new format.
Liverpool may have ended a three-decade wait for the Premier League title last month but its defense of the Champions League was ended back in March by Atletico Madrid, leaving Manchester City as the Premier League's only representative with a realistic hope in European club soccer's premier competition.
City hosts Real Madrid on Friday night in one of the four round-of-16 ties still to be completed, before the eight teams that have qualified for the quarterfinals travel to Lisbon, where the Champions League will be concluded with a World Cup-style mini-tournament.
Here's all you need to know about the restart.
When does the Champions League restart?
After a five-month hiatus, the Champions League makes its return on Friday, August 7. When the novel coronavirus pandemic ground soccer to a halt in mid-March only four of the eight round-of-16 ties had been completed, with the second leg of the remaining four to be played this weekend.
On Friday, Juventus hosts Olympique Lyon, while Manchester City welcomes Real Madrid. A day later, Bayern Munich hosts Chelsea, while Napoli travels to Barcelona.
The quarterfinals will run from Wednesday, August 12 to Saturday, August 15, while the semifinals will be held on Tuesday, August 18 and Wednesday, August 19. The final is scheduled for Sunday, August 23 at 3 p.m. ET.
How will the Champions League restart work?
Because of the COVID-19 outbreak, this year's edition of the Champions League will look distinctly different than its previous iterations. The second legs of the four remaining round-of-16 ties will follow the usual path, which means the four teams that played the first leg on the road will be playing at home this weekend—albeit behind closed doors.
To minimize travel and limit the amount of games teams will have to play at the end of a season that began 12 months ago, UEFA—European soccer's governing body—has introduced a World Cup-style format from the quarterfinals onward. The eight teams that qualify for the quarterfinals will play out a mini-tournament in Lisbon with single-elimination games as opposed to two-legged ties traditional in the quarterfinals and the semifinals.
Additionally, UEFA has already drawn the four quarterfinals and two semifinal ties, meaning each of the 12 teams remaining in the competition already knows who its future opponents may be.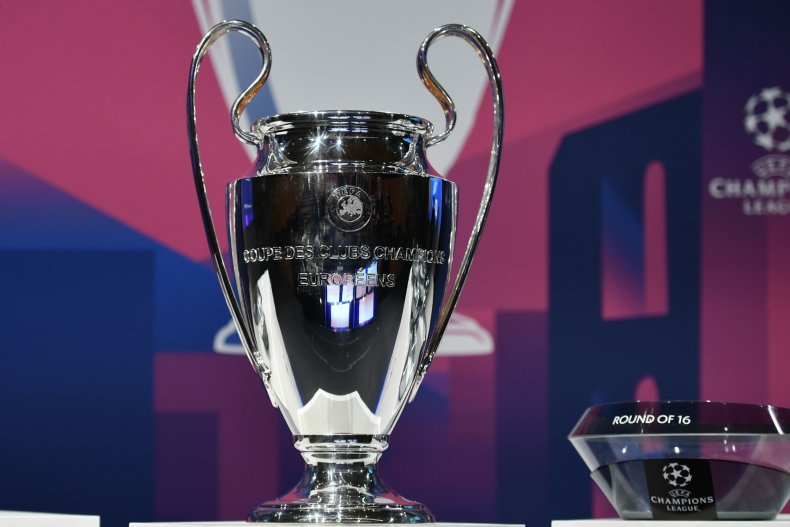 Which teams are left in the Champions League?
The Champions League lost its holders just before COVID-19 ground European soccer to a halt as Liverpool were eliminated 4-2 on aggregate by Atletico Madrid, one of three Spanish sides left in the competition—along with Real Madrid and Barcelona.
The former, the newly crowned Spanish champions, face Manchester City on the road on Friday looking to overcome a 2-1 loss in the first leg. Barcelona, meanwhile, hosts Napoli on Saturday knowing that a goalless draw would be enough to progress by virtue of having drawn 1-1 in Naples in the first leg.
Friday's second tie sees Juventus hosting Olympique Lyon with the Bianconeri— who clinched a ninth consecutive league title late last month—needing to overcome the 1-0 defeat they suffered in the first leg in France. On Saturday, meanwhile, Chelsea needs a miracle as it travels to Munich to face a Bayern team it lost 3-0 to in the first leg.
TV coverage
CBS will make only a handful of games available on TV, starting with Manchester City's game against Real Madrid on Friday. However, the games broadcast on TV, which include the Champions League final, will air on CBS Sports Network, as opposed to CBS's over-air cable network.
Live stream
All the remaining games in the Champions League this season will be available on CBS All Access, the network's digital hub. CBS All Access' live programming includes local CBS cable stations, as well as CBSN, CBS Sports HQ and ET Live.
CBS All Access can be streamed via Apple and Android platforms, connected TVs, Roku, PlayStation 4 and Xbox One.
For those not wanting to take out a monthly subscription to CBS All Access, a number of games, including the Champions League final, will be available on fuboTV, YouTubeTV and Hulu. Like CBS All Access, the three streaming services offer a one-month free trial.
Champions League TV schedule (All times ET)
Round-of-16—Friday, August 7
Juventus vs. Olympique Lyon—3 p.m., CBS All Access
Manchester City vs. Real Madrid—3 p.m., CBS Sports Network, CBS All Access
Round-of-16—Saturday, August 8
Bayern Munich vs. Chelsea—3 p.m., CBS All Access
Barcelona vs. Napoli—3 p.m., CBS Sports Network, CBS All Access
Quarterfinals—Wednesday, August 12 to Saturday, August 15
Atalanta vs. Paris Saint-Germain—3 p.m., CBS All Access
Red Bull Leipzig vs. Atletico Madrid—3 p.m., CBS All Access
Napoli/Barcelona vs. Chelsea/Bayern Munich—3 p.m., CBS All Access
Real Madrid/Manchester City vs. Olympique Lyon vs. Juventus—3 p.m., CBS All Access
Semifinals—Tuesday, August 18 and Wednesday, August 19
Winner QF 1 vs. Winner QF 2—3 p.m., CBS All Access
Winner QF 3 vs. Winner QF 4—3 p.m., CBS All Access
Champions League final, Sunday August 23
Winner SF 1 vs. Winner SF 2—3 p.m., CBS Sports Network, CBS All Access