UEFA's Proposed Football Police Force 'Completely Flawed'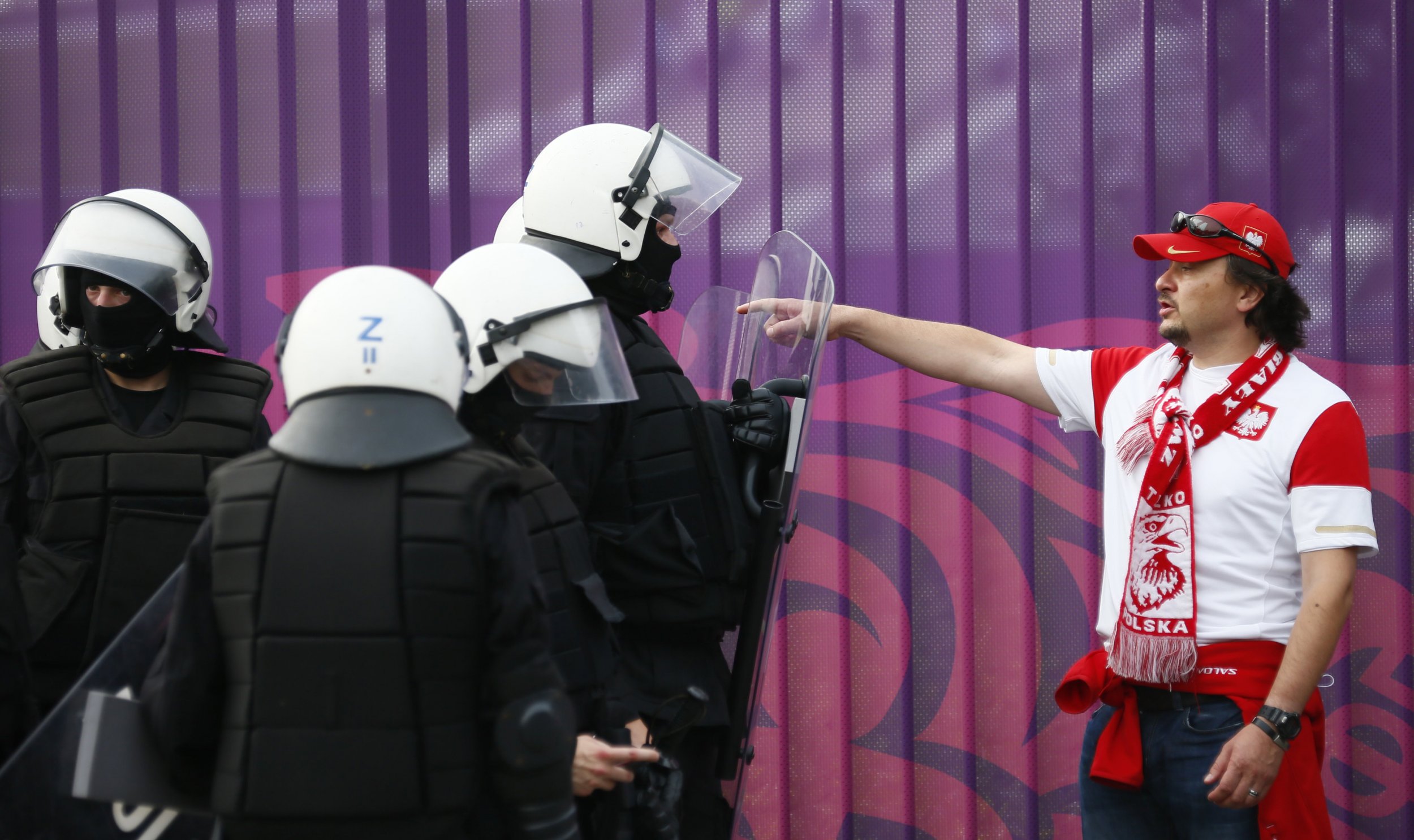 A key European supporters' association and a number of football hooliganism experts have criticised calls from the president of the Union of European Football Associations (UEFA) for a European sports police force to crack down on what he has warned is a rising tide of football hooliganism.
Michel Platini - who was yesterday re-elected unopposed for a third term at the helm of Europe's governing body for football - used his speech at the UEFA congress in Vienna, Austria to warn that football could be returning to the "dark days" of the 1970s and 80s when "hooligans and fanatics made the law in stadia".
He called once again for the creation of a cooperative European police force dedicated to controlling crowds at football matches - an idea he has been pushing since 2007 when he was first elected.
The Frenchman was a star player most notably for Italian side Juventus in the 1980s, and he witnessed first hand the horrors of football hooliganism when his team played Liverpool in the 1985 European Cup. 39 people were killed after rival fans confronted each other leading to a wall collapsing.
Warning that the rise in nationalism and extremism in Europe will be expressed through violence at football matches, Platini said: "I therefore renew my call for a greater awareness in the public authorities so that we don't relive the dark days of the not-so distant past, a past in which hooligans and fanatics made the laws in stadia. In recent months I have been struck by images I thought were a thing of the past. Some of us experienced that past first hand - in my case it was exactly thirty years ago and nobody wants a repeat."
"We can achieve this by hardening our regulations and by the creation of a European sports police force," he added.
Kevin Miles, an elected member of the Football Supporters Europe's (FSE) executive committee, says treating all supporters as part of the problem rather than part of the solution will not help.
"Our primary concern in dealing with hooliganism is it needs to be proportionate and also effective. We are unconvinced that organisational change in the management of the police force addresses either of those issues," he says.
Citing progress made in the policing of football matches in the UK, Miles says a steady approach of spreading best practice across European police forces is the right thing to do, and he criticised the idea of a European sports police force.
"As a fans' organisation we are much more in favour of spreading the best practice and keeping reactions in proportion, than in superficially attractive ideas like a European police force," he says.
"There is often a big difference between sounding tough and delivering productive solutions. Far reaching measures which impact on the mass of fans have proven to be counter productive in the essential task of marginalising the very small numbers of perpetrators of violence."
The FSE has previously criticised UEFA's "collective punishment" of fans, such as forcing teams to play games behind closed doors due to racist or violent incidents perpetrated by a minority of the club's supporters.
Dr Geoff Pearson, a senior lecturer in Criminal Law at the University of Manchester, questions Platini's points about the rising danger of European football hooliganism.
"It's quite dangerous to try and identify that football hooliganism in Europe is increasing," he says. "Certainly overall in the continent I don't see any evidence to support Platini's argument."
Dr Pearson says Platini could have been using the speech to push his proposed European sports police policy, a policy Pearson says would not necessarily work: "There have been some high profile incidents of disorder but not enough to make the kind of statement that football hooliganism is increasing or call for a solution which has no evidence that it would improve matters."
Dr Clifford Stott from the School of Law at Leeds University, who has co-authored and edited books on football hooliganism, goes further. He says that international cooperation around policing fixtures in Europe is one of the most advanced areas of police cooperation in the EU already, and that Platini is "completely wrong" in his approach.
"I think the core recommendation he puts forward is completely flawed. The idea of a European police force is a non-starter. The idea that this is going to be solved through a policing response with the formation of a single European police force is, to be frank, slightly out of his jurisdiction. He may be the president of UEFA but he's not the president of the European Union."
He adds: "The idea he can command the construction of a European police force is rather naive of the complexities of achieving that at a national and international level within the structures of Europe, and it also is rather ignorant of the extensive level of international cooperation that goes on in Europe around football."