Could Conor McGregor Fight Floyd Mayweather Again? Retired Boxer Teases Rematch After 'Notorious' Wins at UFC 246
Floyd Mayweather appeared to call for a rematch with Conor McGregor, after the latter marked his return to UFC by the defeating Donald Cerrone at UFC 246 on Saturday night.
The American retired for a third time in August 2017 with a perfect 50-0 record after defeating McGregor in the Irishman's professional boxing debut. However, Mayweather may soon step into the ring against the UFC star again, if his latest social media post is anything to go by.
Shortly after McGregor defeated Cerrone in Las Vegas, Mayweather shared a promotional fight poster on Instagram with his and McGregor faces on it and "Mayweather McGregor 2 2020" splashed across it.
The not-so-subtle social media post got the boxing world talking, particularly as it comes not long after McGregor reiterated his desire to build his boxing career.
Speaking on Friday ahead of UFC 246, the Dublin-born fighter singled out both Mayweather and Pacquiao as possible opponents.
"I always want bigger and better and to reach for the stars", he said.
"I would love a rematch with Floyd Mayweather and I know the Manny one is there whenever I want it.
"I would be honored and love to be the first combatant to fight in that arena [the new Allegiant Stadium in Las Vegas] and what a fight that would be against a small and powerful southpaw [Manny Pacquiao].
"We would have to figure out the weight we do it at, but it interests me no doubt."
UFC President Dana White has previously indicated McGregor's next fight should be a rematch of UFC 229, when he lost by submission in the fourth round to Khabib Nurmagomedov.
However, White admitted he was working with Mayweather, although he declined to provide precise details.
"Floyd and I have been talking tonight," he said.
"We're doing something with Floyd. There's so much going on, but Floyd is in our plans and we are in Floyd's plans this year. We'll end up doing something."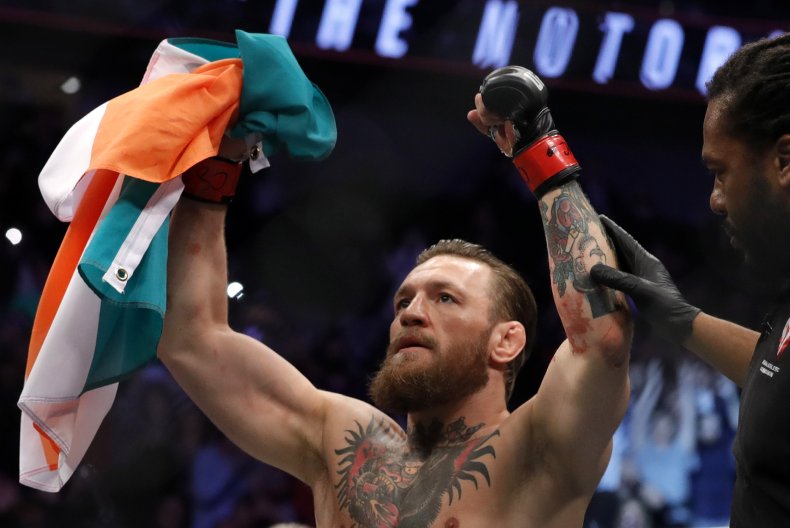 McGregor was typically adamant of his chances of meeting Mayweather in the ring again, despite the fact the 42-year-old American hasn't fought in two years.
"Floyd is going through money fast," the Irishman said.
"He's far from retired. That rematch will happen."
On Saturday night, it took McGregor all of 40 seconds to defeat Cerrone in UFC 246 at the T-Mobile Arena in Las Vegas, Nevada.
The fight had barely begun by the time 31-year-old cracked Cerrone's chin with a head kick and only 40 seconds had elapsed by the time he was declared winner by TKO, the second-fastest win of his career.
"I feel really good," he told reporters after the bout.
"But I came out of here unscathed. I'm in shape. We've got work to do to get back to where I was."