What If Aliens Met Racists? MUFON Resignations Highlight Internal Divisions in UFO Sightings Organization
The Mutual UFO Network, or MUFON, is an all-volunteer organization dedicated to investigating unidentified flying objects (UFOs) in all 50 states and more than 40 countries through a decentralized network of state chapters and local field investigators. While the organization's mission is promoting UFO research and discovering "the true nature of the phenomenon," the most hoped for scenario is, of course, extraterrestrial first contact (unless government Disclosure comes first). Imagine an alien race finally comes to Earth and this is the man they meet.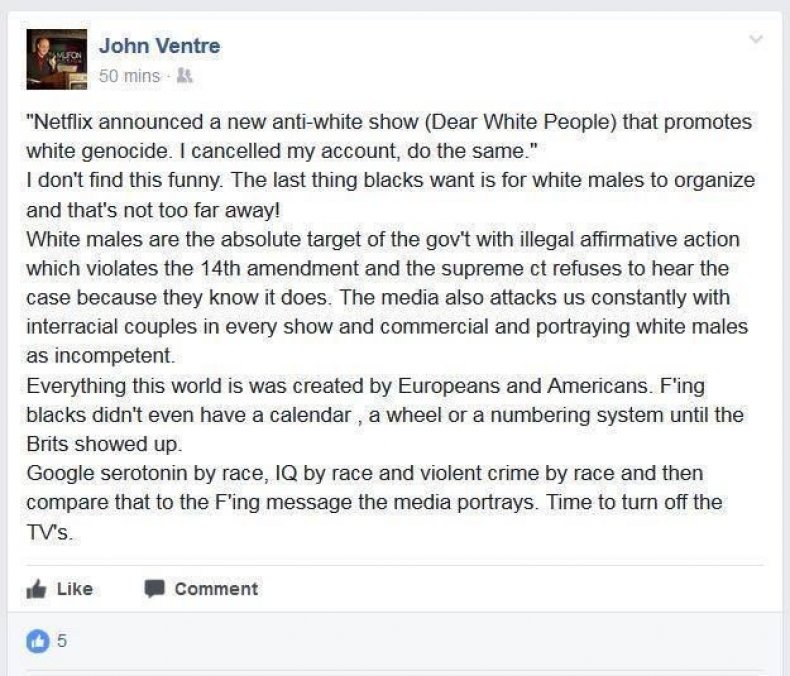 That's John Ventre. He was, until recently, MUFON State Director for Pennsylvania and oversaw field investigations of the most compelling of the state's approximately 600 annual UFO sightings. You may have seen him on History Channel's UFO Hunters or Anderson Live. Ventre wrote this on his personal Facebook page in response to a post from a popular alt-right account characterizing Netflix's Dear White People as promoting "white genocide." He railed against affirmative action and interracial couples.
"Everything this world is was created by Europeans and Americans," Ventre said in the post. "F'ing blacks didn't even have a calendar, a wheel or a numbering system until the Brits showed up." He further alluded to pseudoscientific race science, which has found purchase in the mainstream right, spread by prominent conservative think tank figures like Charles Murray, who wields unjustified extrapolations from existing IQ data to argue against improving living standards for the poor.
Ventre's comments have kicked off a wave of anger and resignations across MUFON, most recently UFO researcher Dr. Chris Cogswell.
Cogswell was named Director of Research for MUFON in January, but announced his resignation from the organization on Twitter in April. "When I first joined MUFON, taking on the Director of Research position, I believed this issue [with Ventre] had been dealt with," Cogswell said. But on April 13, Cogswell learned of Ventre's "continued role within MUFON as an active member" after Ventre emailed him about preparations for the 2018 MUFON Symposium in Cherry Hill, NJ. "Within six hours of finding out I had resigned. My internal conscience would not let me continue," he said.
MUFON boasts nearly 4,000 members and 500 investigators across a coalition of just-the-facts data collectors, alien abductees, far-thinking engineers, conspiracy theorists, ancient alien pseudohistorians, religious visionaries and ufology enthusiasts of every possible stripe. If MUFON is successful, who would the first aliens actually meet? An organization representative of the full spectrum of human experience, or a club of aging white men?
It's a question MUFON is currently struggling to answer, with Ventre's post a crisis point in the organization's ongoing evolution.
MUFON Executive Director Jan Harzan initially responded to Ventre's post in a since-deleted message to the MUFON News page, disclaiming the organization's responsibility for a Facebook comment "many found offensive." Instead of condemning Ventre's words, Harzan blamed the controversy on "the new social media world we now live in" and called for an open dialogue, writing, "There is no justice in hate, no matter what side of the fence you are on. On that we can all agree."

After a deluge of angry responses, punctuated with pushback from MUFON Director of Communications Roger Marsh—who, in between arguing in the comments "white supremacist" is a "pretty heavy label" for Ventre, instead pointed out Ventre's "real" personality defects, including "serving cheap food at his mansion"—MUFON deleted the post and comment field. Harzan's rhetorical question, "Who is worse, the persons posting, or the haters hating?" is still derisively cited by UFO bloggers.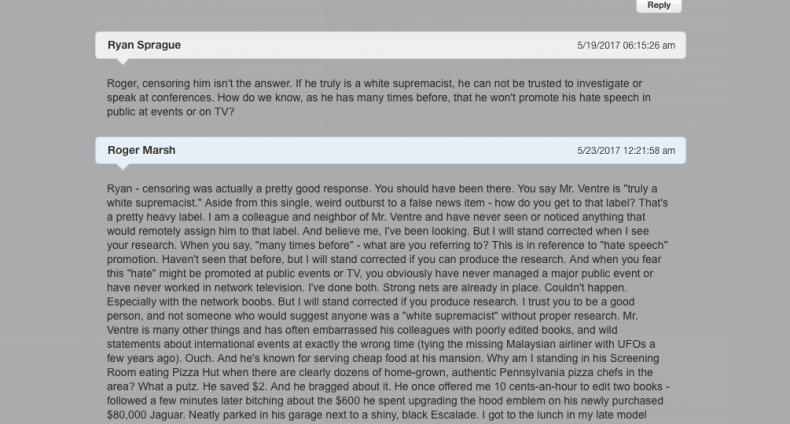 "It's almost comical, in a field where there's so much leeway given to extreme out-of-the-blue, wacky ideas, you would still think there would be kind of a baseline of, well, this is right or wrong," Cogswell told Newsweek.
Another professed goal of MUFON is applying their UFO research toward "improving life on our planet." According to Harzan, meaningful UFO discoveries and disclosures could mean we're only "20-30 years from being out in space, like Star Trek." But Star Trek is more than spaceships, it's also an egalitarian ideal.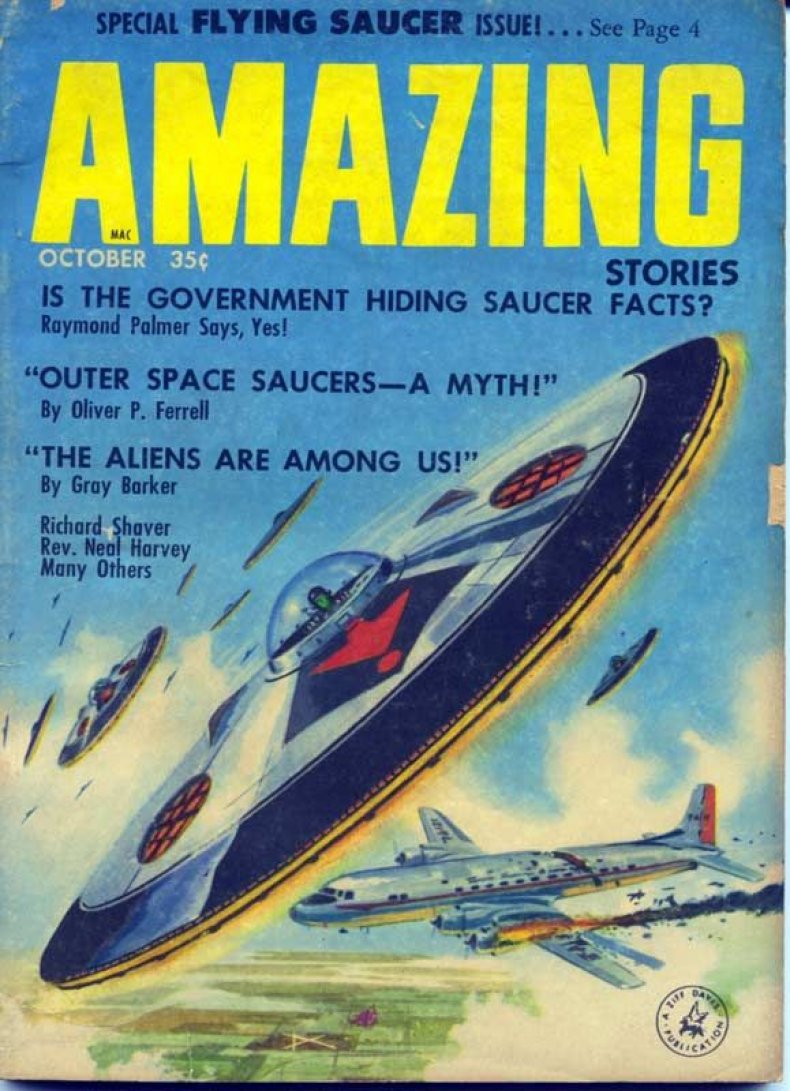 "I felt justified because you're talking about a hate crime of white genocide and I blasted black culture. I apologized the next day," Ventre told Newsweek, alluding to a since-deleted apology also made to his Facebook page. Comparing the possibility of white genocide to The Purge, Ventre professed to be unaware of the term's origins in neo-Nazism as reference to a demographic decline white supremacist groups use to portray prejudice as self-defense, guarding the white race against multiculturalism.
"I don't hate anybody, I apologized for what I said. It was in a fit of anger, it was one time in my entire life," Ventre said, mentioning his multiracial grandson and a black man from his gym for whom he arranged a job interview. "I'm feeling like because I'm a 60-year-old white man I'm getting totally unfairly attacked here."
By the end of May 2017, Ventre was removed from his state directorship, but MUFON's response didn't stop a wave of researchers from distancing themselves. In July, board member and Washington State Director James Clarkson stepped down, citing both Ventre's post and MUFON's association with deep-pocketed donors like J.Z. Knight.
Knight preaches to tens of thousands of followers through her Lemurian warrior persona Ramtha, a 35,000-year-old spirit who leads "spiritual drinking games" while accusing Jewish people of paying their way out of the gas chambers and disparaging Mexicans, homosexuals and "organic farmers." Like Knight, Ventre was also a high-tier "Inner Circle" donor to MUFON.
"Remaining in MUFON in any capacity is morally unacceptable," former MUFON State Director James Clarkson.
Asked for comment after the Cogswell resignation, Clarkson told Newsweek, "There are many excellent state organizations, but money and power have corrupted the top. Same old story."
Current and former MUFON members, including Cogswell, have described Ventre's ongoing involvement in the Pennsylvania chapter. Despite the events of last year he continues to serve as a treasurer and conference coordinator, albeit without a title. Ventre denied having an official position, but clarified both his ongoing involvement in planning the Symposium and day-to-day operations. "People ask me questions, I help them. I'm helping Jan [Harzan, Executive Director] with the Symposium. I wanted him to know I am friends with all these people," he said. "Nothing locally has changed for me."
Harzan disputes that characterization. "He's strictly a volunteer, he attends the local chapter meeting and he volunteers his time," he said.
"It wasn't a condemnation. It was a demotion," UFO researcher and author of Somewhere in the Skies Ryan Sprague told Newsweek. "It's clear that there's a problem. And that problem stretches beyond one man's racist rants."
Even a cursory look around MUFON reveals views similar to Ventre's. Steve Hudgeons Jr., MUFON's Director of Investigations, has shared hundreds of far-right memes on his own Facebook page with anti-immigrant, anti-trans and anti-Muslim sentiments.
"I think some people in their minds have this view of old hippies with crystals," former MUFON Director of Research Dr. Chris Cogswell.
"Demographically, in my experience, MUFON is old; 55 and up for sure," Cogswell said. "There is a pretty good percentage of ex-military, ex-law enforcement people who are very serious about this investigation stuff." This can lead to radically different approaches for how UFO sightings are investigated or perceived. Where Ventre sees occult connections, citing alien abductions interrupted by the abductee calling upon Jesus, Cogswell might argue for a more data-driven approach. "Wouldn't it be great if in five years Ancient Aliens was off TV and we had more serious investigations?" he asked.
The combination of demographics likely to align with far-right viewpoints, and the overlap between UFO researchers and conspiracy theorists, produces an environment that Sprague and others argue can be toxic to minorities.
"MUFON is composed of civilian researchers and investigators from all around the country and in all walks of life," Sprague says. "But when remarks such as Ventre's become public, it is extremely disheartening to know someone like that is in a position to work directly with ethnically diverse and often vulnerable witnesses of UFO events."
Racism isn't the only outcome of MUFON's disinterest in combating prejudice. Erica Lukes, former MUFON State Director for Utah, describes an organization unwilling to adequately address sexual harassment. (Harzan told Newsweek MUFON has a sexual harassment policy for the Symposium and other conferences, but it's not available online).
In 2016, Lukes appeared on California MUFON Radio, hosted by Lorien Fenton, to discuss both her particular experiences and the wider issue of sexism within ufology. "One of the things that I really feel there's a big disconnect in MUFON and in ufology, totally together, is the fact that women out there can be very vulnerable at all these events," Fenton said in discussion with Lukes. MUFON leadership quickly objected to how the organization was characterized.
When Lukes, who also has a radio show, shared her intention to have Fenton as a guest the backlash intensified. An investigator with MUFON's rapid-response Star Team called her to unleash a barrage of abuse. "He proceeded to call me 'a fucking whore,'" Lukes said.
Lukes reported the abuse to MUFON's board, including Harzan and Marsh. "I was crying, this was very awkward for me, but they refused to take any action even though this was a person representing MUFON and I was a State Director."
"It is a male-dominated field, but that doesn't mean anybody should be subject to that kind of abuse and bullying, especially when an organization exists like MUFON to set the standard," Lukes said. She ultimately left MUFON and founded her own organization called Unexplained Utah. "This situation is demeaning and demoralizing. We have to get more women involved and we have to see more women in the field."
Members of MUFON and the wider ufology community are united by incidents both mysterious and beautiful, sometimes frightening. Almost everyone contacted for this article had stories of ineffable encounters that changed the course of their lives. In Utah, Erica Lukes saw orange orbs of light hovering along a ridgeline, breaking apart or melding like cells on a slide. UFO researcher and co-founder of KGRA Radio Lorin Cutts described to me a craft hovering above him on a railway station platform, causing dogs to bark and projecting a heat he could feel on his face.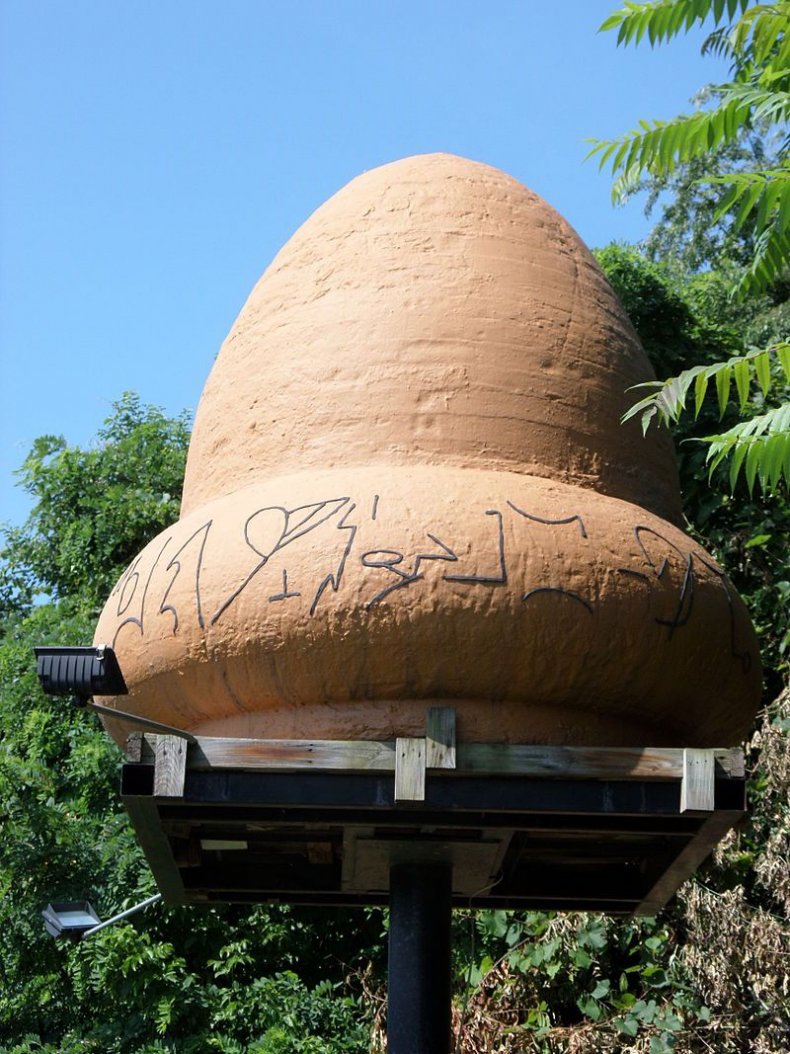 Many shared cases that stuck with them, using shorthand like Kecksburg, or even citing MUFON case numbers, like Case #74282, the Canadian Barbell UFOs. Harzan called it "one of the best cases I've personally seen in 30 years." Lukes described her investigation of American Airlines Flight 434, pilots of which saw a mysterious object over Utah. But a shared sense of awe and curiosity only has so much power to unite. If MUFON hopes to be a unifying organization, one ready for whatever strange future comes our way, it will have to first secure a baseline of dignity and safety for all its members.