From UFO Towers to Tsunami Clocks, Every U.S. State's Most Unique Roadside Attraction
As the U.S. continues to reel from the effects of the COVID-19 pandemic, some travelers are opting for road trips as an option to escape this summer. One of the best parts of a road trip can be the quirky and sometimes unexpected stops you find along the way. From glimpses into American history to a peak into the extraterrestrial realm, there are attractions that appeal to everyone's passions and interests in each of the 50 states.
Here we highlight one roadside stop in each state—all are unique and many don't even require leaving your car to take a quick look and snap a photo.
1. Alabama: Unclaimed Baggage Center
One person's lost luggage is another person's treasure, so thinks the Unclaimed Baggage Center. This third-generation family business based out of Scottsboro, Alabama, is the only place in the nation where visitors can purchase lost luggage. In 1995, it was featured on Oprah as one of America's "best kept shopping secrets."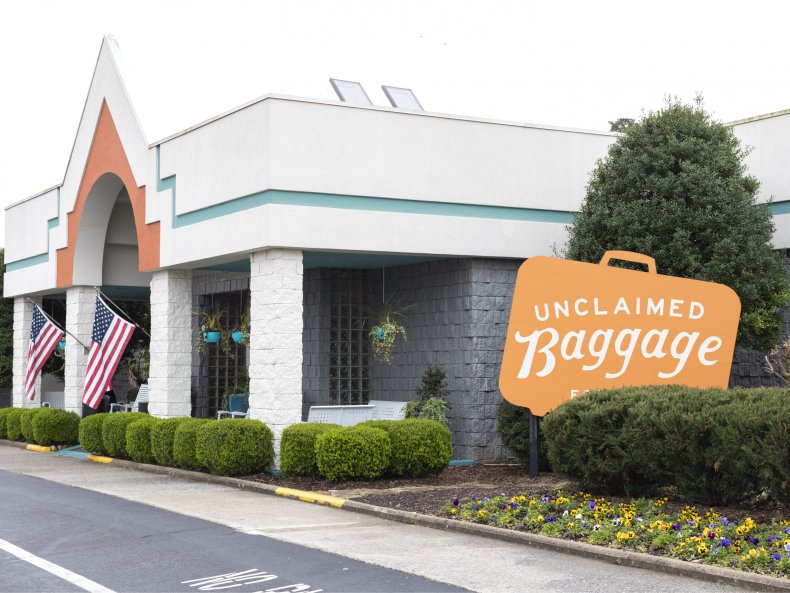 2. Alaska: Santa Claus House
We all know that Santa resides at the North Pole—that's where we send all his letters, right? This Santa Claus House is in North Pole—Alaska. Visitors can see, in person, Santa's home (or one of them) that was built in 1952, roughly 20 minutes from Fairbanks.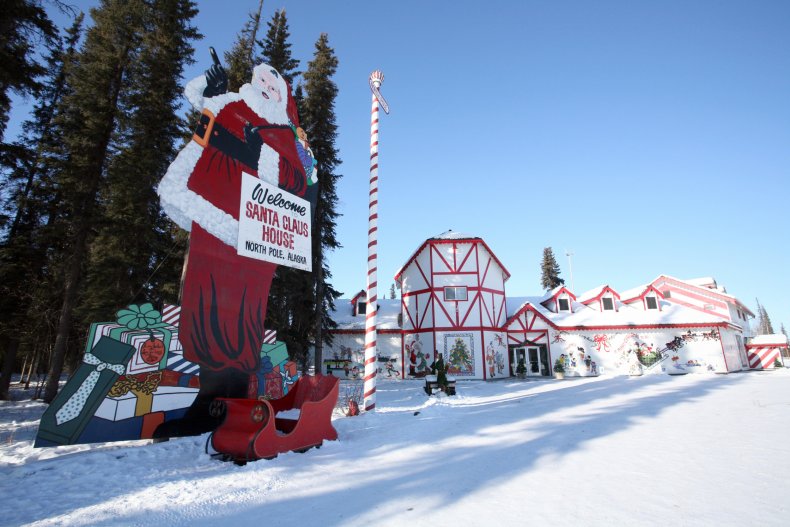 3. Arizona: The Thing Museum
This unique roadside stop in Benson was opened in 1965 by Thomas Binkley Prince who built a tourist stop around his eclectic collection of items. Now, The Thing has become a museum filled with random knickknacks with varying historical significance from a car that was possibly used by Winston Churchill to statues of aliens riding dinosaurs.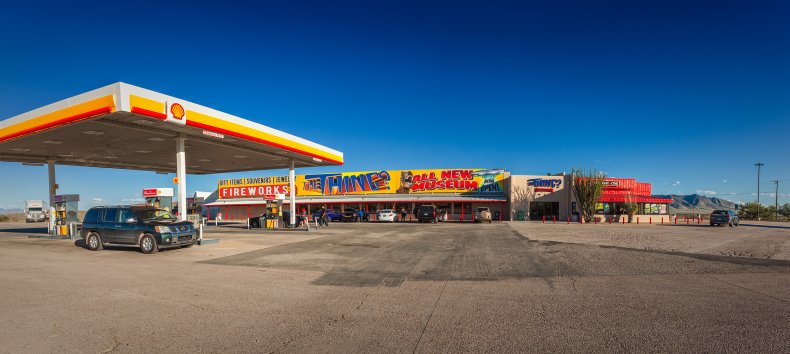 4. Arkansas: Beatles Park
In Walnut Ridge, visitors will stumble upon Abbey Road—not that Abbey Road—but pretty close. The infatuation with the Beatles in this small town dates back to 1964 when the band landed in a small local airport. To remember the occasion the town created Beatles Park, which includes various monuments to the famous foursome.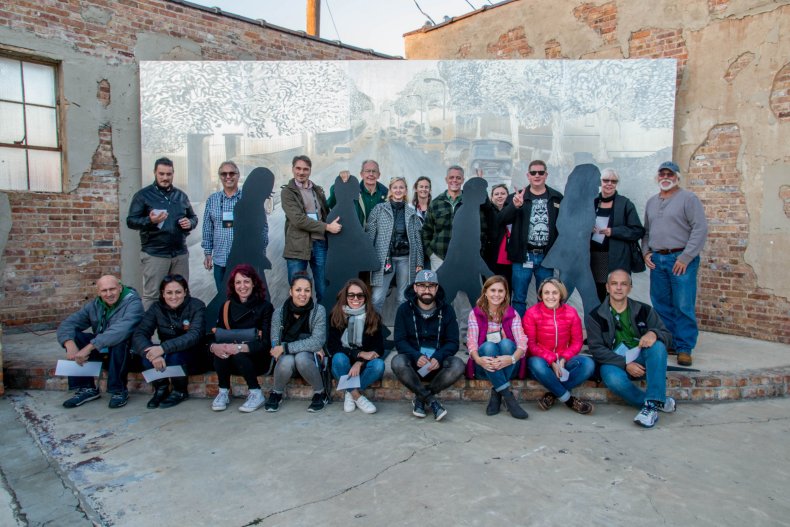 5. California: Salvation Mountain
Salvation Mountain is a colorful roadside stop located in the desert of Southern California. Painted on the side of a man-made mountain is the product of decades of work by Leonard Knight who started creating the mountain in the '80s. It was made as a way to convey Knight's message of love and faith and now it's all over Instagram.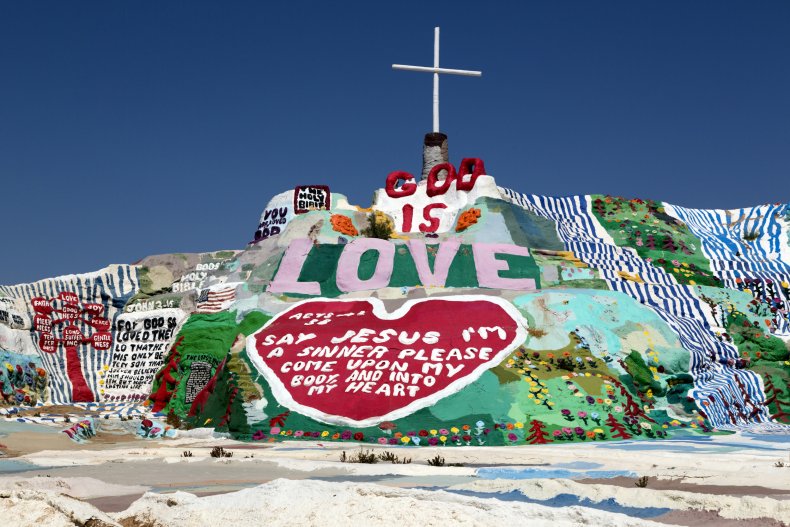 6. Colorado: UFO Watchtower
In the Southwest United States, there are dozens of stop-offs created for those who believe in life beyond this planet. The UFO watchtower in Colorado is visited by alien enthusiasts, and campgrounds are available for those hoping to have a close encounter with the third kind.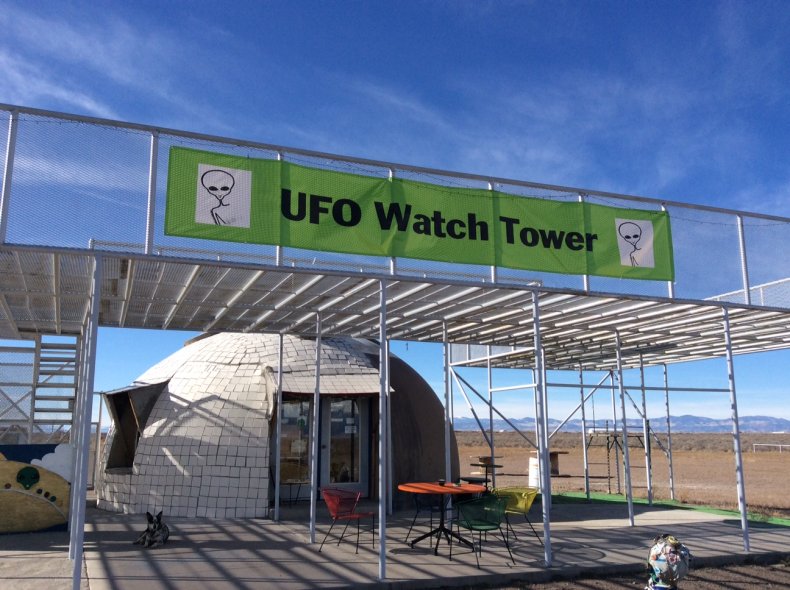 7. Connecticut: New England Carousel Museum
Feeling nostalgic for an old-time amusement park ride? In Bristol, visitors can take a peek at this museum dedicated to the history and preservation of carousels. There is a collection of carousel art as well as out-of-commission carousel horses.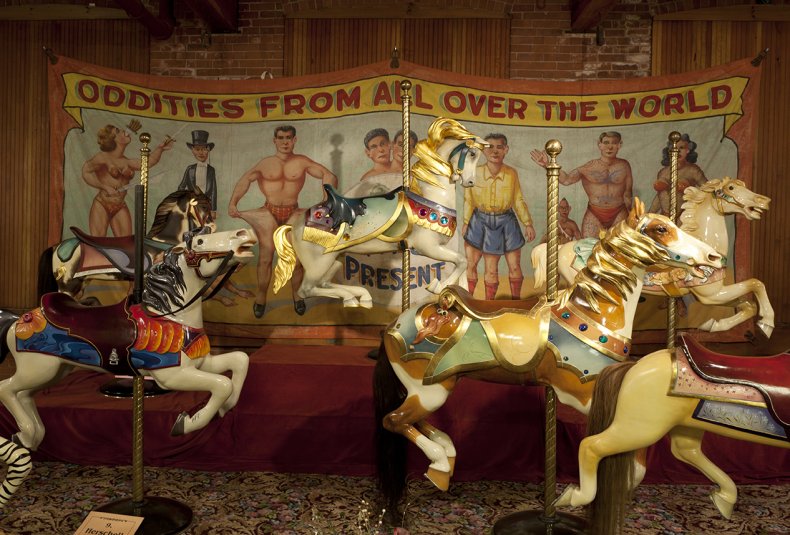 8. Delaware: Fountain of Youth
The Fountain of Youth in Lewes is said to have been discovered in the early 1600s by the area's Dutch colonists. As the name suggests the well was believed to provide water with special regenerative powers.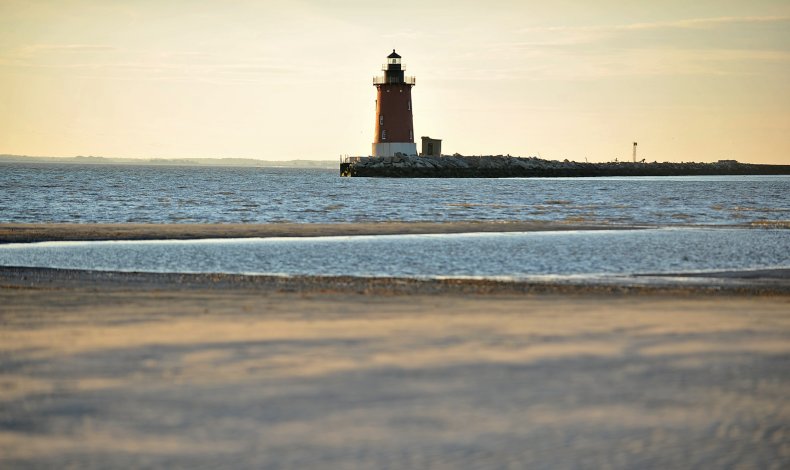 9. Florida: World's Smallest Post Office
Deep down in the Everglades you will likely encounter some sharp-toothed reptiles, but you'll also find the world's smallest post office in Ochopee. Sitting at just about 8 feet by 7 feet there's room for only one mail clerk and serves about 300 people who live in the area.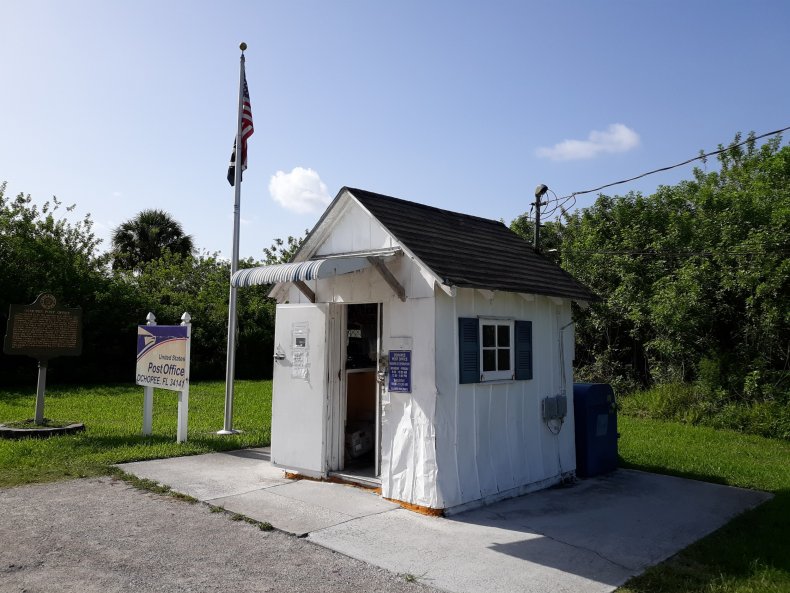 10. Georgia: Lunch Box Museum
If you love the novelty of a vintage square tin lunch box, pull the car over for this one. In Columbus, visitors can find the largest lunch box museum in the world which houses 450 metal lunch boxes created between 1951 and 1985.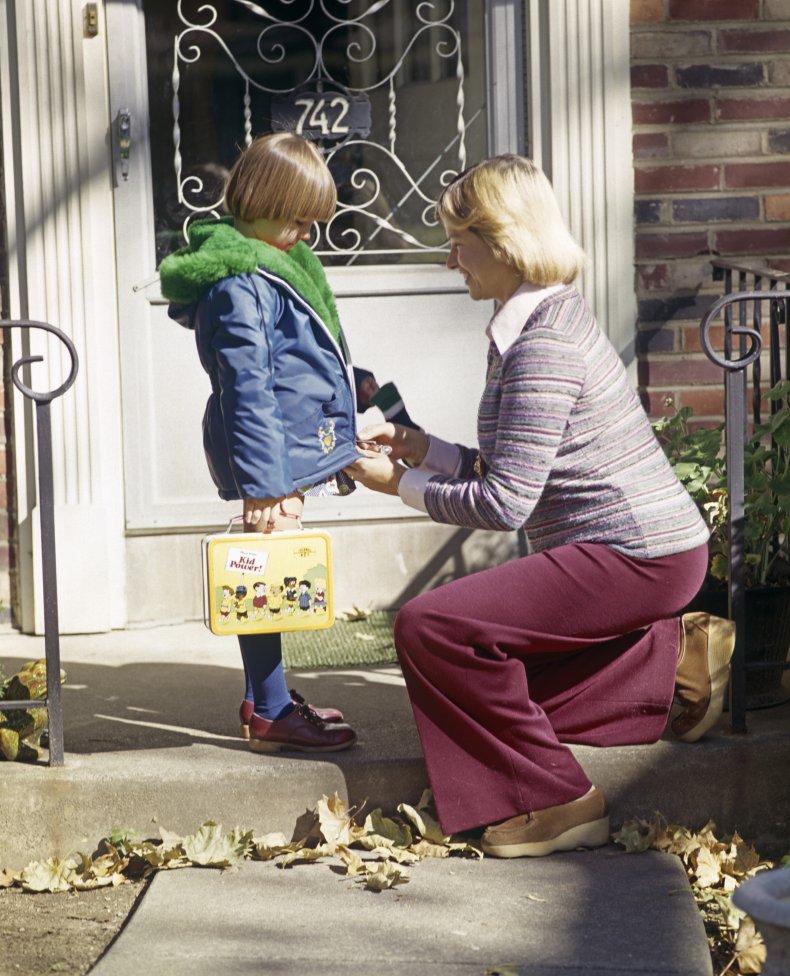 11. Hawaii: Tsunami Clock
See time stopped in Hilo, a large city in Hawaii that has been devastated by tsunamis twice in the past 100 years. This clock was standing in the city when the second tsunami hit in 1960 and though it was refurbished it was never restored so the hands were frozen in time at 1:04 a.m. when the tsunami hit.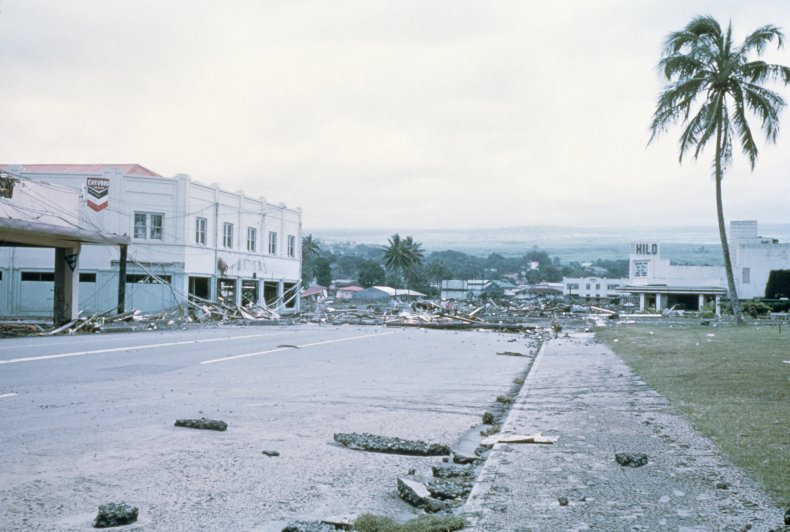 12. Idaho: Dog Bark Park Inn
This quirky stop is a must-see for dog-lovers. Known affectionately as "Sweet Willy" by local residents, the Dog Bark Park Inn is a hotel located along Highway 95 in Cottonwood. You won't miss this hotel shaped as a giant beagle, a bed and breakfast that sleeps four guests; and TripAdvisor users have given it five stars.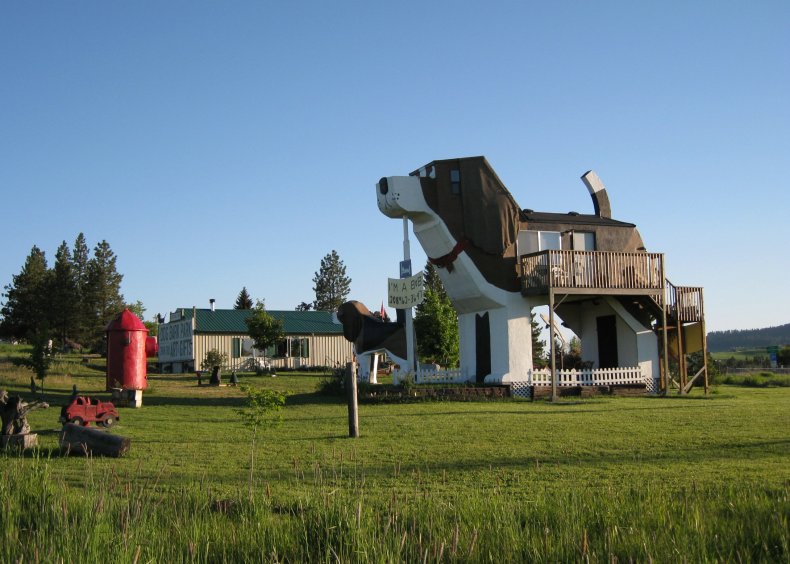 13. Illinois: Luna Café
This eatery along the famous Route 66 in Granite City was once frequented by the notorious mobster Al Capone. As the story goes, there was a secret gambling operation in the basement, and it is said to have been one of Capone's favorite haunts during Prohibition.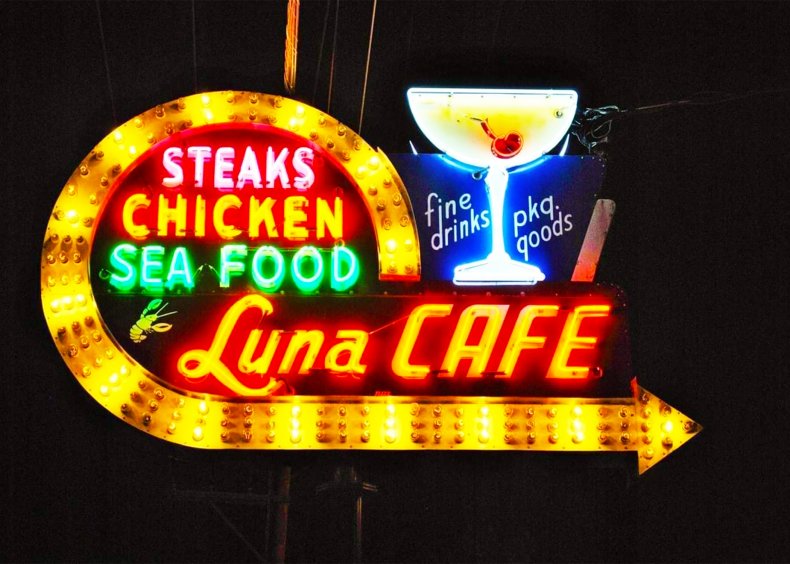 14. Indiana: Old Ben
This taxidermy steer made a name for himself when he was still alive as the world's largest steer. By age 4, he already weighed 4,000 pounds. When he died in 1910, he was stuffed and is now on display for cattle enthusiasts.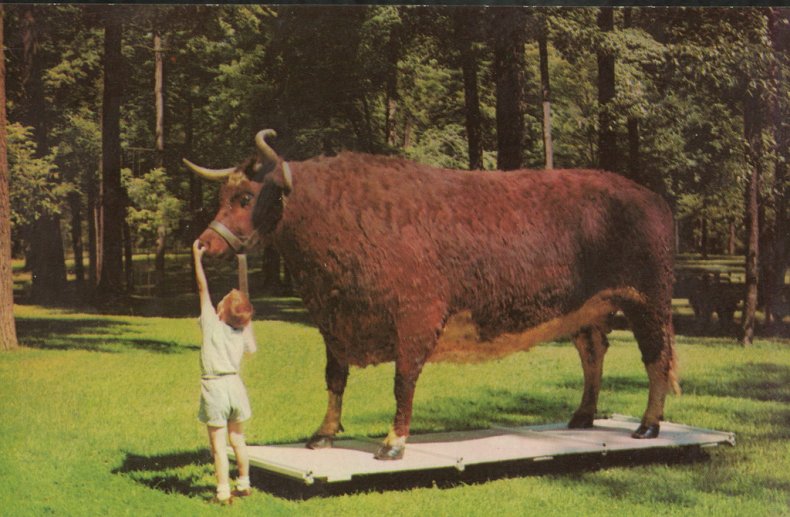 15. Iowa: Baseball field from 'Field of Dreams'
"If you build it, they will come." During the filming of Field of Dreams, this baseball field in Dyersville was built to be used for the film, and now tourists can come and catch a glimpse of a piece of movie history.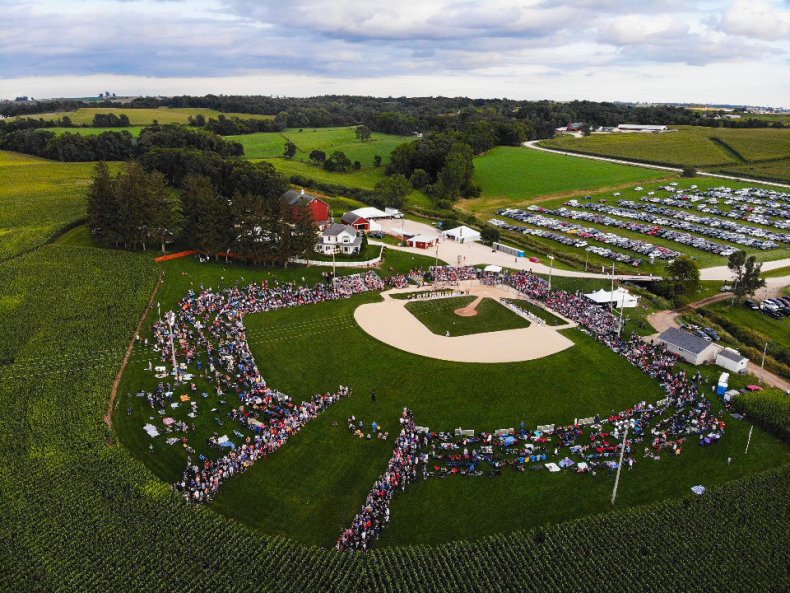 16. Kansas: Dorothy's House
For another look at cinematic history, stop at Dorothy's House on the Coronado Museum grounds in the town of Liberal. The house here is a replica, not the one used in the movie. The film is on repeat in the giftshop which includes various Oz themed merchandise.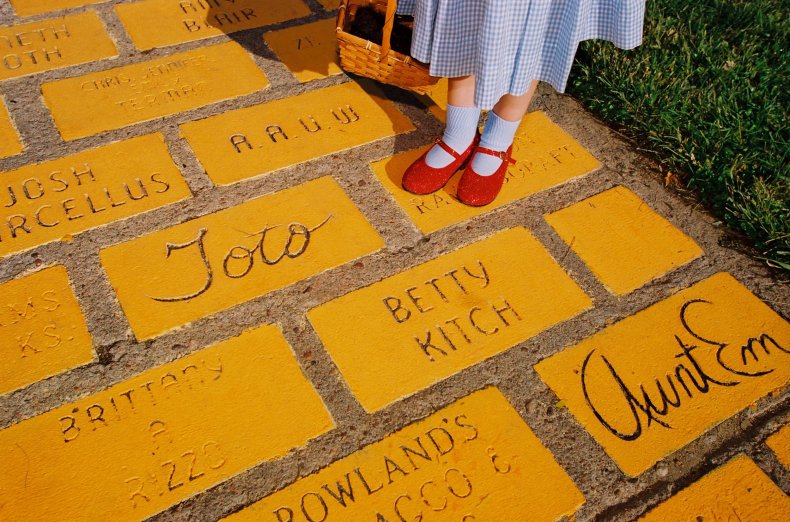 17. Kentucky: Golden Statue of David
So, it might not be as spectacular as the original in Florence, Italy, but this David is pretty close. Along Main Street in Louisville, you'll find a 30-foot-tall replica statue of Michelangelo's David shining in gold. Unlike the original, this version is not carved out of marble but rather foam rubber.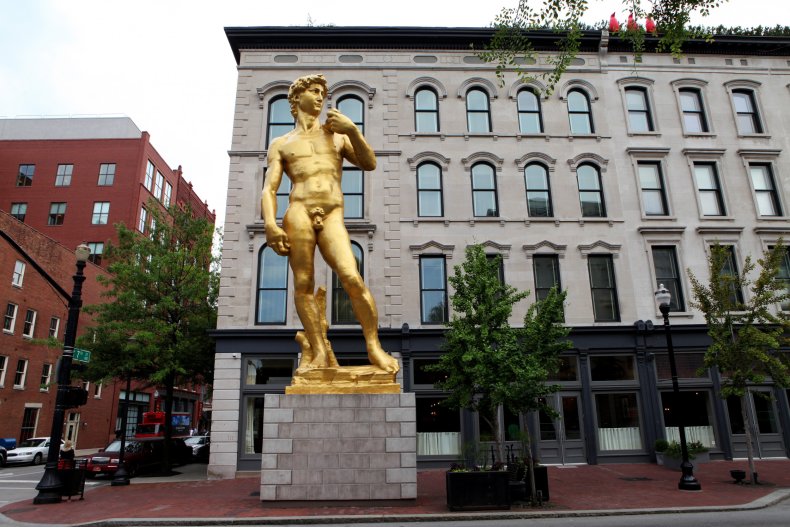 18. Louisiana: Kliebert & Sons Alligator Tours
While you'll find many reptile farms and sanctuaries in the southeast United States, this alligator farm (which is now a sanctuary)in Ponchatoula was the first in Louisiana and has been around for decades. More than its longevity, it is said that some of the over 300 gators that live here are from the original hatching in 1957.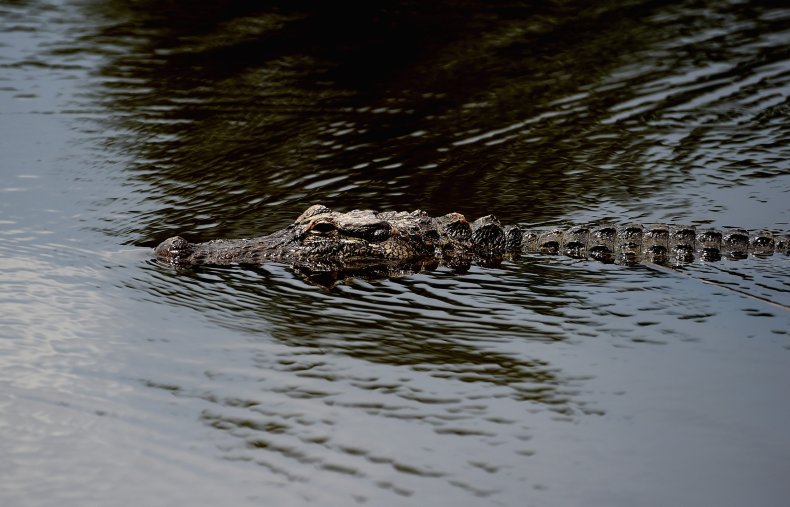 19. Maine: Stephen King's House
The famous horror and science fiction writer was born in Maine and still resides there. The house King lived in for many years is a unique —almost haunted-looking—home that fans can pretty easily identify. The big red house in Bangor is guarded by a black gothic gate donning designs of spiders and bats.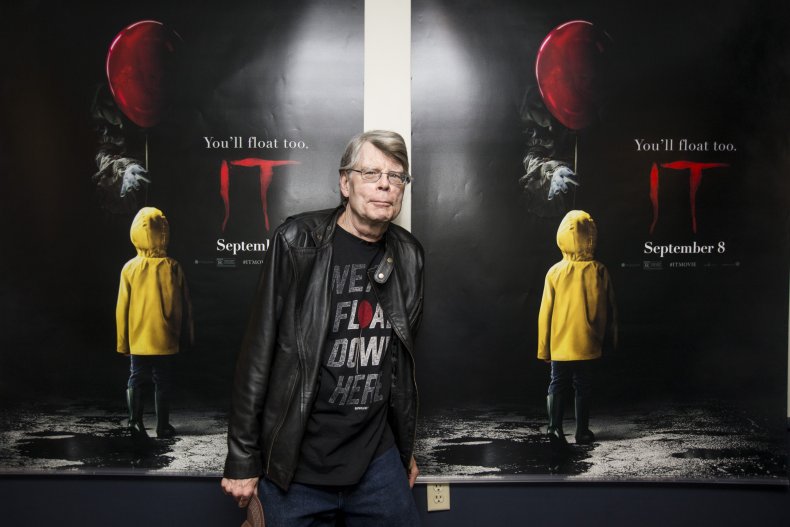 20. Maryland: Noah's Ark
In Frostburg, visitors can find a partially constructed version of Noah's Ark. Years ago, a local pastor claimed he was told by Jesus to build an ark. The intent for the structure was to function as a church, but despite the small fortune used to construct it, it is still unfinished sitting along Interstate 68.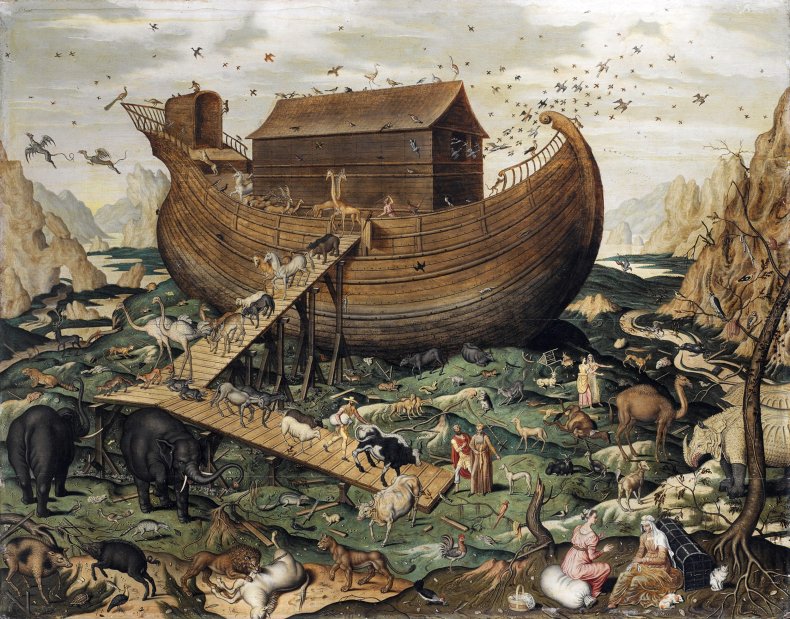 21. Massachusetts: Redstone Schoolhouse
As the name implies, this is a little red schoolhouse in Sudbury. It is believed to have been the place where the nursery rhyme "Mary Had a Little Lamb" was written after a child in the 18th century tried to bring her lamb to this school after getting encouragement from her brother.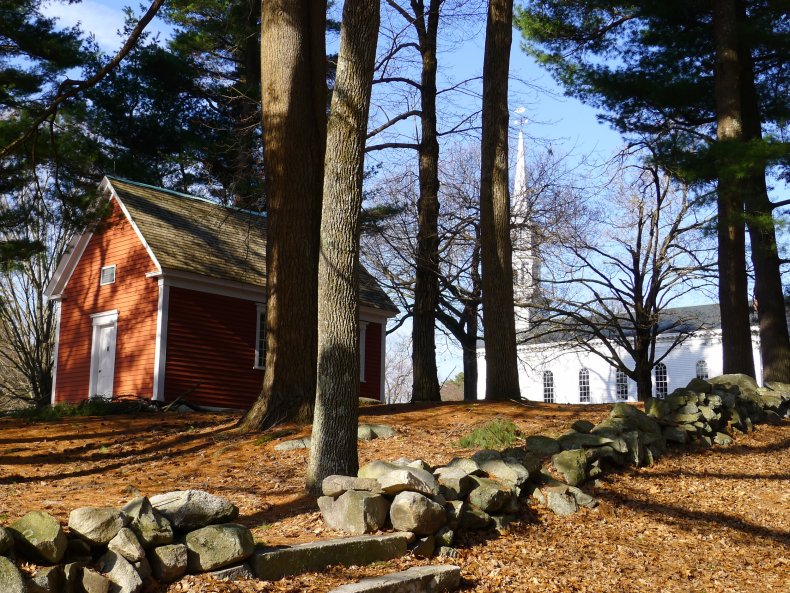 22. Michigan: Dinosaur Gardens
This roadside stop in Ossineke is sort of like a zoo—if you were to visit one millions of years ago. The dinosaur gardens are filled with about 25 life-sized dinosaur sculptures. The garden began as a passion project of Paul Nathan Domke about 85 years ago and has been expanding ever since.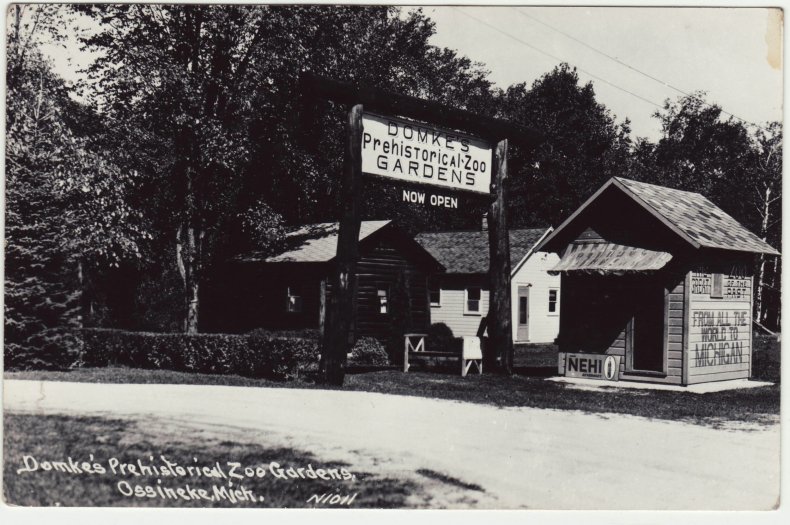 23. Minnesota: Pelican Pete
You might have seen a pelican before, but certainly not one this large. Pelican Pete, who is located in Pelican Rapids, stands at 15 and a half feet tall at the base of the Mill Pond dam and was built in 1957.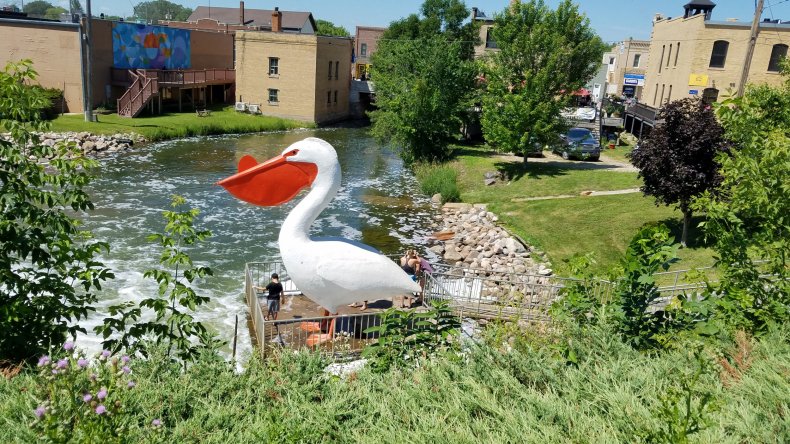 24. Mississippi: Birthplace of Elvis Presley
This two room shotgun house in Tupelo is where the King was born. Built by his father in the 1930s, the Presley family lived here until Elvis turned 2. Along with the house, fans can also visit a museum on the grounds.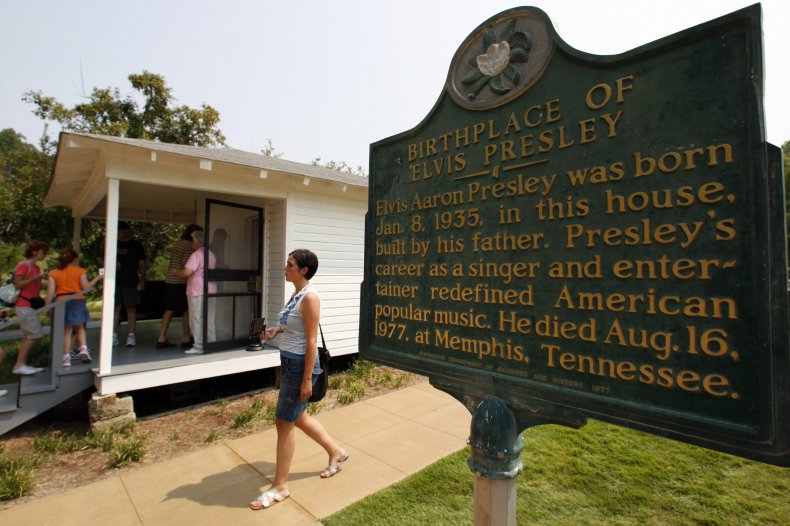 25. Missouri: Leila's Hair Museum
It probably goes without saying, but Leila's Hair Museum in Independence is the only museum of its kind in the world. The museum is not exactly as it sounds, as it is not filled with wigs but rather wreaths and pieces of jewelry constructed out of human hair.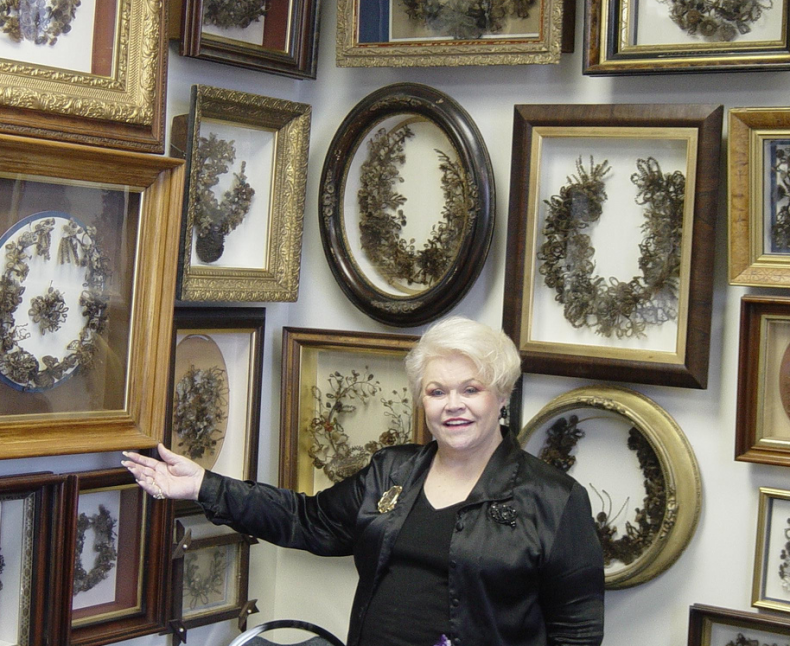 26. Montana: Garden of One Thousand Buddhas
On Flathead Reservation in Arlee, Montana, visitors will find the Buddist Shrine: Garden of One Thousand Buddhas. The number of buddhas is said to be representative of how many buddhas are believed will be born during our religious age.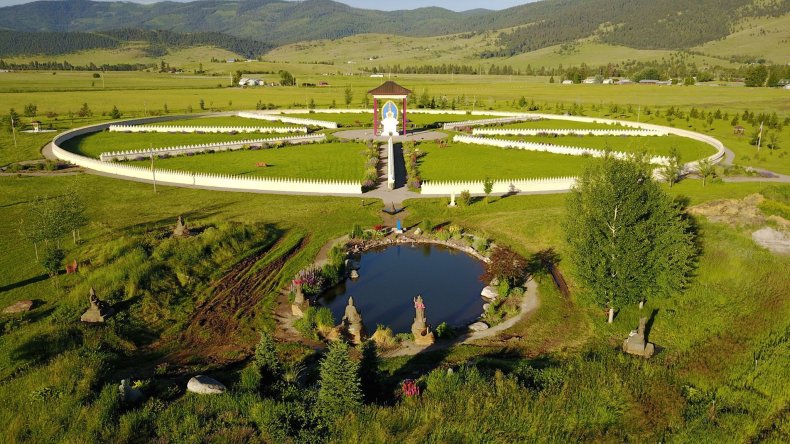 27. Nebraska: The Birthplace of Kool-Aid at the Hastings Museum
Unlike the World of Coke in Atlanta, this exhibit honoring the Hastings, Nebraska, original, Kool-Aid, does not offer a taste test at the end but it has just about everything else Kool Aid related. There is a replica of Edwin Perkins' family general store, old Kool-Aid packing and costumes of the iconic Kool-Aid man.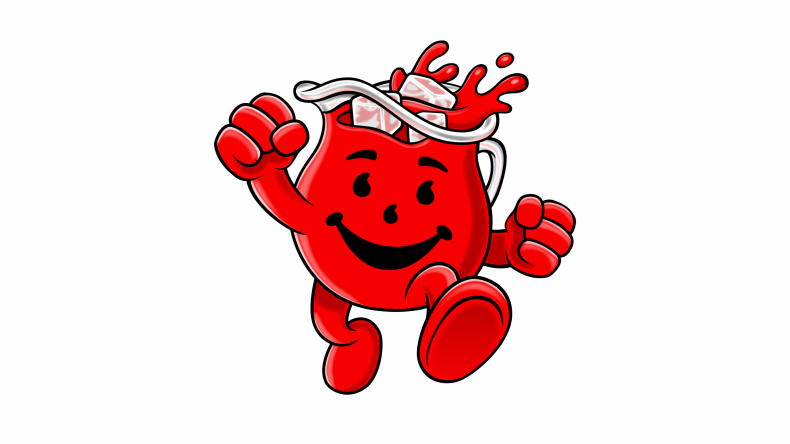 28. Nevada: Alien Research Center
If you're an alien enthusiast, you'll want to take a road trip through Nevada, home to the "Exterrestrial Highway." About 20 miles from the top-secret, but often-talked-about Area 51 is Alien Research Center, which is filled with Alien and UFO merchandise. While off-limits Area 51 can only be a driveby, stop in to the Alien Research Center in Hiko for your out-of-this-world fix.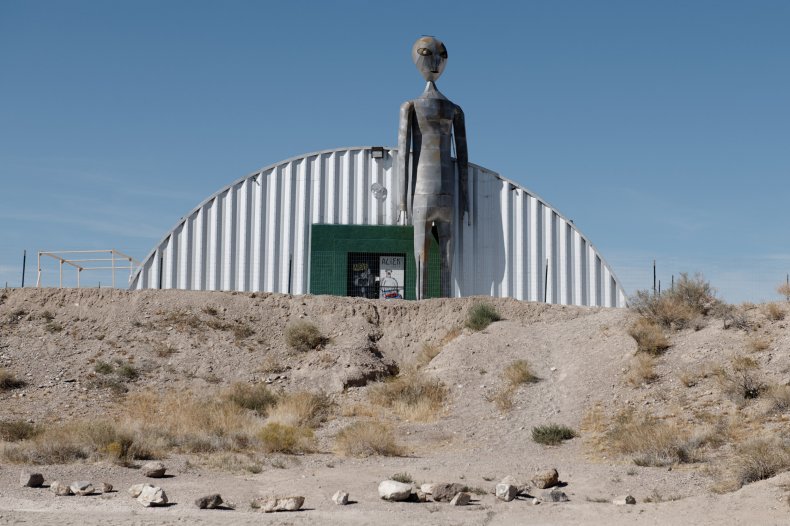 29. New Hampshire: Ice Castles
This unique winter-only experience feels like you've stepped into Disney's Frozen. Created with hundreds of thousands of icicles and LEDs, it truly is a winter wonderland. When constructed, the castle is approximately one acre in size.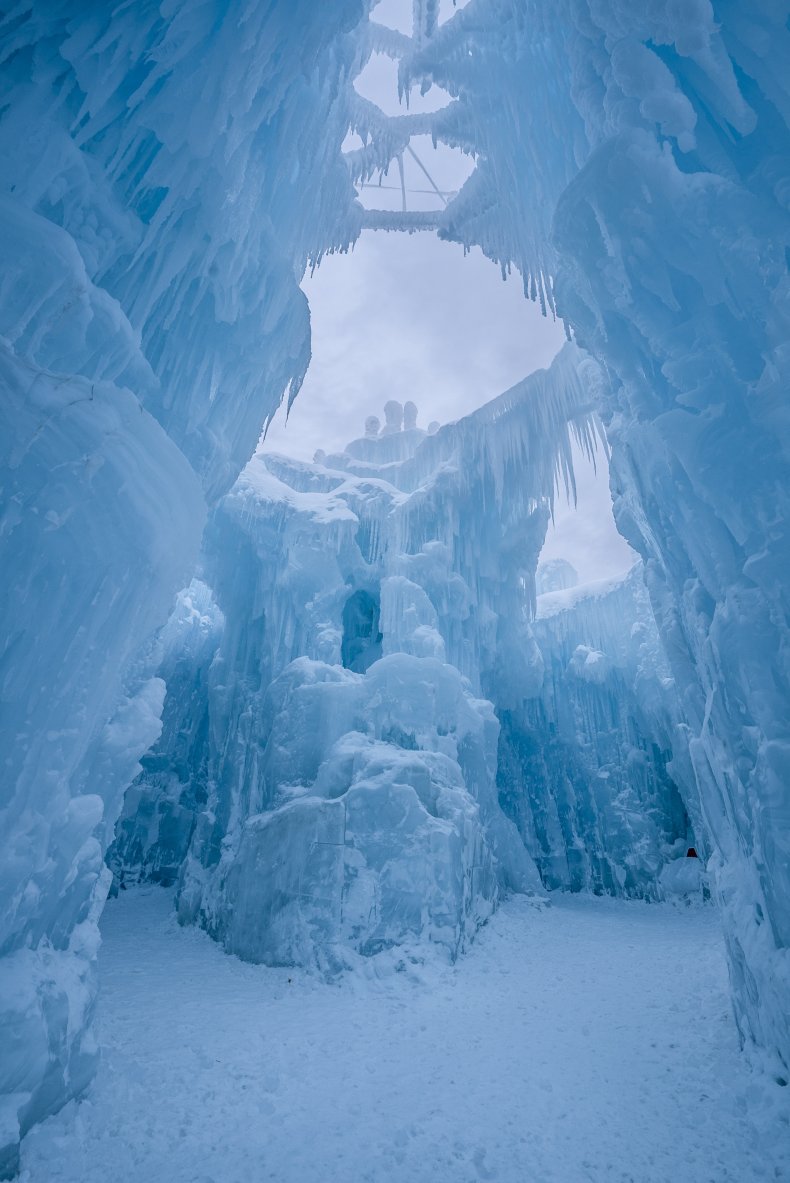 30. New Jersey: Palace of Depression
This house in Vineland was built during the Great Depression and was once known as the strangest house in the world. It was constructed by George Daynor, who used junk for building materials, when he was said to have had only $4 in his pocket. In 1969, the original "palace" was torn down but it has since been rebuilt and restored.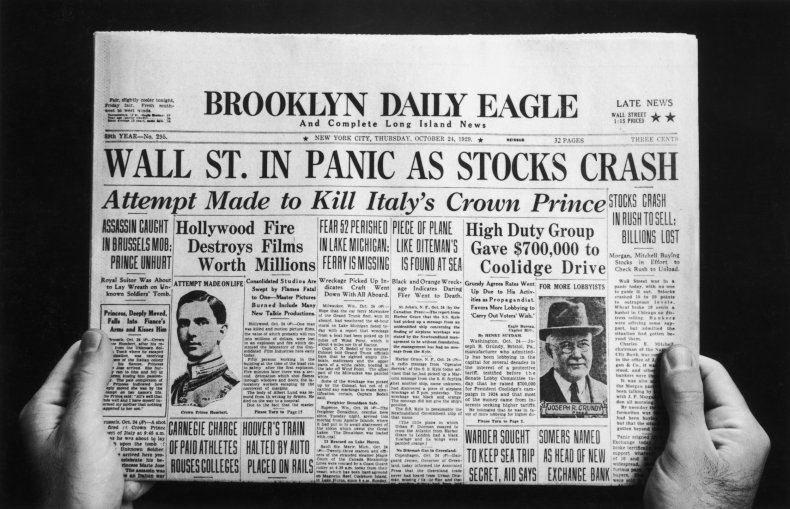 31. New Mexico: National UFO Museum and Research Center
In the summer of 1947, "The Roswell Incident" occurred when a UFO supposedly crashed into a field in that town. Peculiar debris was recovered from the scene. The museum was established as a place to learn about this incident and other UFO sightings that have occurred in the area.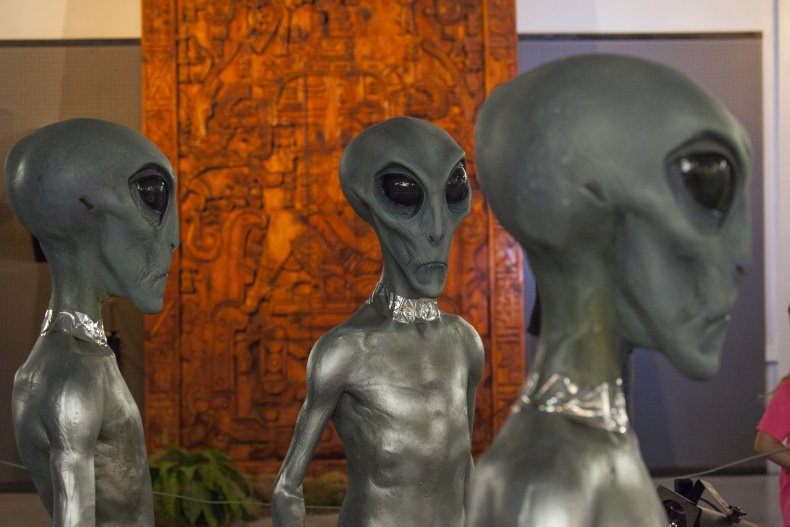 32. New York: World's Smallest Church
Oneida, a town in the northern part of the state, is home to the world's smallest church. A non-denominational church that is only 28 square feet, it sits on a man-made island in the center of a small pond and can only be reached by a rowboat.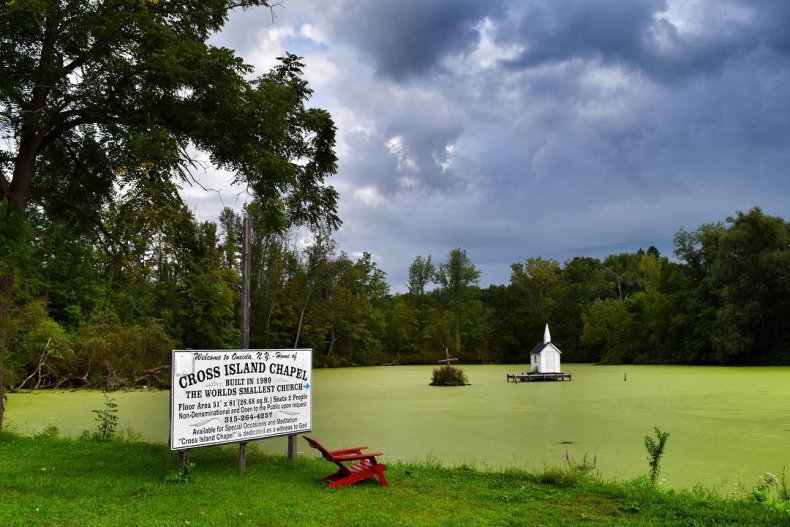 33. North Carolina: Clamshell Shell
It might not seem like a gas station would be listed on the National Register of Historic Places, but this station in Winston-Salem is indeed. This clamshell-shaped Shell station was built in the 1930s, and at one time it was one of eight clamshell-shaped stations in this area.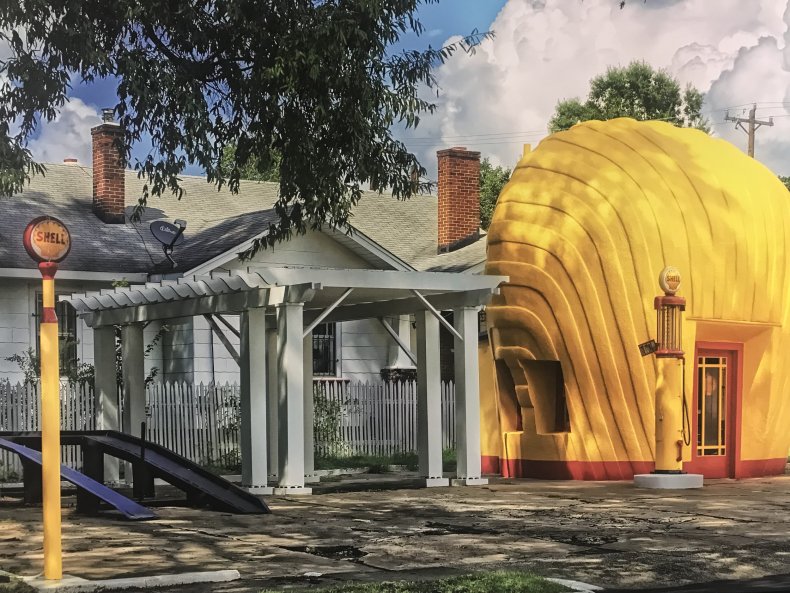 34. North Dakota: Ronald Reagan Minuteman Missile Site
This site, which actually consists of two separate facilities in Cooperstown, gives visitors a glimpse of American preparations during the Cold War: The Oscar-Zero Missile Alert Facility and the November 33 Launch Facility. It is the last launch control center intact with the top-side of the November 33 missile facility left intact for visitors to explore.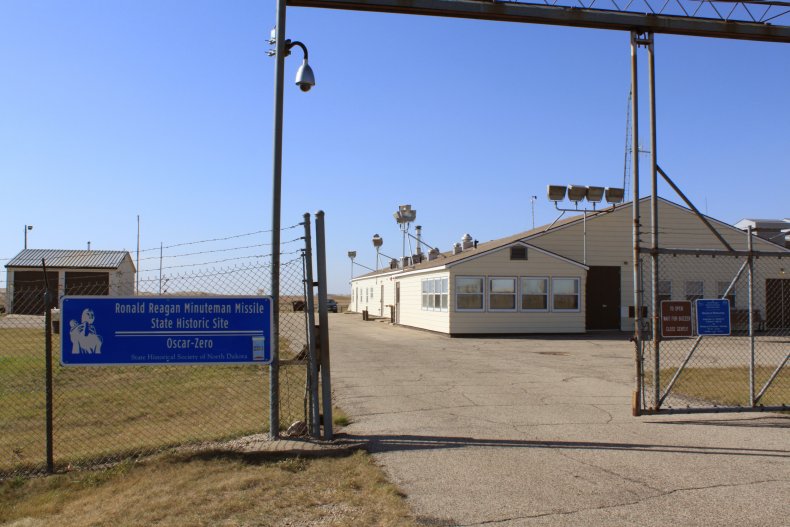 35. Ohio: Wendy's Museum
If you've learned anything from this list, it might be that just about everything has a museum—including Wendy's. Though the original Wendy's in downtown Columbus is no longer there, this mini museum in Dublin displays Wendy's first griddle.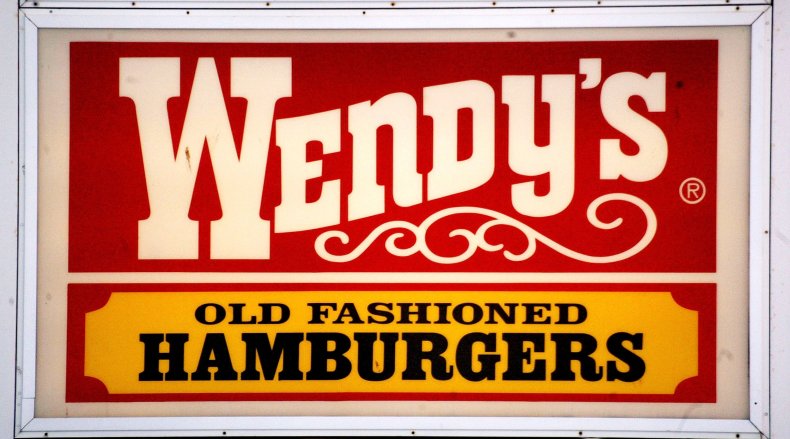 36. Oklahoma: Girl Scout Statue
This quiet statue commemorates the first sale of Girl Scout Cookies, which took place in Muskogee in 1917. The statue titled A Promise to Keep, sits in front of the Three Rivers Museum, which celebrates the history of the surrounding area.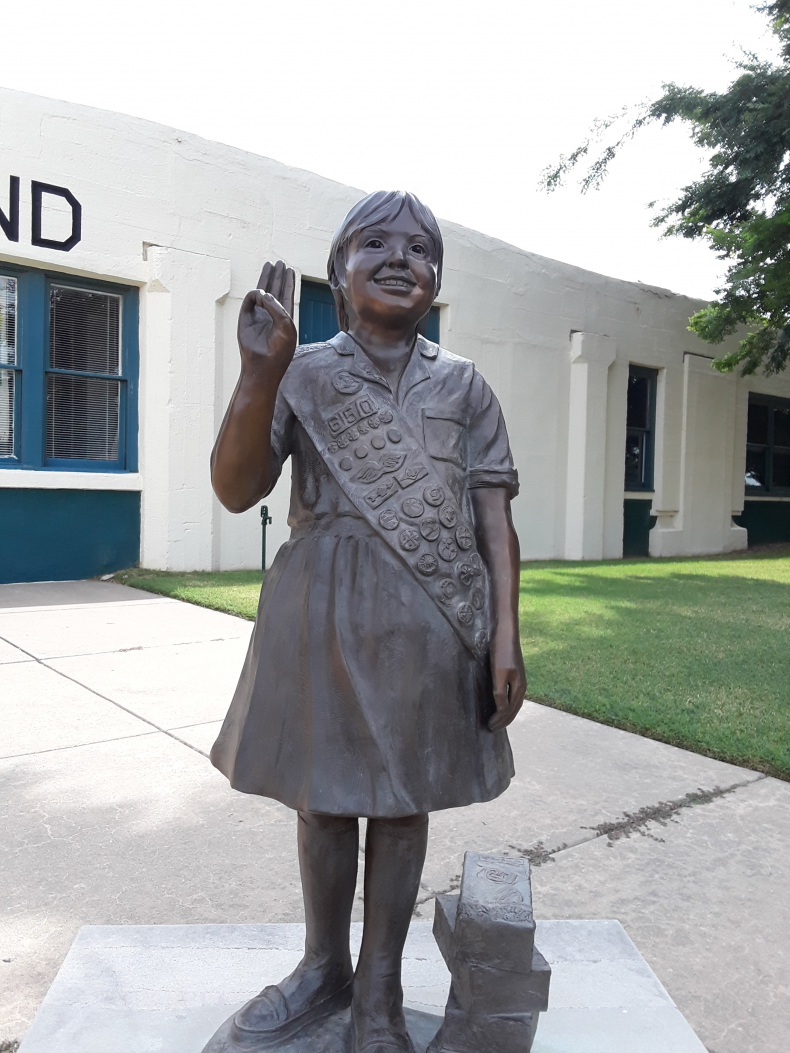 37. Oregon: Simpsons Mural
For years The Simpsons took place in a town named Springfield. It wasn't until a few years ago that creator, Matt Groening, came out and named Springfield, Oregon, as the town's namesake. To commercate the connection to the show, in 2014, the town unveiled a 15-by-30-foot mural showcasing the classic animated show.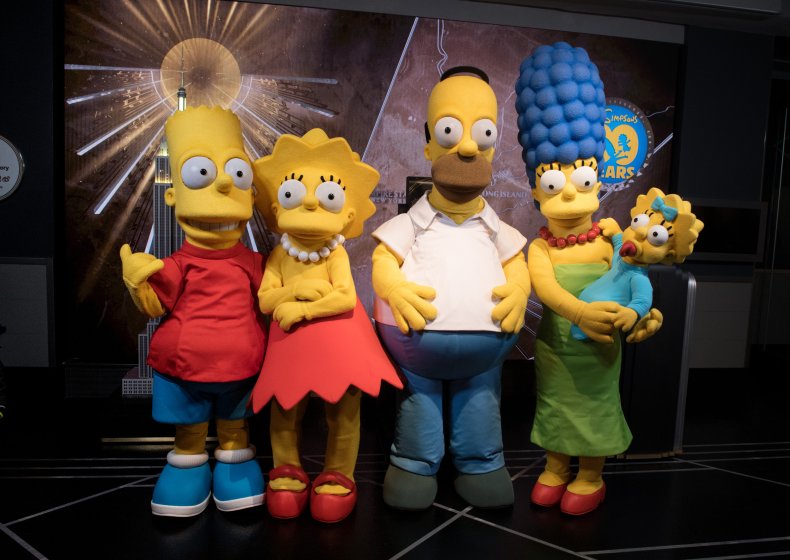 38. Pennsylvania: American Treasure Tour
The American Treasure Tour is a quirky collection of novelty items that tourists can take a tour through while riding a trolley. There is an array of nickelodeons, miniature circuses, movie posters, model airplanes and more.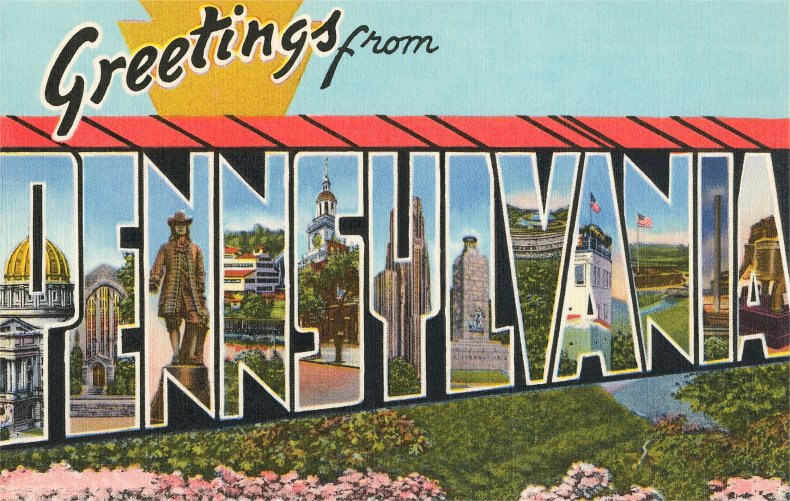 39. Rhode Island: The White Horse Tavern
This tavern in Newport is the oldest still-operating restaurant in the United States and the 10th oldest in the world. The tavern has been serving guests since 1673 and William Mayes, who once ran the tavern was a known pirate.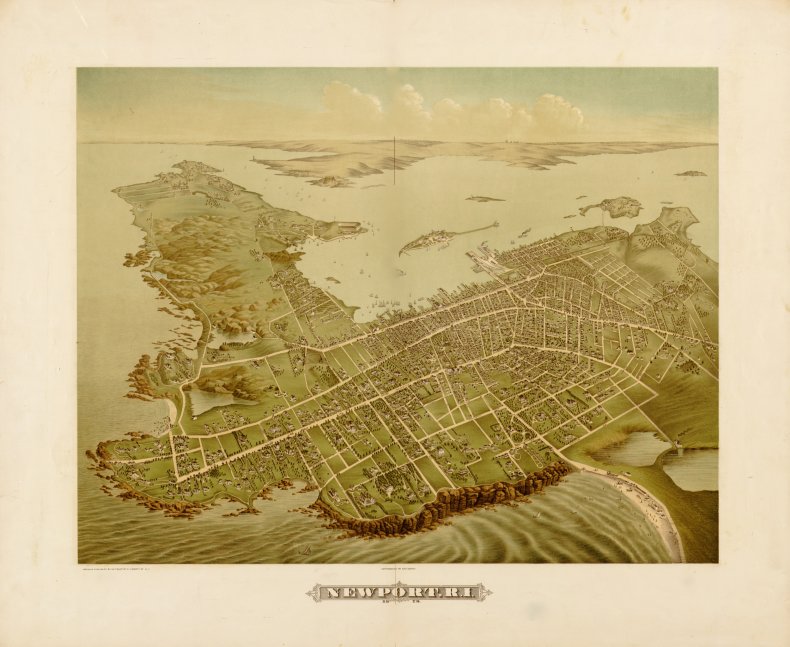 40. South Carolina: The Last Yogi Bear Honey Fried Chicken Restaurant
There was once a time where Yogi Bear Honey Fried Chicken restaurants were quite popular in South Carolina, but now only one remains. The themed restaurant offers food based off of the Hanna-Barbera cartoon like Boo-Boo baskets and Jellystone baskets.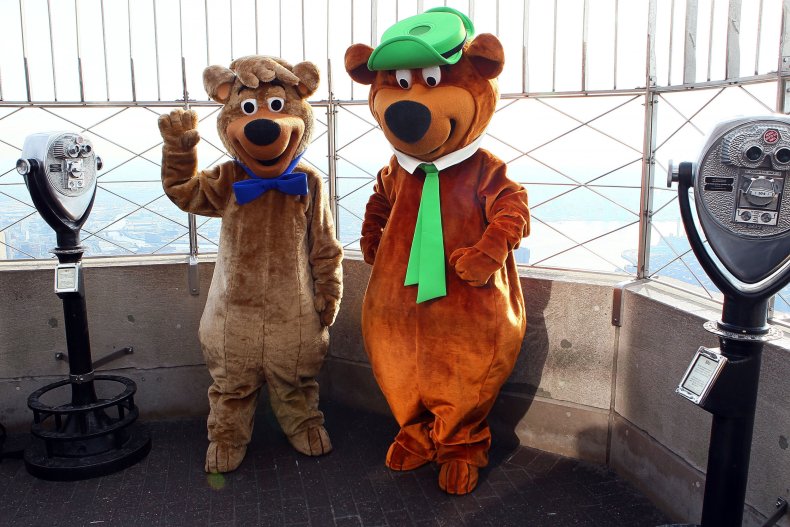 41. South Dakota: Cosmos Mystery Area
At this attraction in Rapid City, everything is not what it seems. It's filled with optical illusions that challenge visitor's perception of gravity by feeling like you're standing on walls and other topsy-turvy experiences.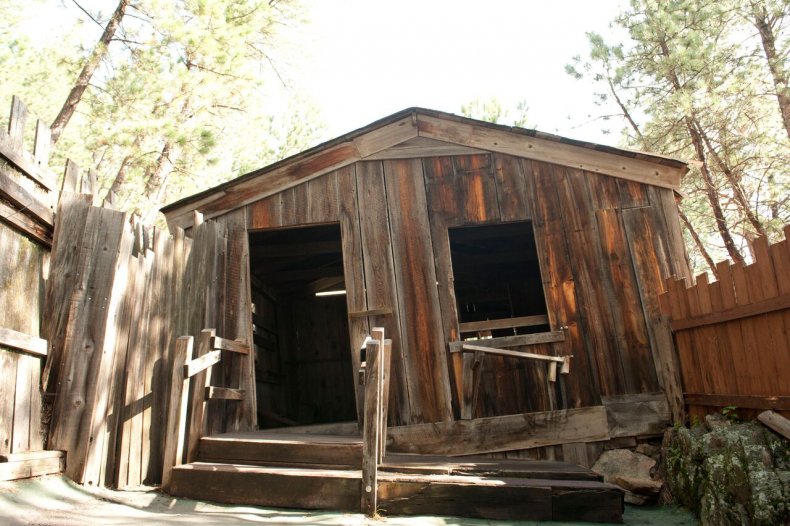 42. Tennessee: Titanic Replica
This museum in Pigeon Forge has one of the largest permanent collections of Titanic artifacts retrieved from the site of the ship's sinking. The owner of the museum led a dive to the site in the '80s and was able to retrieve some of these pieces of history.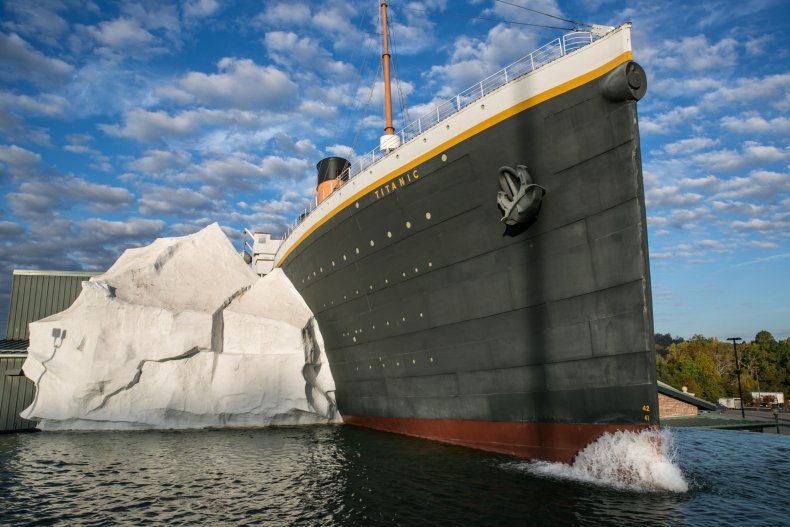 43. Texas: Cadillac Ranch
Cadillac Ranch sits alongside Interstate 40 in Amarillo and consists of 10 brightly colored Cadillacs standing nose down in the sand. They were placed in 1974, and visitors are encouraged to spray paint them so their appearance is always changing.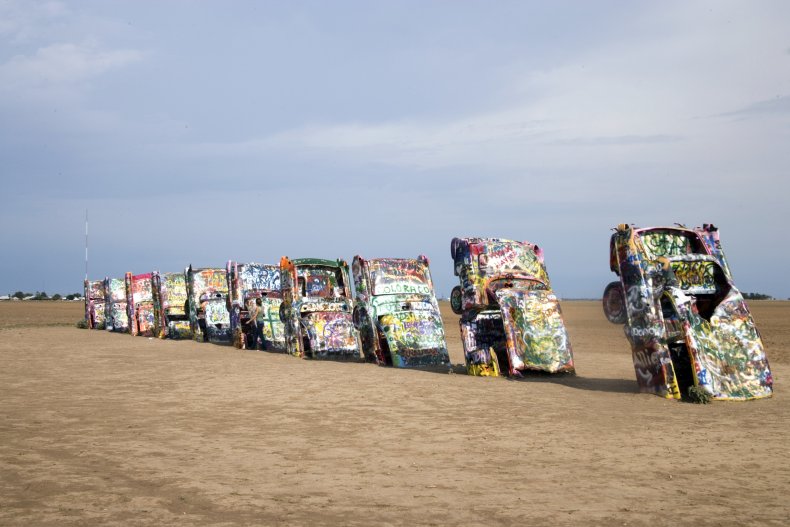 44. Utah: Newspaper Rock
While it might not be easy to decipher the writings on this rock near Monticello, Native Americans have been engraving drawings and symbols here for 2,000 years. In Navajo, the rock is called Tse' Hane, or "rock that tells a story."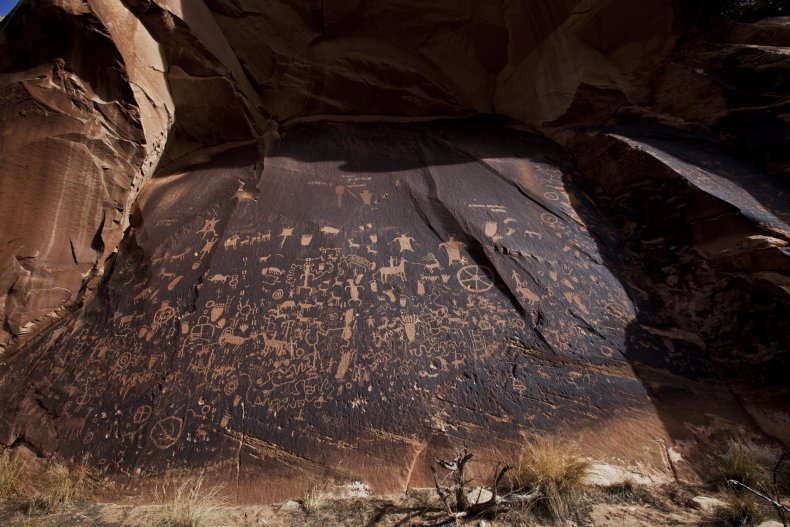 45. Vermont: Ben and Jerry's Flavor Graveyard
Ben and Jerry's has been a Vermont staple since it opened its first shop in Burlington in 1978. While the pair have produced dozens of flavors over the years, not all have stood the test of time. At the point when a flavor becomes "de-pinted" it gets added to the graveyard.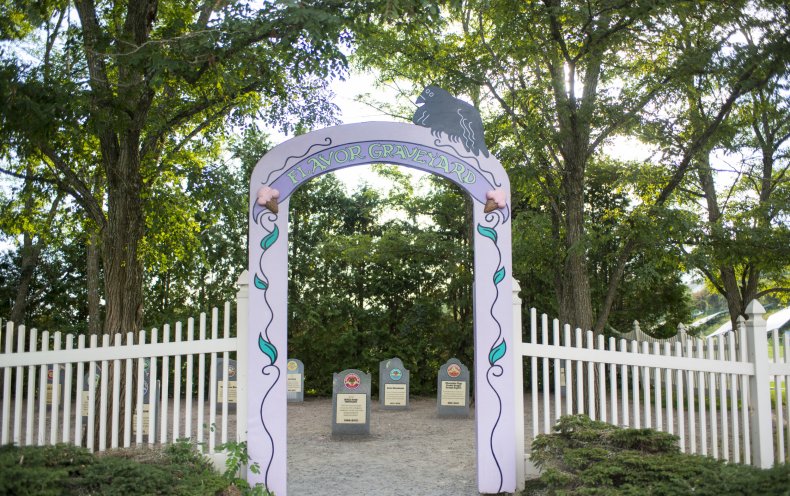 46. Virginia: President Heads
These 43, 20-foot-tall, busts of American presidents used to sit in President's Park in Williamsburg. In 2010, the park shut down so now they all sit on Howard Hankins' (who helped construct the original park) private farm. Because the heads are currently being housed on private property, plan your trip accordingly. Private tours now seem to be possible through a partnership with photographer John Plashal.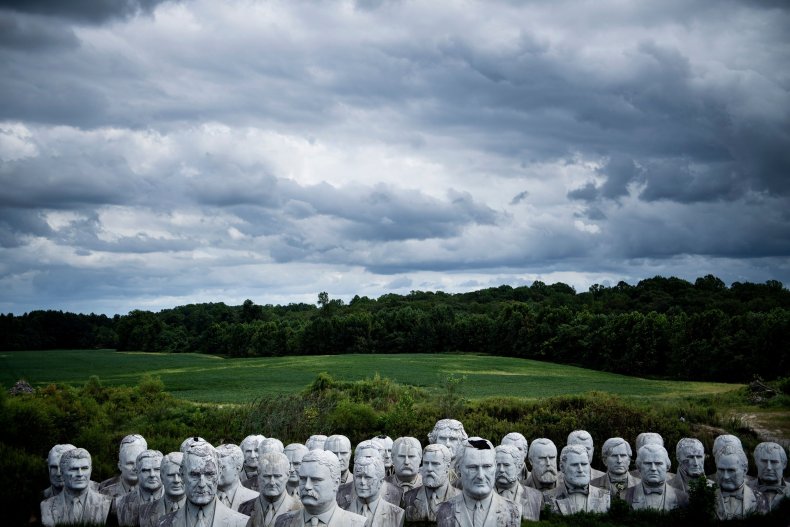 47. Washington: Gravity Hill
This seemingly normal hill in Prosser has been the subject of some strange occurrences that seem to cause gravity to "work backwards." As it's told, cars who shift to neutral at the bottom of this hill will begin to roll uphill.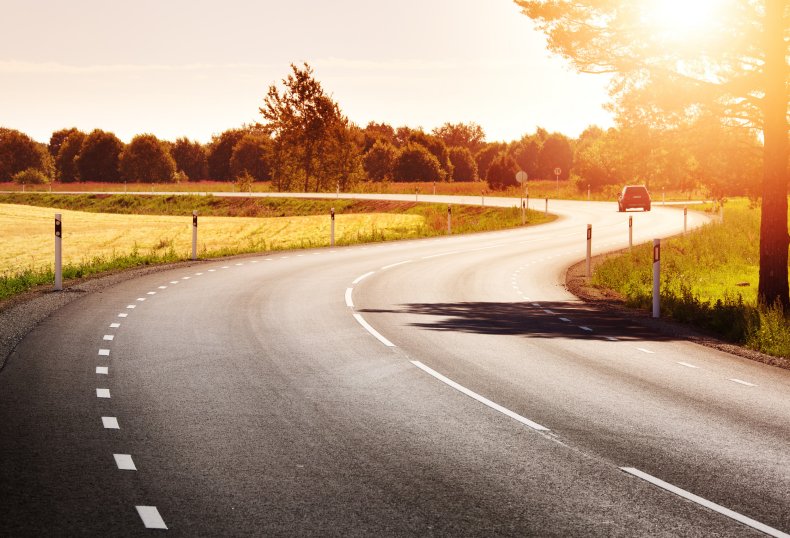 48. West Virginia: George Washington's Bathtub
This attraction dates back to the childhood years of the nation's first president. George Washington would relax and bathe in these West Virginia hot springs. Though the tub visible now in Berkeley Springs is not the one Washington would have actually used, it is a replica of what it would have looked like.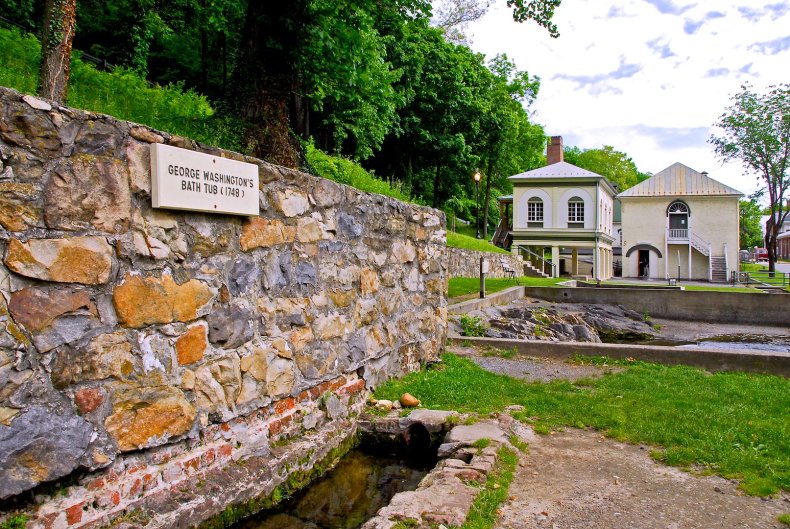 49. Wisconsin: Sputnik Crash Site
On September 6, 1962, a 20-pound piece of the Sputnik IV, the Soviet satellite, crashed into this Wisconsin city in the middle of a street in Manitowoc. The city has marked the site and saved the debris in the Rahr-West Art Museum, not too far from the site.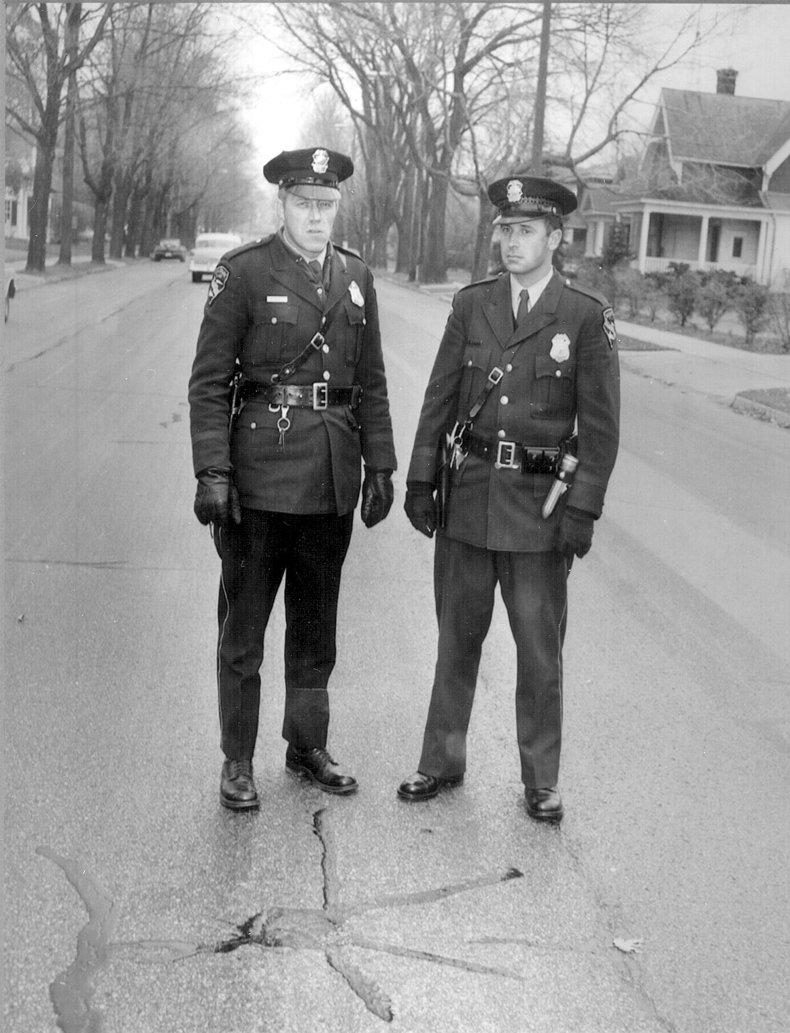 50. Wyoming: Mel Gould's Buryville
At this roadside stop along Interstate 80, visitors will find Buryville, which is curated and created by inventor, Mel Gould. Visitors will find vintage cars and quirky creations crafted out of metal. One of the largest sculptures he calls Wind Thing, which is said to generate electricity for his underground workshop which he created out of an old school bus.