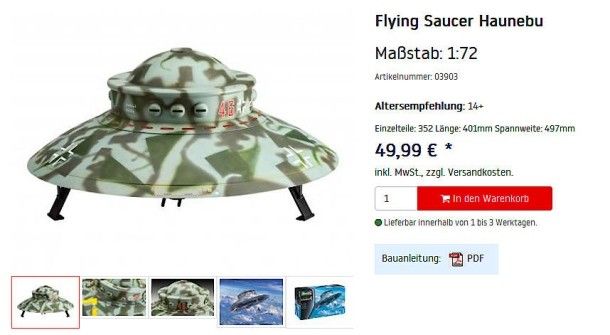 A German toy manufacturer has pulled one of its products from shelves, because it was supposedly teaching children that Nazis mastered space travel.
Revell—which is based in North Rhine-Westphalia in Germany—sold the "round aircraft," which stated in its product description that it was "the first object in the world capable of flying in space." According to thelocal.de, the Military History Museum and German Children's Protection Association had complained that the toy was historically inaccurate.
According to the product box, the ship can reach speeds of 6,000 km per hour (3,728 miles per hour) and was not built beyond the test phase because of World War II. The toy even featured symbols from the Third Reich.
Speaking to Frankfurter Allgemeine Zeitung newspaper, historian Jens Wehner reiterated the aircraft was complete fiction. "At the time it was technologically impossible to build something like this," Wehner said. "Enthusiasts can use this as a strategy to cast doubt on what we know today about National Socialism."
Revell said it was investigating how the toy, which sold for €49.99, managed to reach stores in the first place. A spokeswoman for the company said it agreed with Wehner. "It is in fact a legendary, extraordinary aircraft that cannot be proven in terms of existence," the spokeswoman said.
"Unfortunately, our product description does not adequately express this and we apologize for it."
In the United States earlier this year, Walmart announced it was banning the sale of toy guns that resemble assault rifles while also upping the minimum purchase age to 21. The decision came in the wake of the Valentine's Day massacre at a Parkland, Florida high school.
"In light of recent events, we've taken an opportunity to review our policy on firearm sales. Going forward, we are raising the age restriction for purchase of firearms and ammunition to 21 years of age," Walmart said in a statement, adding that it would work to implement the change in stores as soon as possible.
"We are also removing items from our website resembling assault-style rifles, including non-lethal airsoft guns and toys," the statement continued. "Our heritage as a company has always been in serving sportsmen and hunters, and we will continue to do so in a responsible way."
Walmart has 4,761 locations in the United States alone. The statement did not say if the company would raise the age for purchasing guns in Sam's Club stores. The company banned the sale of assault rifles, like the AR-15, in 2015.