As UFOs Breach U.S. Airspace, Senators Say NATO Should Also be 'Concerned'
Pentagon officials briefed lawmakers today on Capitol Hill on the instances of unidentified flying objects being shot down over U.S. airspace. Following the meeting, senators stressed that this may be more than just a U.S. concern, and that NATO is and should be concerned as well.
"Observing unidentified objects over airspace is not unique to the United States, and they're not new," Florida Senator Marco Rubio, who serves as ranking Republican on the Intelligence Committee, told Newsweek. "The only thing that's new is that we shot three of them down, but I think [our NATO allies] are concerned. Obviously, every country has different capabilities in terms of monitoring."
Senator Roger Wicker of Mississippi, ranking Republican on the Armed Services committee, echoed Rubio's comments.
"I think [our allies] are appropriately concerned because we are all in it together as NATO allies," he told Newsweek.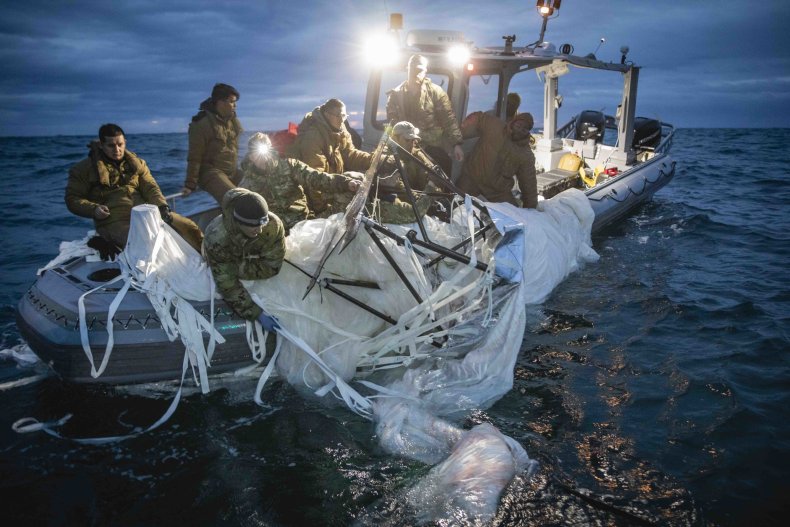 Alarm over instances of flying objects circulating through U.S. airspace first peaked at the beginning of February after an alleged Chinese high-altitude spy balloon was seen traveling across the continental United States. It was ultimately shot down on February 4, even as China insisted the balloon was a civilian research airship that was blown off course.
However, on February 10 an unidentified flying object, not explicitly labeled as a balloon, was shot down off the coast of Alaska. On February 11, a UFO was shot down in Canada. Then, on February 12 an object first seen over Montana was shot down over Lake Huron.
So far, the White House has offered no indication that the mysterious objects were linked to the Chinese balloon accused of spying against the U.S., or any other state-sponsored espionage program.
"While we can't definitively say, again, without analyzing the debris, what these objects were thus far, and I caveat that by saying, 'thus far,'" National Security Council Strategic Communications Coordinator John Kirby told reporters Tuesday, "we haven't seen any indication or anything that points specifically to the idea that these three objects were part of the PRC's spy balloon program or that they were definitively involved in external intelligence collection efforts."
As such, he said the White House "will not dismiss as a possibility that these could be balloons that were simply tied to commercial or research entities and therefore benign."
Despite the absence of a clear read on the purpose or origin of the UFOs in question, Kirby said that President Joe Biden's administration has launched an interagency effort, led by national security adviser Jake Sullivan, "to help us revisit and look at the protocols and the policy implications for these kinds of objects going forward." By the end of this week, U.S. officials expect to have established "a set of parameters for how we will how we will treat these sorts of sorts of objects going forward."
But "regardless of what the parameters are," Kirby said, "what will not change is our communication and consultation with allies and partners."
Newsweek has reached out to NATO for comment.
Indications that concerns regarding potential high-flying Chinese surveillance efforts expanded well beyond U.S. borders have already emerged.
The Japanese Defense Ministry said Tuesday that it "strongly suspects" it encountered such Chinese balloons within Japanese airspace on at least three occasions from 2019 through 2021. Japan's Fuji News Network earlier reported on Thursday that Japanese officials assessed a balloon similar to that of the Chinese one spotted in the U.S. earlier this month was detected in Japanese airspace in January 2022.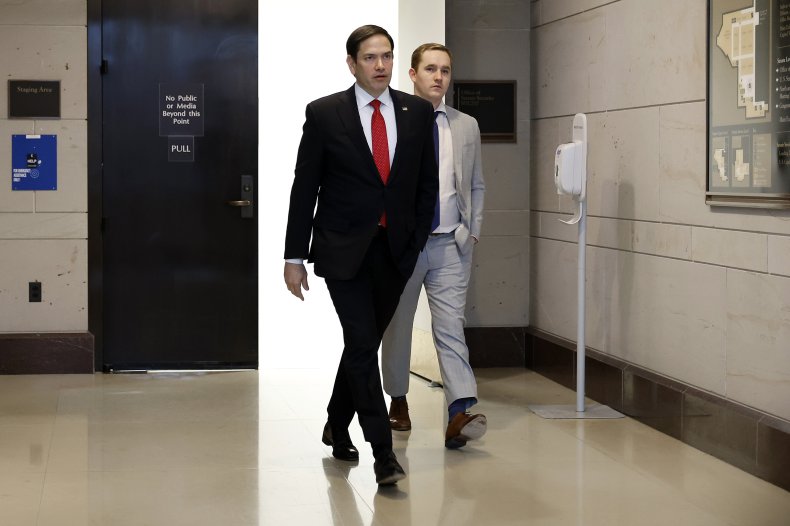 During a press briefing Tuesday, Chinese Foreign Ministry spokesperson Wang Wenbin cautioned Japan to avoid mirroring the U.S. response to the issue.
"We would like to stress that Japan needs to be objective and impartial on this instead of following the U.S.' suit in dramatizing it," Wang said.
But Democratic Senator Kirsten Gillibrand of New York, who serves on the Intelligence and Armed Services Committees, said she believed the latest developments could lead to increased vigilance of a well-known problem.
"I think our allies are well aware of the nature of Chinese satellites, other Chinese efforts to spy on many countries," Gillibrand told Newsweek. "So, I don't think it's surprising. I think it's something people know, but I think it may draw their attention to perhaps lower-tech methods of spying that China's using."
"We are already aware of these types of unidentified aerial phenomenon," she added, "which is why I set up an office called AARO, which does the hard work of analyzing the data and analyzing all the sightings that are seen by the public or seen through military aircraft or other locations."
On July 15, 2022, Deputy Secretary of Defense Kathleen Hicks announced that the Airborne Object Identification and Management Group would expand its scope and be renamed the All-domain Anomaly Resolution Office (AARO).
This was done because of Gillibrand's provision in the 2022 National Defense Authorization Act that tasked the Pentagon with creating an office dedicated to "developing procedures to synchronize and standardize the collection, reporting, and analysis of incidents" pertaining to unidentified aerial phenomenon.
AARO could soon find itself facing a more robust workload. Democratic Senator Mark Kelly of Arizona, a member of the Armed Services Committee, said that the federal government remains in the process of gathering information pertaining to the three aircraft shot down over the past weekend.
"The [balloon] shot down off the coast of South Carolina was clearly surveillance from China," Kelly told Newsweek. "There were a lot of decisions that had to be made. We're continuing to get that data in, but we're still, with the three objects that were shut down the other day, it's publicly aware that we're still trying to gather information on that."
China, for its part, has continued to deny any wrongdoing in the initial shootdown incident, and has accused the U.S. of overreacting while also sending its own balloons over Chinese airspace "more than 10 times" since 2022.
"We have said time and again that the U.S. clearly overreacted by using force on an unmanned Chinese civilian airship," Wang told reporters on Tuesday. "Quite a few media outlets have compared the U.S.'s downing of the flying objects to shooting mosquitoes with flak guns, and called it 'odd and costly political behavior art.'"
"The U.S. needs to be careful not to pull its muscle while flexing it so hard," he added.