UGA Football Fans Hold 'Pink Out' to Honor Opposing Coach's Wife
Fans of the University of Georgia Bulldogs traded in their usual red and black for pink at a football game on Saturday, in memory of the opposing team's coach's wife who died of breast cancer last month.
Wendy Anderson, the wife of Arkansas State University football head coach Blake Anderson, died on August 19 after a two year-long battle with breast cancer, the Arkansas Democrat-Gazette reported.
When Blake Anderson arrived to play the Bulldogs, he saw that at least a third of the 92,476 fans in Georgia's stadium were taking part in the "pink out," ESPN reports. Students in the row immediately above the Arkansas State Red Wolves' bench painted "REMEMBER WENDY" on their backs.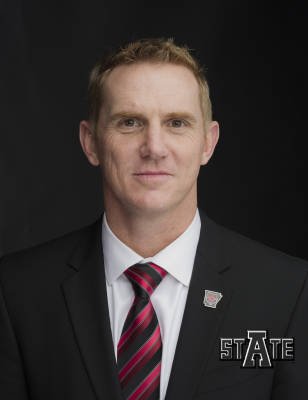 Arkansas State Red Wolves Coach Blake Anderson, after losing his wife to breast cancer last month, was met with a "pink out" by University of Georgia fans at the teams' game this weekend.
Arkansas State Red Wolves
"It has been a really emotional week," Anderson said a press conference after the game. "I just want to say publicly: one of the classiest moves I've ever seen. It's hard to truly prepare for something like that."
"I would say thank you to all those who showed up today wearing pink or thinking pink. They don't know my wife and they don't know me and they didn't have to do it. I'm very grateful and honored and obviously overwhelmed," Anderson added.
CNN reported that University of Georgia alumni Dwight Stanridge tweeted on Tuesday calling for fans to wear pink, writing "DawgNation let's get behind this on Saturday. It's bigger than a football game."
He and a local charity he fundraises for, Bulldogs Battling Breast Cancer, had been planning to do a pink out at Georgia's game against Stanford University later in the year but decided to move the event up after hearing about Anderson's loss.
Stanridge, who lost his mother to ovarian cancer when she was 37, told CNN, "It's just the right thing to do."
Coach Anderson was not the only one from Arkansas State who appreciated Georgia's gesture. "I'll be a Georgia fan the rest of my life," Arkansas State center Jacob Still told CNN.
"Driving up to the game, seeing the fans walking into the stadium wearing pink, it really meant a lot to me," he added. "But people will probably never understand how much it meant to Coach Anderson."
""I feel her presence out there," Anderson said. "She's as competitive as I am and supported what we did and all those kids. That's the kind of legacy that keeps you going. I don't want to let her down, either, and her legacy."