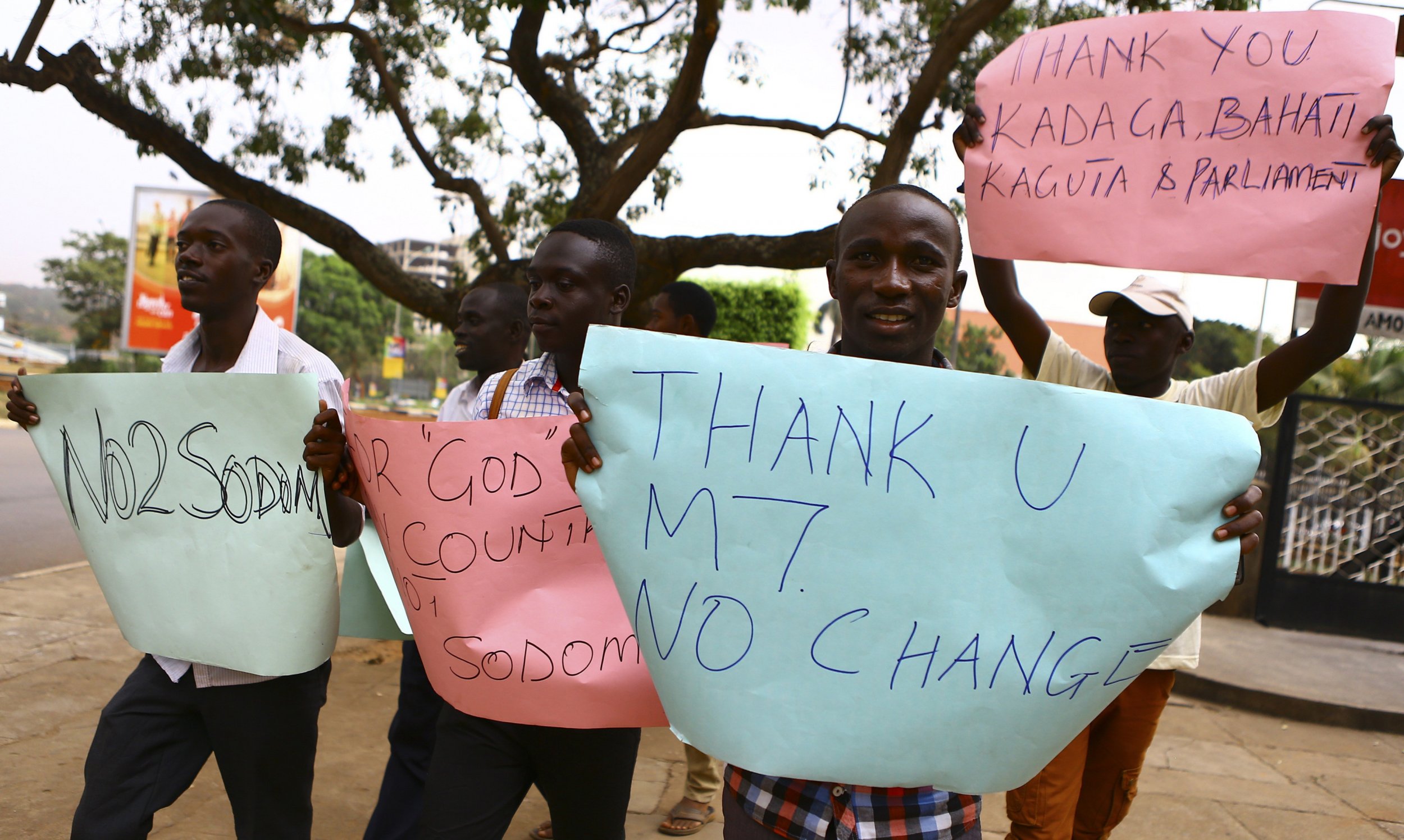 KAMPALA (Reuters) - Uganda has drafted a new law that would bar non-governmental organizations (NGOs) from promoting homosexuality, tightening rules further after anti-gay legislation in February was widely condemned as draconian.
The draft, now being studied by the cabinet before being introduced in parliament, would also ban foreign NGOs from meddling in the east African country's politics, junior internal affairs minister James Baba told Reuters on Monday.
Critics say the legislation will further erode civil liberties and entrench a climate of oppression and political intolerance already evolving ahead of 2016 polls in which veteran leader, Yoweri Museveni, is expected to stand.
The February law strengthened punishments for having gay sex and imposed jail terms of up to life for some categories of homosexuality, including sex with a minor or while HIV-positive.
"There are some NGOs who have come here to undermine us, to promote very bad behavior like homosexuality," junior internal affairs minister, James Baba told Reuters on Monday.
"As a responsible government we need to check that. They (NGOs) will not be able to do that when we pass this law."
The new law will require all charities to declare to the government their annual budgets, their sources of income and will also be obligated to present accountability for any funds received from those sources at the end of every year.
NO POLITICS FOR FOREIGN NGOS
Foreign NGOs, he said, would be barred from commenting or involving themselves Ugandan politics. "It is for Ugandans to say whether Museveni should rule or should not rule," Baba said.
"As a foreign NGO, what stake do you have in our politics?" he asked. "Our nationals have every right to put their government to task and to question the performance of government, but outsiders should not have this privilege."
In power since 1986, Museveni has come under increasing censure for his growing repression of opposition and failure to reign in corruption that has affected vital public services.
Local and international rights groups have been especially vocal in highlighting mounting violence against members of opposition and the impunity enjoyed by corrupt officials loyal to Museveni, who they say is eager to close all key platforms that give a voice to civil society.
Last year parliament, which is heavily dominated by the ruling party, passed a public order management law that requires any group of more than three people meeting to discuss politics to first seek permission from the police chief.
A Kampala-based human rights lawyer, Nicholas Opiyo, said the law was aimed at blunting NGOs' criticism of government corruption.
"What is happening is that rather than use brute force, Museveni's politics is increasingly dependent on use of money to win elections," he said.
"So in order for them to have a free hand in spending public resources to buy votes in the next election, what do you do? You begin to restrict NGOs."