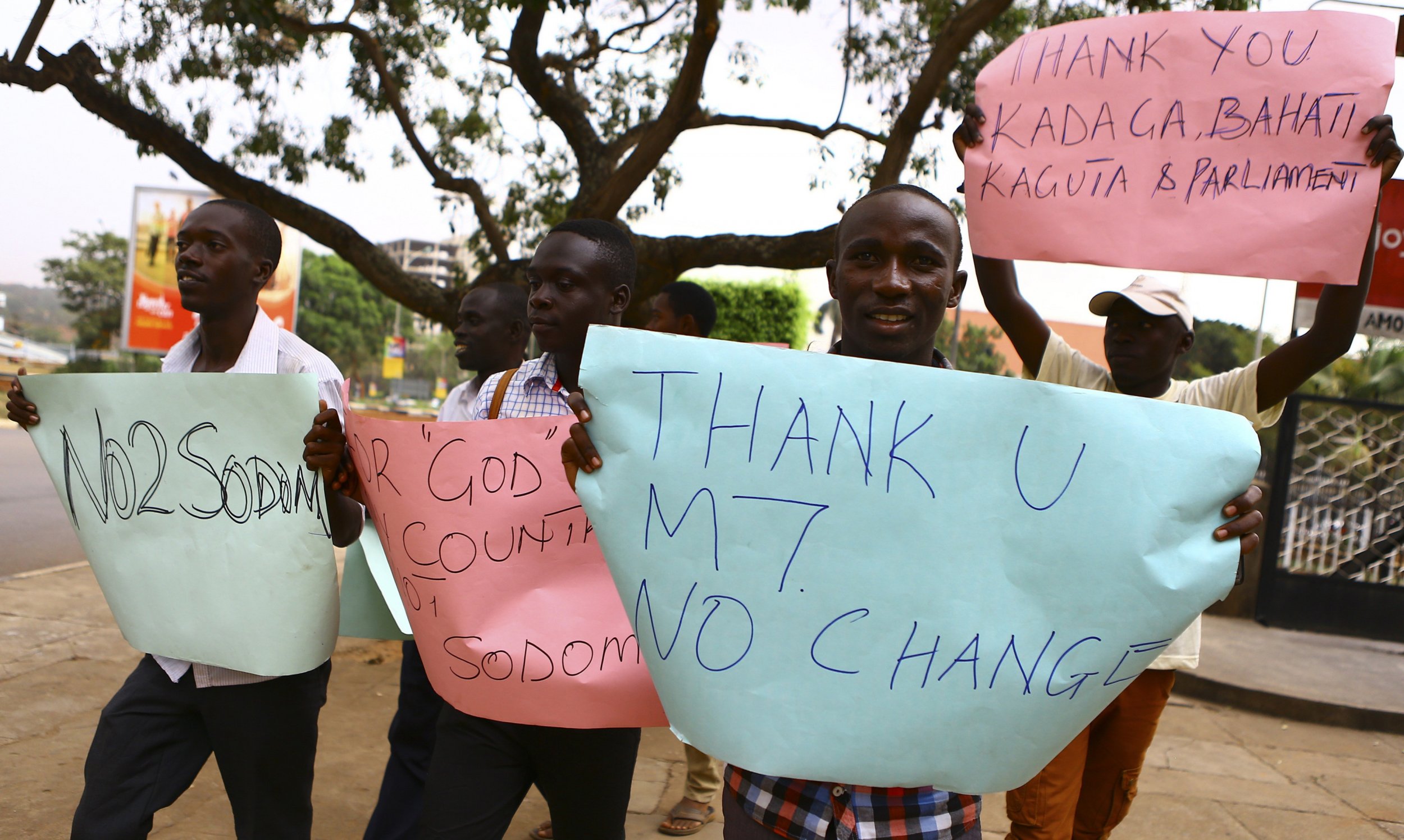 When Uganda's president Yoweri Museveni signed into law a bill on Tuesday that imposes draconian sentences on people accused of homosexual acts and homosexual propaganda, he was greeted by applause from lawmakers. On the streets of Kampala, supporters cheered the bill and denounced homosexuality.
"This is a victory for the family of Uganda, a victory for the future of our children," said David Bahati, the MP who brought the bill before Uganda's parliament.
Not all Ugandans are celebrating. The law has inflamed homophobic sentiment – and left Uganda's persecuted LGBT community in a dire position. A day after the bill was signed, a local newspaper published a list including pictures of the "Top 200 gays" in Uganda.
The list, coming hard on the heels of the repressive law, has initiated a witch hunt, LGBT advocates say.
"I worry that it is not just our community that is in danger," says Val Kalende, a Ugandan lesbian LGBT-rights activist. "Our families could become targets for anti-gay hate because if they can't find us because we are in hiding they will come after those who are close to us."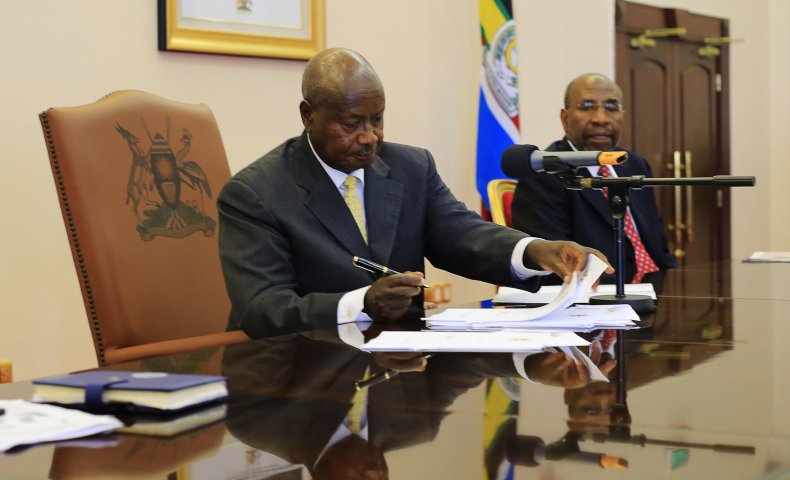 Harassment, discrimination and death threats are nothing new for Valende and other LGBT Ugandans. Sometimes even worse. In 2011, David Kato, an openly gay Ugandan and another member of the country's small LGBT activist community, was bludgeoned to death with a hammer.
Uganda's new law, which for the first time criminalizes homosexual relations between women and includes provisions that could put convicted homosexuals in prison for life, has been on the table since 2009. But its passage now comes amid a rising tide of aggressive homophobia.
And not just in Uganda.
Last month Nigeria passed a law that, among other restrictions on homosexual behavior, bans same-sex public displays of affection. Last year Russia introduced laws outlawing "homosexual propaganda." And India's Supreme Court last month reinstated a law banning gay sex in a move that outraged rights advocates who had been celebrating gains made over the past five years.
International LGBT-rights activists fear similarly homophobic legislation is on the rise around the world.
What accounts for this? A confluence of international and domestic forces have created a perfect storm for anti-gay legislation. It is common for weak governments to demonize a minority community to shore up domestic support.
Meanwhile, United States evangelical groups export American culture wars to territories more amenable to intolerance towards gays than can be found in America, where progress is fast being made towards ensuring equality irrespective of sexual orientation as can be seen by the rush in one state after the next to legalize same-sex marriage.
Anti-LGBT laws in Uganda, Nigeria and Russia have created international firestorms, with human rights groups and U.S. and European governments quick to offer condemnation. But they remain popular on the home front.
With inflation at 14 percent and GDP growth at a weak 3.4 percent, according to the most recent World Bank data, Museveni certainly has incentive to deflect attention onto social issues. He hopes to be re-elected in 2016 thanks to the popularity of the anti-gay bill into the next elections.
"Even opposition leaders who once criticized the bill have become silent since the bill was passed by Parliament," says Kalende. "This will effectively get him votes, even from those who oppose his politics."
Similarly, in Nigeria, where corruption is endemic and sectarianism divides the country, many Muslim and Christians are able to find common ground by rallying around persecution of LGBT people – enhancing the fortunes of the embattled president Goodluck Jonathan.
From Uganda to Russia, politicians frame the issue as one of defending "traditional values". Museveni describes homosexuality as "un-African." Russian president Vladimir Putin says "traditional values" are a foundation of Russia's greatness. Zimbabwe's 89-year-old Marxist president for life Robert Mugabe claims homosexuality "destroys nations."
"It's the classic tactic of the moral panic that unites people around a perceived enemy that is seen as threatening but is actually vulnerable," says Graeme Reid, director of the LGBT rights program at Human Rights Watch. And moral panic can also be a cover for other forms of repression, according to Reid, who says the LGBT issue is just one part of a broader clampdown on rights under Museveni , who has held power since 1986.
For Africa's strongmen, homophobic laws and rhetoric have helped replace other ways of maintaining power. When African states emerged from colonialism, patronage was the key to building support for the new states. But, says Scott Long, a longtime international activist for LGBT human rights, the fiscal crises and economic retrenchment of the early 1990s destroyed that political gambit.
"So they started looking around for other ways to drum up support and get previously apolitical organizations like the churches on their side," Long says. Anti-LGBT laws are helping to keep these authoritarian states strong.
Museveni has traditionally been an ally of Washington, thanks to his support for operations against Islamist militants in Somalia and elsewhere in the region. But the anti-LGBT law has put his regime at odds with the State Department.
Secretary of State John Kerry issued an unusually strong condemnation of the law considering that Uganda is a U.S. ally. "Today's signing threatens a dangerous slide backward in Uganda's commitment to protecting the human rights of its people," said Kerry.
For his part, Museveni, like Putin, has raised the twin specters of "foreign meddling" and imperialism to defend the law against Western critics. But a certain amount of foreign meddling is an important part of the rise of anti-LGBT laws in East Africa and around the world.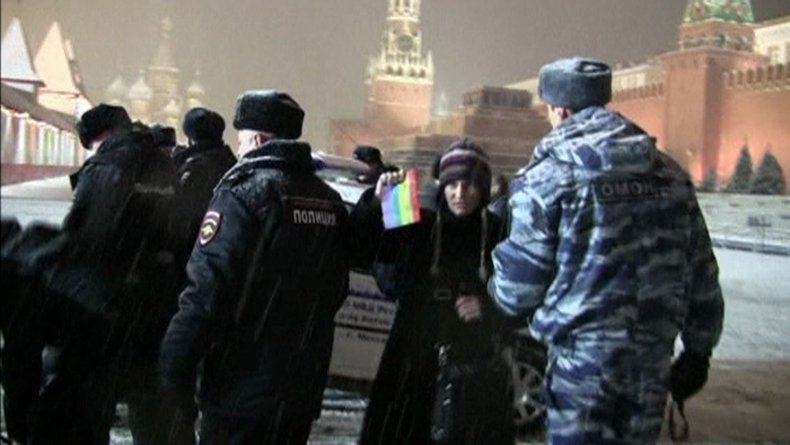 American fundamentalist Evangelical Christian groups are instrumental in internationally pushing the homophobic agenda. Individuals who are seen as fringe figures in the United States are accepted as serious and given credence in other parts of the world, meeting with policymakers and making prominent media appearances to promote their cause.
Over a dozen Americans visited Russia last year to support the anti-gay propaganda law that passed last summer, according to the Human Rights Campaign (HRC), an LGBT rights group.
"The role that Americans are playing in supporting governments who roll back rights for LGBT people is disgusting," says Ty Cobb, director of global engagement at HRC.
Scott Lively is one of the most famous cases of an American anti-gay crusader who finds a ready audience among Africa's homophobic regimes. He wrote a book claiming that homosexuality was in part responsible for Nazism and traveled repeatedly to Uganda to preach against homosexuality. He has also made visits to countries of the former Soviet Union. He is currently being sued in a US federal court for crimes against humanity for his work in Uganda.
And Paul Cameron, an anti-gay psychologist who has been widely discredited by respectable psychologists in the United States, appeared before the Russian Duma last Fall.
The World Congress of Families, a "pro-family" group based in Illinois, is a major supporter of the export of anti-gay laws and brings together social conservatives from around the world. Its next world conference will be held in Moscow and a special parliamentary session will be held in the Duma with the WCF in attendance.
Anti-gay activists from the United States have also traveled to Ukraine, Serbia, Jamaica, Australia and Peru in the last year, according to HRC.
As same-sex marriage gains ground in the United States and even conservative governments in Western Europe adopt more liberal policies toward LGBT people, the stars have aligned for embattled authoritarians and American evangelicals refighting a culture war that has been going on here since the 1970s.
Members of Kenya's parliament are already saying that Uganda's new law should be seen as a model. Other countries could follow suit.
The Uganda Civil Society Coalition on Human Rights and Constitutional Law plans to lodge a court challenge against the new law, according to Kalende. But that's only one step in a long fight ahead for LGBT-rights advocates in Uganda – and, increasingly, around the world.