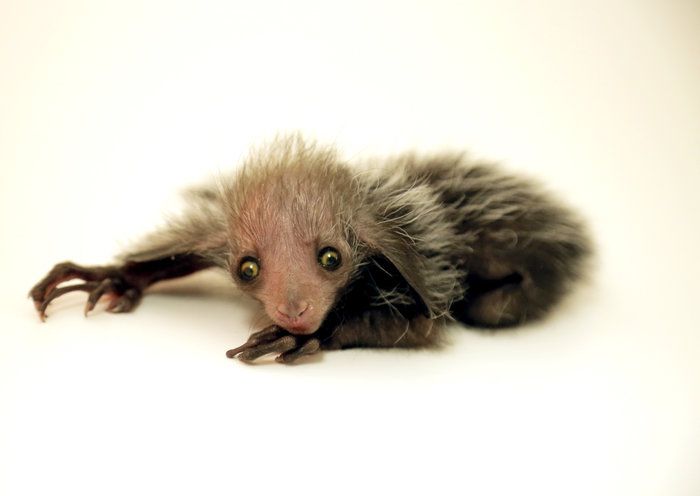 Denver Zoo has welcomed one of the rarest animals in the world to its collection. But with her thin, gray hair; marble-like googly eyes; and skeletal claws, is Tonks the aye-aye lemur also one of the world's ugliest?
Tonks was born to mom Bellatrix and dad Smeagol—named after the bug-eyed Lord of the Rings character—on August 8.
The newborn is among the most endangered animals in the world. There are only 24 in seven zoos in the U.S., including Tonks and her parents, and seven more at institutions in other countries. Native to remote parts of Madagascar, experts don't know how many aye-ayes live in the wild.
Keepers at the zoo gave Tonks a clean bill of health when she was born. But she was taken into special care by zoo staff after Bellatrix did not show the expected mothering behaviors toward her newborn, Becky Sturges, lead primate keeper, told Newsweek.
Related: Bird extinction: These eight species have disappeared from Earth in the last 20 years
"We provided 24-hour care for the first week and had to assist Tonks with nursing from Bellatrix, and continued daily supplemental feedings for several weeks. Throughout the process we strived to keep Tonks and Bellatrix together so that Bellatrix could exhibit her maternal behaviors. Bellatrix quickly picked up on the role she was supposed to play; nursing, nesting, and being protective were all crucial elements to Tonks's success. At this point we're just monitoring them to make sure things continue to go well."
Smeagol, meanwhile, is spending time alone in the exhibit next door, which is normal as aye-ayes are solitary animals, said Sturges. Tonks is currently exploring the Emerald Forest exhibit at the zoo, and won't be unveiled to the public for a couple more months.
Aye-aye lemurs are characterized by their spindly claws, coarse hair and bushy tails. News of her birth has ignited a debate on whether Tonks and her species are the world's ugliest.
The Denver Post described Tonks as "rare, ugly 'Omen of Evil' baby animal."
"A face only a mother could love. Welcome Tonks!" one Twitter user commented.
"This is Tonks. She looks like a harbinger of death, and I love her," wrote another.
"This creature looks like something straight out of 'The Dark Crystal,' wrote senior Denver Post editor Matt Sebastian.
Duke Lemur Center was slightly kinder to poor Tonks, tweeting its congratulations to Denver Zoo "on the birth of this beauty."
Pockets of the coast of Madagascar make up the aye-aye lemur's natural habitat. These versatile creatures can live in both rain and deciduous forests, dry scrub forests and mangrove swamps.
But due to hunting and the depletion in the size and quality of their habitats, numbers have declined by around 50 percent in the past three decades according to The IUCN Red List of Threatened Species. Aye-aye lemurs are often killed because they are associated with evil, and because they devour crops like coconuts.
To make matters worse, it is tricky for experts to document aye-ayes as population estimates are partly based on the tree marks the creatures leave—and one animal can cause several.
"There is absolutely nothing evil or scary about aye-ayes, especially when you consider that the features that give them their distinct appearance are a number of unique adaptations that contribute to their extraordinary abilities," said Sturges.
"For example, they use their long, bony fingers and huge ears to echolocate bugs buried in tree branches."
Those who want to help Tonks and her kind can start at home, said Sturges.
"We encourage people to act locally to help globally. That means thinking about what you can do at home, like reducing your water use, recycling and decreasing your use of plastics. Those actions have a ripple effect across the world, and the more people who act as wildlife champions, the better the world will be for animals."
This article has been updated with comment from Becky Sturges.
Uncommon Knowledge
Newsweek is committed to challenging conventional wisdom and finding connections in the search for common ground.
Newsweek is committed to challenging conventional wisdom and finding connections in the search for common ground.
About the writer
Kashmira Gander is Deputy Science Editor at Newsweek. Her interests include health, gender, LGBTQIA+ issues, human rights, subcultures, music, and lifestyle. Her work has also been published in the The Independent, The Independent on Sunday, The i Newspaper, the London Evening Standard and International Business Times UK.