Ugly Christmas Sweater Outfits 2019: Walmart, Target and Kohl's
Ugly Christmas sweater season is nearly upon us and retailers are pulling out all the stops to make sure Americans are not disappointed.
One such retailer is Red Lobster, who is releasing limited edition "Ugly" holiday sweaters to help seafood and biscuit lovers wear their hearts on their sleeves… literally.
But if standing out from the crowd is your thing, then Walmart has a great selection. Ranging from a Christmas tree hoodie to Holiday Gorilla sweaters, there is something for everyone.
Target has a selection of "Ugly" sweaters on its website. My personal favorite this Christmas tree holiday jumper which comes with all the decorations and frills anyone would need.
Kohl's also has a selection of sweaters and cardigans for everyone but by far my favorite from them as to be this Christmas pug sweater. The 3D legs hanging down really make this jumper and it's also great for dog lovers across the nation.
Speaking of 3D sweaters, UglyChristmasSweater.com has a collection of styles that really jump out at you. Themes include mooses, unicorns, puppies and even President Donald Trump.
Red Lobster: Update: As of December 6, 2019, Red Lobster has sold out of the "Ugly" Holiday Sweater and will not be restocking sizes this holiday season, the company told Newsweek.
Original copy: Red Lobster is launching its seafood-clad sweater, which has a built-in insulated pocket for keeping Cheddar Bay Biscuits warm and safe from stealing Grinches.
Starting Tuesday, November 26, 2019, at midday ET, Red Lobster will launch its first ever pop-up online merchandise store, RedLobsterShop.com, where the Cheddar Bay Biscuit "Ugly" Holiday Sweater will be available to pre-order for $39.99.
The online store will also feature must-have stocking stuffers like insulated Cheddar Bay Biscuit Fanny Packs, T-shirts and more, all available in limited quantities while supplies last.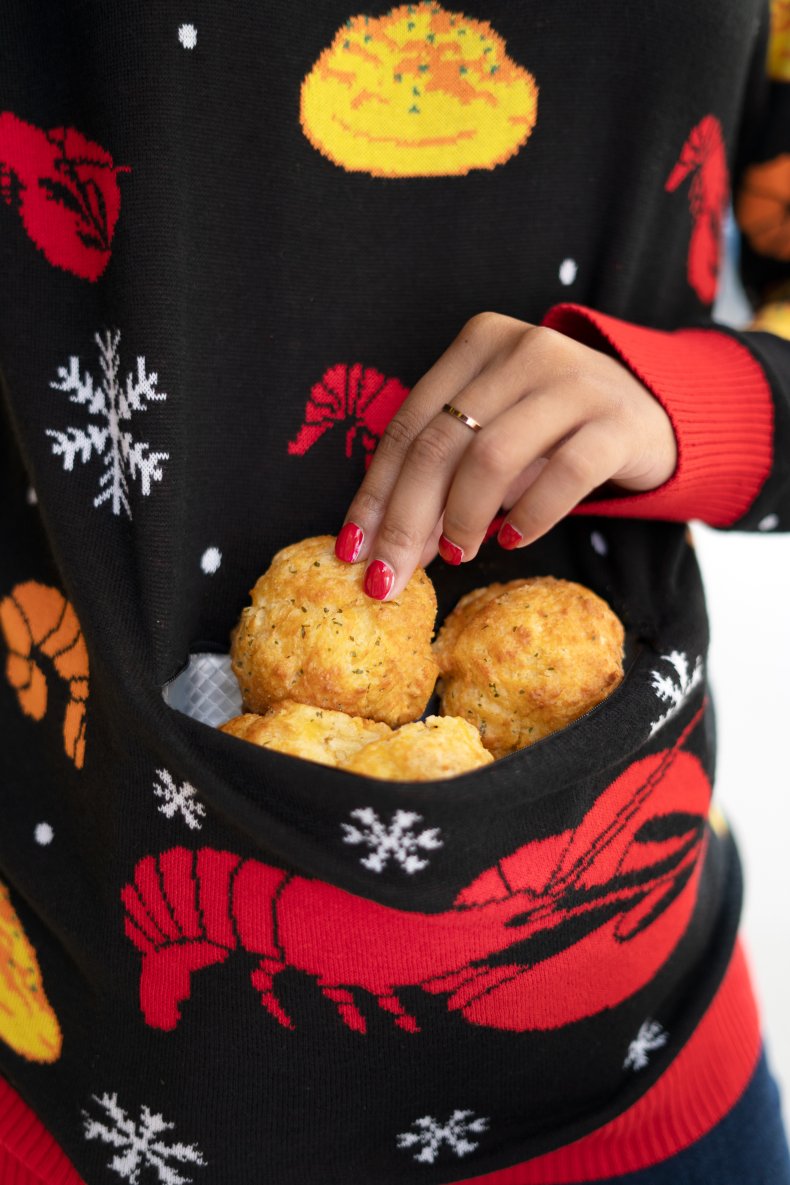 Hot Topic has also entered into the world of ugly Christmas sweaters with designs such as Star Wars, Home Alone, Die Hard, Nightmare Before Christmas and more. There's also a deal at the moment; buy one jumper or hoodie and get one for $10.
Customers might be wary of shopping online at Macy's following the recent data breach, but it does have some out-there designs that some might not be able to resist. A favorite of mine is the festival zebra Christmas sweater, which comes with tinsel and glitter.
Hallmark movies might be cringe for some and a must for others, but, either way, this Ugly sweater is a must if you're watching them this holiday season. The sweater, which says "This is my Hallmark Channel Christmas movie watching sweater," is available in six sizes, Small to XXX-Large. Runs smaller than expected. Priced at $49.99.