U.K. Ambulance Service Sees 2,500 More Emergency Calls in One Day Amid New COVID Strain
The London Ambulance Service (LAS) received nearly 8,000 emergency calls on Saturday, about a 40 percent increase compared with a typically busy day for the service.
In an internal memo sent to LAS employees, obtained by BBC News, the service stated the increase in demand was a result of the new coronavirus strain spreading in the country.
"The demand is occurring because of the rapid spread of the new variant of the COVID-19 virus, initially in north-east London, but now spreading into north-central London and predicted to spread further across the rest of the capital in the coming days and weeks," said the memo.
The LAS reported 7,918 calls on December 26, while the service said during a normal busy day they would see around 5,500 calls.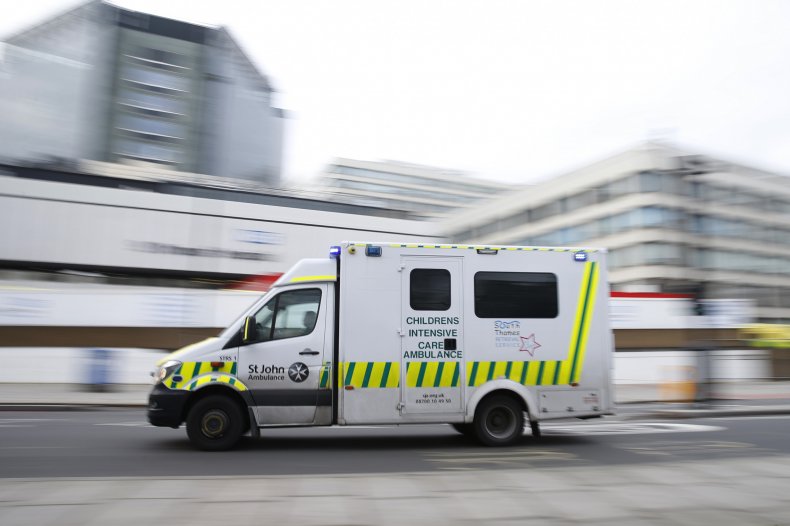 "It's been a horrendous time," one paramedic told the BBC in an interview. "Ambulance staff are finding the whole situation very stressful."
Ambulance crews reportedly have been waiting up to six hours to transfer patients to hospital staff. Due to the surge, some patients have also been treated in the ambulance bays of city hospitals upon arrival as medical staff struggle to make space inside.
According to data from the U.K.'s National Health Service (NHS), England reported over 2,200 COVID-19 hospitalizations on December 26 with 602 located in London. Across the nation's hospitals, 20,426 beds were filled with coronavirus patients on Monday.
As a result of the surge in calls, the LAS urged London residents to only call for "life-threatening emergencies," in a Sunday release.
The LAS has been receiving assistance from South Central Ambulance Service, East of England Ambulance Service and St John Ambulance to alleviate pressure.
The LAS has also said it was also working alongside other private ambulance services, student paramedics, volunteers and the London Fire Brigade to provide as many ambulances as possible with the appropriate amount of staff.
The service's surge rivals the one previously reported in March, during the early stages of the coronavirus pandemic.
Similar to the influx reported on December 26, the LAS also saw nearly 8,000 calls on March 16 as COVID-19 concerns flooded their phones.
"Our colleagues in emergency departments are also under pressure receiving our patients as quickly as they can. We are working urgently with NHS partners to reduce any delays," a London Ambulance Service spokesperson told Newsweek in an emailed statement on December 28.
"The public can support us by only calling 999 for life-threatening emergencies. For urgent medical advice go to: 111.nhs.uk," the spokesperson added.