U.K. and Sweden 'Eroding Credibility' of U.N. By Ignoring Assange Ruling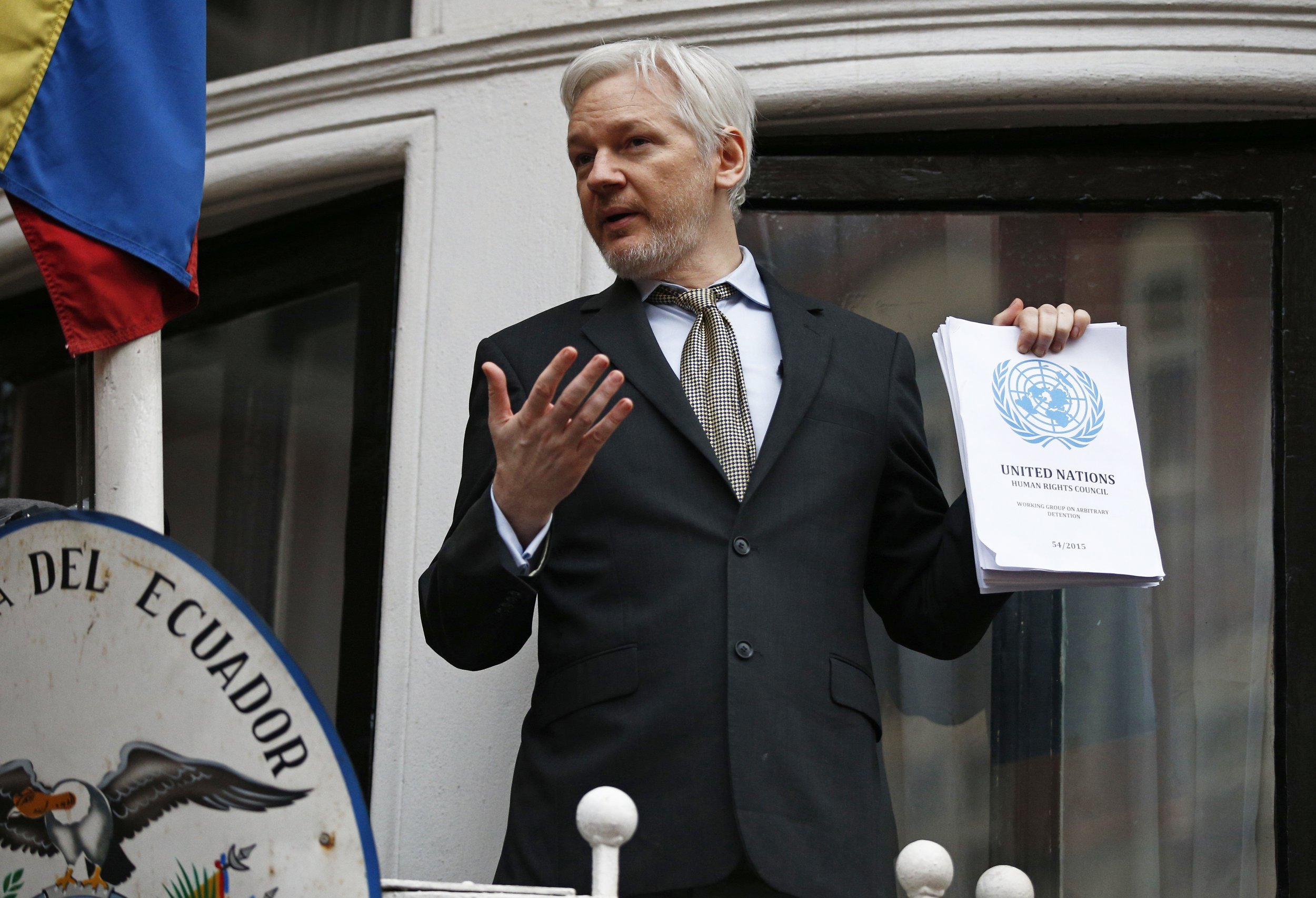 A human rights expert at the United Nations has called on the U.K. and Swedish governments to act upon a ruling that WikiLeaks founder Julian Assange should be "freed" from London's Ecuadorian embassy.
Alfred de Zayas, the U.N. Independent Expert on the Promotion of a Democratic and Equitable Order, said that both countries are required by their human rights treaty obligations to observe the recommendations made earlier this month by the U.N. Working Group on Arbitrary Detention.
The panel ruled that Assange has been unlawfully detained at the embassy since first seeking asylum there in 2012 to avoid extradition to Sweden where he is wanted for questioning over sex allegations, which he denies. The Australian national and his supporters claim the accusations are part of a wider conspiracy to force his extradition to the U.S. in order to face charges over leaking secret government documents.
"Those states who claim to be at the vanguard of human rights should give good example, even if they do not agree with the conclusions of U.N. experts," de Zayas said in a statement. "The international order depends on the consistent and uniform application of international law, and is undermined when states pick and choose. The concept of human dignity is holistic. An à la carte approach to human rights erodes the credibility of the entire system."
Following the U.N.'s ruling on February 5, U.K. Foreign Secretary Philip Hammond dismissed the idea that Assange has been arbitrarily detained as "ridiculous" and accused the Australian of evading justice. Assange stated he would not leave the embassy until he is guaranteed not to be arrested by U.K. police upon exiting.
One of Assange's lawyers, Melinda Taylor, claims the U.K. and Sweden's unwillingness to adhere to the U.N. ruling highlights double standards by the two countries when it comes to human rights, and suggests their relationship with the U.N. is that of a fairweather friend.
"You can't just support the U.N. when it says what you want it to say," Taylor tells Newsweek. "Laws have to be universal and they have to be applied universally. You can't criticize other states for locking up activists arbitrarily and then allow the same thing to happen on your own territory.
"So it really does highlight that both the United Kingdom and Sweden, if they're serious about the United Nations being impartial and effective, they really can't allow these double standards to be propagated. Eventually they'll lose their moral authority and will join the list of rogue nations that they themselves have pointed the finger at."
Dozens of Members of the European Parliament (MEPs) have also called on the U.N.'s ruling to be implemented, arguing that the deprivation of fundamental rights—such as freedom of movement, expression and access to sunlight—violate the European Bill of Human Rights.
In a letter to Jean-Claude Juncker, president of the European Commission, 38 MEPs called for "immediate and effective measures" to be taken.
The letter states: "The silence of the EU institutions in this area is a major concern, considering the lawlessness and arbitrariness that Julian Assange has suffered."