U.K. and Sweden Set 'Dangerous Precedent' with Assange Treatment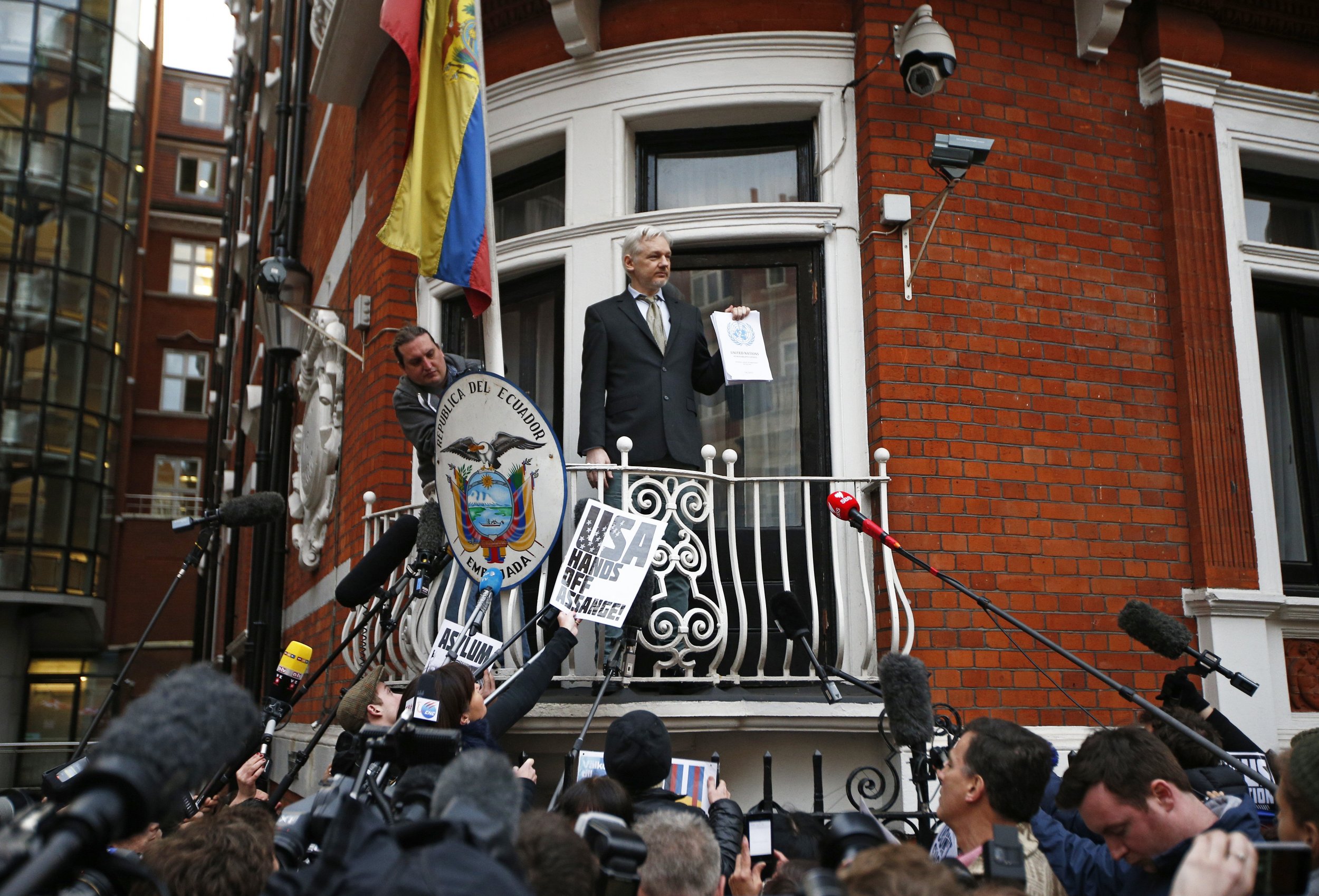 High-profile supporters of Julian Assange have signed an open letter condemning Sweden and the U.K. for ignoring a ruling by the United Nations regarding the WikiLeaks founder.
The letter states the governments of both countries are "setting a dangerous precedent" that undermines the U.N.'s human rights system. Among the signatories are the Chinese artist Ai Weiwei, former Greek Finance Minister Yanis Varoufakis and the journalist Glenn Greenwald.
Last month, the U.N. Working Group on Arbitrary Detention ruled that Assange has been unlawfully detained at the Ecuadorian embassy in London. Nobel prize winners, human rights organizations, artists, academics and diplomats make up the 500 signatories of the open letter that calls for Assange's "right of free movement."
Assange first sought asylum there in 2012 to avoid extradition to Sweden where he is wanted for questioning over sexual allegations, which he denies. The Australian national and his supporters claim the accusations are part of a wider conspiracy to force his extradition to the U.S. in order to face charges over leaking secret government documents through WikiLeaks.
The letter states: "We urge Sweden and the United Kingdom to respect the binding nature of the human rights covenants on which the decision is based, including the International Covenant on Civil and Political Rights; as well as the independence, integrity and authority of the Office of the High Commissioner for Human Rights and the Working Group on Arbitrary Detention.
"We therefore call on the governments of Sweden and the United Kingdom to comply without further delay with the Working Group's findings and 'ensure the right of free movement of Mr. Assange and accord him an enforceable right to compensation, in accordance with article 9(5) of the International Covenant on Civil and Political Rights'."
In a recent interview with Newsweek, Assange's lawyer Melinda Taylor said that the U.K. and Sweden risked becoming "rogue nations" by defying a U.N. human rights ruling.
"You can't just support the United Nations when it says what you want it to say," Taylor said. "Laws have to be universal and they have to be applied universally. If the U.K. and Sweden are serious about the U.N. being impartial and effective, they can't allow these double standards to be propagated."