UK's 'Apprentice' Host Calls Trump That 'Tosser With The Hair' on Live TV
The host of the U.K.'s The Apprentice called U.S. President Donald Trump "that tosser with the hair" today during a live interview on Good Morning Britain.
While discussing his wealth on the weekday morning program, Lord Alan Sugar, a 71-year-old British business tycoon and media personality, casually issued the vulgar remark about the president, prompting host Piers Morgan, a longtime Trump ally and supporter, to apologize.
"I tell you, you could write a check using my total funds of around about £250 million, present it to the bank and it would be paid," Sugar said. "That tosser with the hair, he couldn't do that."
"Oh please! That's the President of the United States, Alan," Morgan interrupted. "That's no way to talk about the President, and I'd like to apologize."
"Tosser" is a common British vulgar slang term, with a meaning similar to "wanker."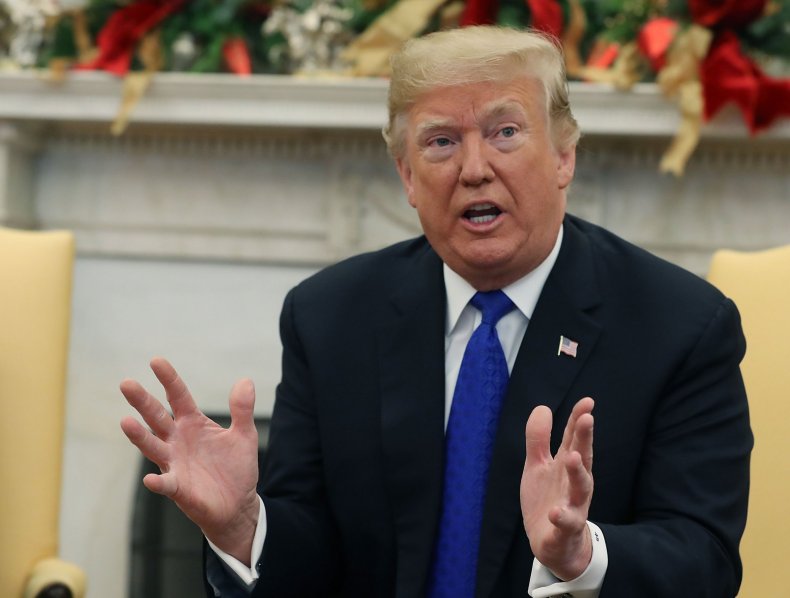 According to Digital Spy, the comments were made after Morgan shared with Sugar jokes that Trump had made about him being "low on the economical scale" during a recent interview.
Later in the segment, Sugar also declared he would "leave the country" if Jeremy Corbyn, Leader of the Labour Party in Britain, managed to take power. "I just want to make a statement and, as much as I hate this, if he becomes PM I am out. I am leaving. I will, nothing to do with tax," he said. "I worry about my grandchildren and my grandchildren's children under this fella. It would be like watching the mother-in-law drive the Ferrari over the cliff."
The incident on Wednesday was not the first time Trump and Sugar have traded blows. In December 2012, Trump fired several insulting tweets directed at Sugar, calling his skills as a businessman into question.
"@Lord_Sugar If you think ugly windmills are good for Scotland you are an even worse businessman than I thought…," Trump wrote.
The then-businessman added: "Sugar: @Lord_Sugar—unlike you, I own The Apprentice. You were never successful enough..."
Trump attacked his U.K. Apprentice counterpart again days later, this time with a new nickname: "Dopey Sugar."
"Dopey Sugar—@Lord_Sugar Isn't it sad that my golf course in Scotland just got 'best new course in the world'—it's worth more than you are!," Trump tweeted on December 10, 2012.
Lord Sugar responded: "@realDonaldTrump How can it be voted best golf course in the world if it is not open. You deluded idiot."
"@Lord_Sugar Dopey Sugar--because it was open all season long--you can't play golf in the snow, you stupid ass," Trump shot back.
Watch the Good Morning Britain clip below: