U.K. COVID-19 Death Toll Passes 100,000
The total number of people killed by COVID-19 in the United Kingdom has passed 100,000 during a devastating second wave fuelled by the new fast-spreading U.K. variant.
Official figures show the number of COVID-19 deaths in the U.K. now stands at 100,162 after a further 1,631 daily deaths were recorded. Only four countries - the U.S., Brazil, India and Mexico - have recorded higher death tolls, each with a far larger population than the U.K.
"I am sorry to have to tell you that today, the number of deaths recorded from COVID in the U.K. has surpassed 100,000," British Prime Minister Boris Johnson told a press conference. "It's hard to compute the sorrow contained in that grim statistic. The years of life lost, the family gatherings not attended and, for so many relatives, the missed chance to even say goodbye. I offer my deepest condolences to everyone who's lost a loved one. Fathers and mothers, brothers and sisters, sons and daughters and the many grandparents who have been taken.
"To all those who grieve, we make this pledge: when we come through this crisis, we will come together as a nation to remember everyone we lost and to honor the selfless heroism of all those on the front line who gave their lives to save others."
It comes just days after the prime minister revealed the U.K. variant - first discovered in December - could potentially be deadlier, according to early data.
Separate data issued Tuesday by the U.K. statistics authority, the Office for National Statistics (ONS), suggested the country is heading for the peak of the second wave but may not yet have hit it. Four in 10 deaths in England and Wales in the week ending January 15 were caused by COVID, the ONS figures revealed. It found there have been 103,704 COVID fatalities by the middle of the month in its tally, which counts all fatalities with COVID included on the death certificates, whereas the government's figure relies on positive tests.
The ONS registered 7,776 deaths with coronavirus on the death certificate in the seven days up to January 15. That total is the third-highest of the epidemic. Last April, there were two weeks with more than 9,000 coronavirus deaths registered across the U.K. - but there have been no other weeks with more than 7,000 deaths registered.
Of the death certificates citing COVID, about nine in 10 registered the virus as the cause of death, the ONS found. Most of the deaths have been in older age groups, with one in three deaths care home residents. While positive case numbers remain high, they are beginning to fall as the U.K. continues to remain under strict nationwide lockdown measures.
New admissions to hospital have started to decline, falling from 4,221 per day in the week from January 9 to 3,863 on January 18. Hospital patient numbers remain extremely high, with around 38,000 people in hospital and 4,000 of them on ventilators.
Chris Hopson, of NHS Providers, which represents health service managers, said the 100,000 deaths milestone is a "tragedy". He said: "Behind each death will be a story of sorrow and grief. We pay tribute, once again, to NHS and care staff who have done everything they can throughout the long months of this pandemic to avoid each one of these deaths and reduce patient harm.
"We won't know the true impact of Covid-19 for a long time to come because of its long-term effects. But, as well as the high death rate, it's particularly concerning that this virus has widened health inequalities and affected black, Asian and minority-ethnic communities disproportionately."
It comes as the U.K. prime minister is expected to announce a travel crackdown to prevent new variants of COVID from entering the U.K. from abroad.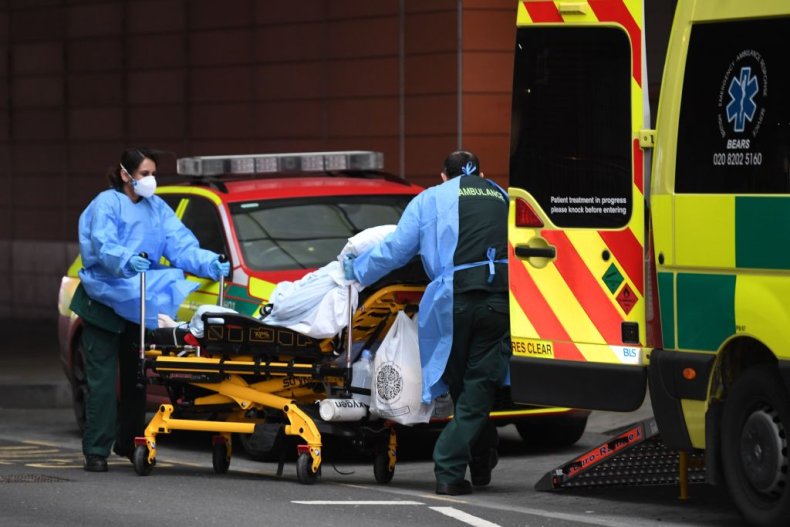 The majority of people traveling into England need to provide evidence of a negative COVID test taken within 72-hours before departure and some travelers may now also have to quarantine in hotels after arriving in the country. Quarantine rules are set by each of the U.K. nations, but the rules tend to be similar across Scotland, Wales and Northern Ireland.
Foreign nationals from South Africa, Brazil and Portugal are already denied U.K. entry due to the discovery of new variants, so the new rules will mainly affect returning U.K. citizens and residents. It is believed those returning from these high-risk countries will be expected to isolate in a hotel for 10 days upon arrival to the U.K.
Hotel quarantine is already in use in countries including New Zealand and Australia, where COVID cases and deaths have remained low.