U.K. COVID Vaccine Centers To Open 24/7 'as Soon as Possible'
The United Kingdom will soon offer COVID-19 vaccinations at any time of day or night in a bid to meet its aim to vaccinate 15 million people next month, the Prime Minister has said.
While being questioned over the ambitious vaccine rollout in the House of Commons, Boris Johnson told British politicians that the country's vaccination centers will operate 24 hours a day, seven days a week, "as soon as we can". His comment appears to U-turn on a previous statement put out by the prime minister's official spokesman who on Monday said there was "no clamor" for 24-hour vaccinations and no plans for them.
Johnson told opposition leader, Sir Keir Starmer, at Prime Minister's Questions (PMQs) that Health Secretary Matt Hancock would announce details of the 24/7 centers shortly, once the supply of enough vaccine doses is available. The U.K. has extended the period between the first and second doses of the COVID vaccine from the recommended three to four weeks to 12 weeks, in order to give more people protection from one dose. Doctors and patients have voiced unease about the strategy, which saw hundreds of thousands of people having their booked second appointments scrapped.
While there is evidence from trials of the Oxford/AstraZeneca vaccine, circulation of which began on Monday, of greater efficacy among people who were given the second shot later, Pfizer/BioNTech have said there is no evidence for the efficacy of a single shot of their vaccine beyond three weeks. Hancock earlier said the government was "absolutely" in favor of rolling out round the clock vaccinations, while Vaccine Minister Nadhim Zahawi told MPs that, while he was willing to do anything to scale up the rollout, he had to ensure it was targeting the most vulnerable.
The government has not yet published statistics on the supply of the vaccine into the U.K and Zahawi told the Commons Science and Technology Committee it would be "unwise and wrong" to publish details of every single vaccine that comes in. One member of the committee, Labour MP Dawn Butler, accused him of being "evasive".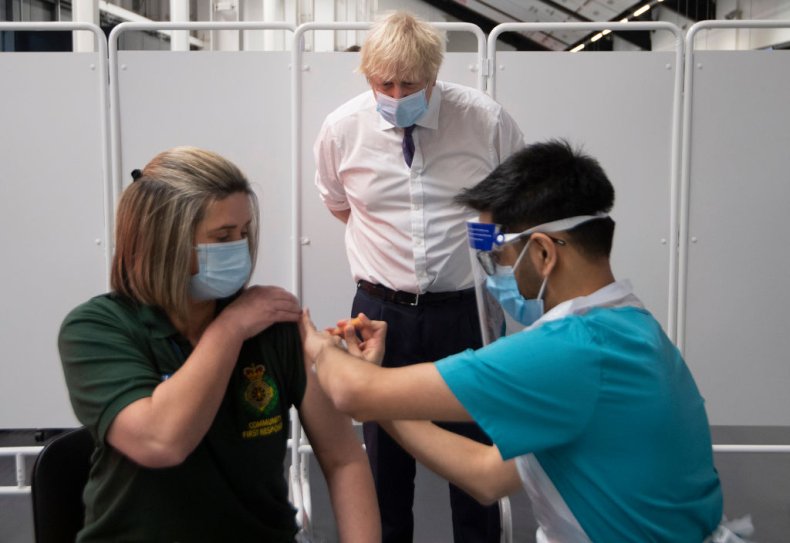 Seven mass COVID-19 vaccination centers have opened in England to immunize elderly people and healthcare workers in Bristol, Surrey, London, Newcastle, Manchester, Stevenage and Birmingham. According to NHS England, hundreds more GP-led and hospital services will open later this week to help in the vaccination effort. Despite the vaccine drive, the prime minister has refused to rule out tougher lockdown restrictions. Starmer said 17,000 people had died from COVID since Johnson claimed at the last PMQs held before Christmas, on December 16, that no new lockdown was needed.
Johnson explained his comments were made two days before the government was told about the new, fast-spreading variant of COVID-19 that has been blamed for a rapid spike in cases and hospitalizations since the middle of December.
He said: "Within 24 hours we reacted by putting a vast part of the country into tougher restrictions and we are now seeing, although it is very early days, the beginnings of some signs that that is starting to have an effect in many parts of the country. But by no means everywhere. Indeed, it's early days and people must keep their discipline and keep enforcing the rules."