U.K. 'Doesn't Do What it Says,' Should Work with France on Migration, Macron Says
French President Emmanuel Macron said at a Thursday news conference the British government "doesn't do what it says" and should work with France on migration.
Macron urged Britain to facilitate applying for asylum and to make it more difficult to work illegally as a way to reduce the amount of migrants attempting to cross the English Channel for opportunities. This comes after at least 27 migrants died and thousands are taking to inflatable boats attempting to cross the dangerous channel.
He said the two nations "need to work together in good faith," especially regarding migration.
Earlier this month, France had reached out to the U.K. regarding proposals for migration in a letter to Prime Minister Boris Johnson from French Prime Minister Jean Castex, according to Reuters.
Castex rejected the idea to employ a British-French patrol the English Channel to combat migration efforts, Reuters reported.
"A large part of the solution does not lie in France, but in the United Kingdom," Castex wrote, according to Reuters. "In fact, you can deter the migrants who are not destined to settle [in Britain] from coming to your territory by conducting a more effective return policy."
"Why are these women and men in these terrible conditions? Because they don't want asylum in France," Macron said.
Macron urged the U.K. to implement clearer, legal ways to apply for asylum so people would be less likely to cross the English Channel. He added that a British economic model that "depends on illegal work by foreigners" also attracts migrants.
The U.K. has also entered a secret submarine deal with the U.S. and Australia that caused a rival French contract to bust. This resulted in Macron accusing the British government of betrayal of the two nations' friendship and going back on a promise regarding fishing licenses.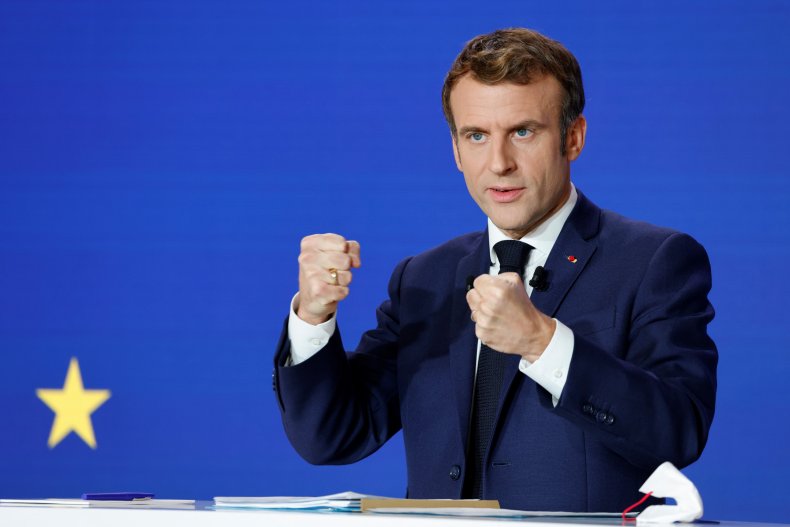 Britain and France accuse each other of not doing enough to prevent the deaths of at least 27 migrants whose boat sank last month off the coast of Calais.
Macron also said that France will decide with European Commission on Friday on the next steps in France's fishing dispute with Britain. French fishermen are angry at the British government for not granting more licenses to fish in U.K. waters after Brexit. The fishing industry is economically tiny but symbolically important for both Britain and France.
"I like Great Britain. I like its people," Macron said. "I want terribly to have a government that wants to work simply in good faith."
The Associated Press contributed to this report.