The DUP Opposes Gay Rights and Abortion and Now It's Propping Up the British Government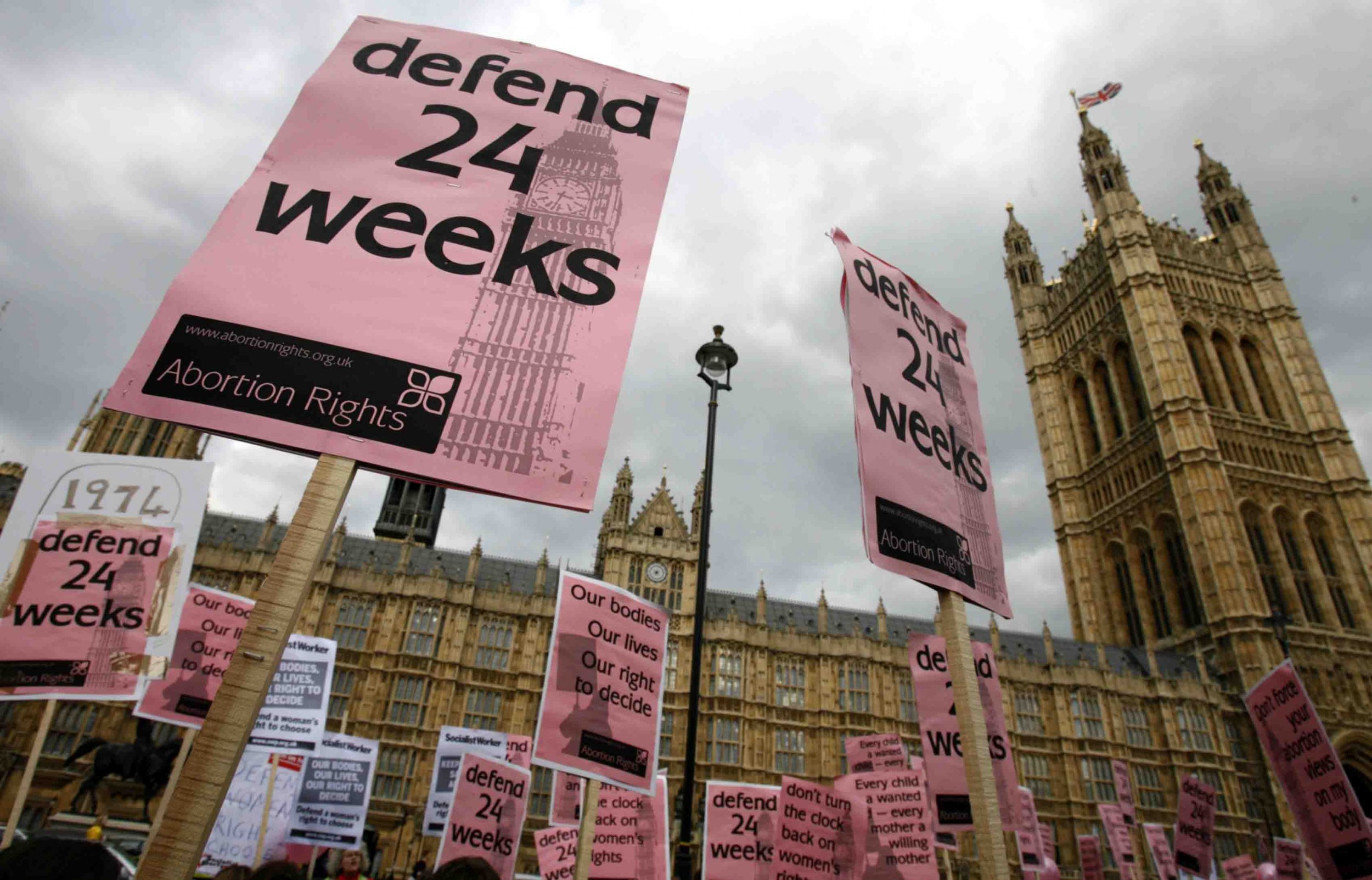 Updated | The U.K. has developed something of a habit when it comes to surprise election results. In 2015, the Conservative Party won a landslide victory that saw three other party leaders resign. A year later, the country defied opinion polls, voting to leave the European Union in a shock referendum result. On Thursday, voters denied Theresa May's Conservatives the majority it needed to form a government.
With just 318 seats, the Conservatives had fallen short of the 326 total needed to govern with a majority government, and the country faced a coalition or highly unusual minority government.
By 3 p.m., May had found her solution. Speaking to reporters, the U.K. prime minister said she would continue to govern along with her "friends and allies" in the Democratic Unionist Party (DUP), a Northern Irish party.
It is not yet clear how closely May will work with the DUP. It seems most likely that she will lead the U.K. in a minority government, with the DUP supporting her on a vote-by-vote basis. But she could decide to enter into a formal coalition with the party, which would give her a majority in Parliament, albeit by two seats. Whatever she decides, gay-rights and women's groups are already protesting.
The DUP and its rival, Sinn Féin, are two of the main parties in Northern Ireland. Both reflect the deep sectarian split that fractures the region: Part of the population supports independence from the U.K., and part opposes it. Sinn Féin represents the former: Irish Catholics, typically, who want to see Northern Ireland united with the Republic of Ireland. The DUP gives voice to the latter, who tend to be Protestants.
Founded in 1971 by the evangelical minister Ian Paisley, the DUP is a socially conservative party that opposes gay rights and abortion. Some of its members also have denied climate change and evolution, with DUP politician Thomas Buchanan calling for creationism to be taught in schools. Like Sinn Féin, the DUP has been accused of having links to violent paramilitary groups.
Though the U.K. has long accused Sinn Féin of being close to the Provisional Irish Republican Army (IRA), it has been less vocal about the DUP's connection to the Ulster Resistance force. Peter Robinson, the DUP's former leader who stepped down as First Minister of Northern Ireland last year, had addressed and been pictured with the group.
Unlike the rest of the U.K., Northern Ireland does not permit abortion unless the mother's life is in danger or there is a permanent or serious risk to her mental or physical health. Despite calls for this law to change, the DUP remains staunchly opposed to legalizing abortion. In 2016, the party's leader, Arlene Foster, told The Guardian: "I would not want abortion to be as freely available here as it is in England."
Speaking to Newsweek, the London-Irish Abortion Rights Campaign, which advocates for legal abortion in Ireland and Northern Ireland, said it was deeply concerned that Theresa May—a Christian who voted to reduce the abortion limit in England, Wales and Scotland from 24 weeks to 20 weeks (though the bill did not pass)—had chosen to ally herself with the DUP.
"The DUP has consistently blocked any attempts to allow abortion even in limited circumstances," the group says. "They are out of step with the Conservative Party and the people of Britain on many moral and social issues, having also blocked attempts to legalize gay marriage in Northern Ireland. We urge Theresa May to think carefully before aligning herself with a party intent on undermining the human rights of Northern Irish women."
Gay rights groups have echoed the London-Irish Abortion Rights Campaign's fears. In a statement on its website, the LGBT advocacy group Stonewall said it shares "the concerns of countless LGBT people, and our friends, of all political persuasions who are deeply anxious about the potential Democratic Unionist Party involvement in the new government."
Unlike the Conservative Party, which oversaw the legalization of gay marriage in 2014, the DUP "vetoed same-sex marriage in Northern Ireland five times, despite a majority of the public and representatives being in favor," Stonewall noted.
What Stonewall doesn't mention is that May has also faced criticism on her own voting record. She has voted against equalizing the age of sexual consent; voted against repealing a law banning the "promotion" of homosexuality in schools; and voted against gay adoption. She has since distanced herself from those votes, telling a BBC audience in 2010 that she thought she would "vote differently."
The DUP has been more vocal in its stance against gay rights. Founder Ian Paisley once led a "Save Ulster From Sodomy" campaign (Ulster is a name Unionists use to refer to Northern Ireland), and in 2005 his son described homosexual relationships as "immoral, offensive and obnoxious." In 2015, the former health minister for Northern Ireland, DUP politician Jim Wells, said: "The gay lobby is insatiable, they don't know when enough is enough."
As Theresa May and Arlene Foster prepare to enter talks, many Britons are worried about the DUP's potential impact on Westminster. But with no other party willing to prop up the Conservatives, it seems unlikely the pairing will change.
This article originally incorrectly stated that Ulster is another name for Northern Ireland. Ulster is a term that some unionists use to describe Northern Ireland.