U.K. and EU Agree Brexit Trade Deal
The U.K. and the European Union (EU) have reached a trade deal laying out the future relationship. "We have finally found an agreement," European Commission President Ursula von der Leyen told a press conference. "It was a long and winding road but it was the right and responsible thing to do for both sides."
It was "time to turn the page and look to the future," she said, saying that they would continue to stand "shoulder-to-shoulder" to achieve their joint global goals. "Quiet satisfaction" and "relief" was felt, President von der Leyen said.
Details are still being laid out and the document detailing the deal is said to run to 2,000 pages. British Prime Minister Boris Johnson said he wanted to "end any extra uncertainty" with his top priority still being COVID-19, announcing a "Canada-style free trade deal", saying "we've taken back control of our laws and our destiny."
The deal agreed between the EU and U.K. still needs to be ratified by lawmakers on both sides, a process which has just days in which to take place. Members of Parliament in the U.K. have spoken of their fears of having next to no time to properly scrutinize the trade agreement that will come into force on January 1, 2021.
"I think this new deal means a new stability and certainty in what has been a sometimes fractious relationship," Johnson said in a press conference. "We will be your friend, your ally and your supporter and, let we not forget, your biggest trading partner."
The U.K. left the EU on January 31, 2020, but has been following the bloc's trade rules while a trade deal was negotiated. With no such deal agreed, the U.K. was to go on to trade on World Trade Organization (WTO) rules, which could see charges introduced on goods being sold and bought - and could have lead to an increase in prices and long delays. This is due to increased border checks and taxes for goods traveling between the U.K. and the EU.
As the deadline loomed ever closer, both European Commission chief Ursula von der Leyen and British Prime Minister Boris Johnson had warned that a "no-deal" scenario was looking ever more likely, but agreed in a last-minute crisis call to "go the extra mile" to get an agreement in place.
The EU consistently maintained that it would not agree to a trade deal that is not "fair" while Britain argued it would not compromise on the "fundamental nature" of Brexit, namely controlling U.K. laws and fisheries. The main sticking points involved fishing rights, the level playing field and a so-called "ratchet" clause.
The British government wanted to negotiate fishing quotas annually in the same way that Norway does but coastal EU states, including France and Ireland, complained this would be unfair on their fishermen. France carries out nearly 30 percent of its fishing in U.K. waters, while around half of all Ireland's fishing catch takes place in the U.K.
On the level playing field, a trade-policy term for a set of common rules and standards that prevent businesses in one country from gaining a competitive advantage over those operating in other countries, the U.K. and EU had already agreed on "non-regression" clauses.
This means the same standards that currently exist over workers' rights, the environment and climate change will continue post-Brexit and form a base below which both sides will not "regress" or fall.
However, the EU refused to guarantee the U.K. access to its single market - with no tariffs or taxes on goods crossing borders - if there was a possibility that companies based in the U.K. could be given state support to undercut their rivals elsewhere in Europe.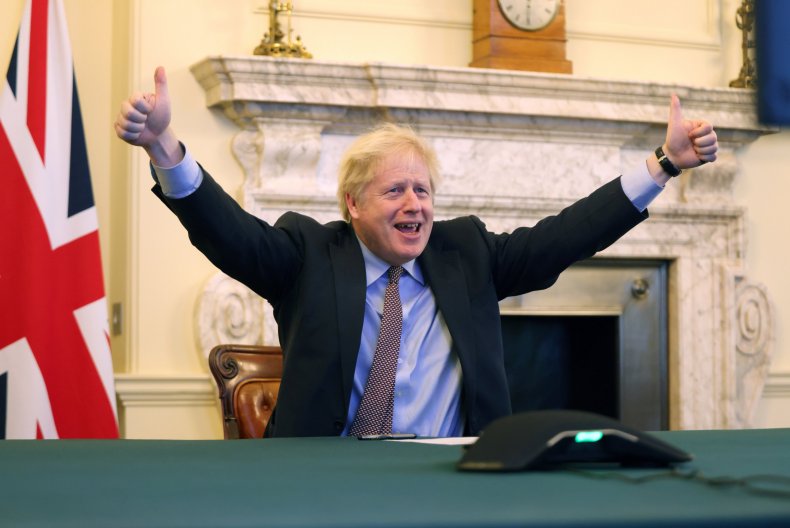 In addition, the EU called for an evolution or "ratchet" clause, which would mean if one side raised standards the other would have to follow suit or face potential penalties. The U.K. argued this could mean it ended up being dragged into following EU policy, the opposite of the intention of Brexit.
Speaking ahead of decision day, Kevin Featherstone, professor of European politics at the London School of Economics, told Newsweek that talks had stalled to the point negotiators were effectively "wading in treacle".
"There'll be a lot of internal pressure on the PM to find a compromise, given the enormity of the impact of 'no-deal'," he said. "The fact that Boris received the support of his Cabinet for a no-deal outcome is spurious – he was able to pick them on the basis that they'd go along with it."
In earlier official statements, Downing Street remained adamant that the U.K. faced a positive future after leaving the EU. Johnson himself, almost allergic to offering up bad news, said following another missed deadline: "Either way, whatever happens, the U.K. will do very, very well."
As the days came and went that message became rather diluted, with the EU's chief negotiator Michel Barnier, much like most of Europe and the U.K., becoming increasingly impatient.
Just days before deadline day, he told the European Parliament "the moment of truth" had arrived and though there was still a "chance" of a deal, the path was "very narrow". Johnson agreed, telling media: "Things are looking difficult and there is a gap that needs to be bridged" before admitting a no-deal scenario was "very likely".