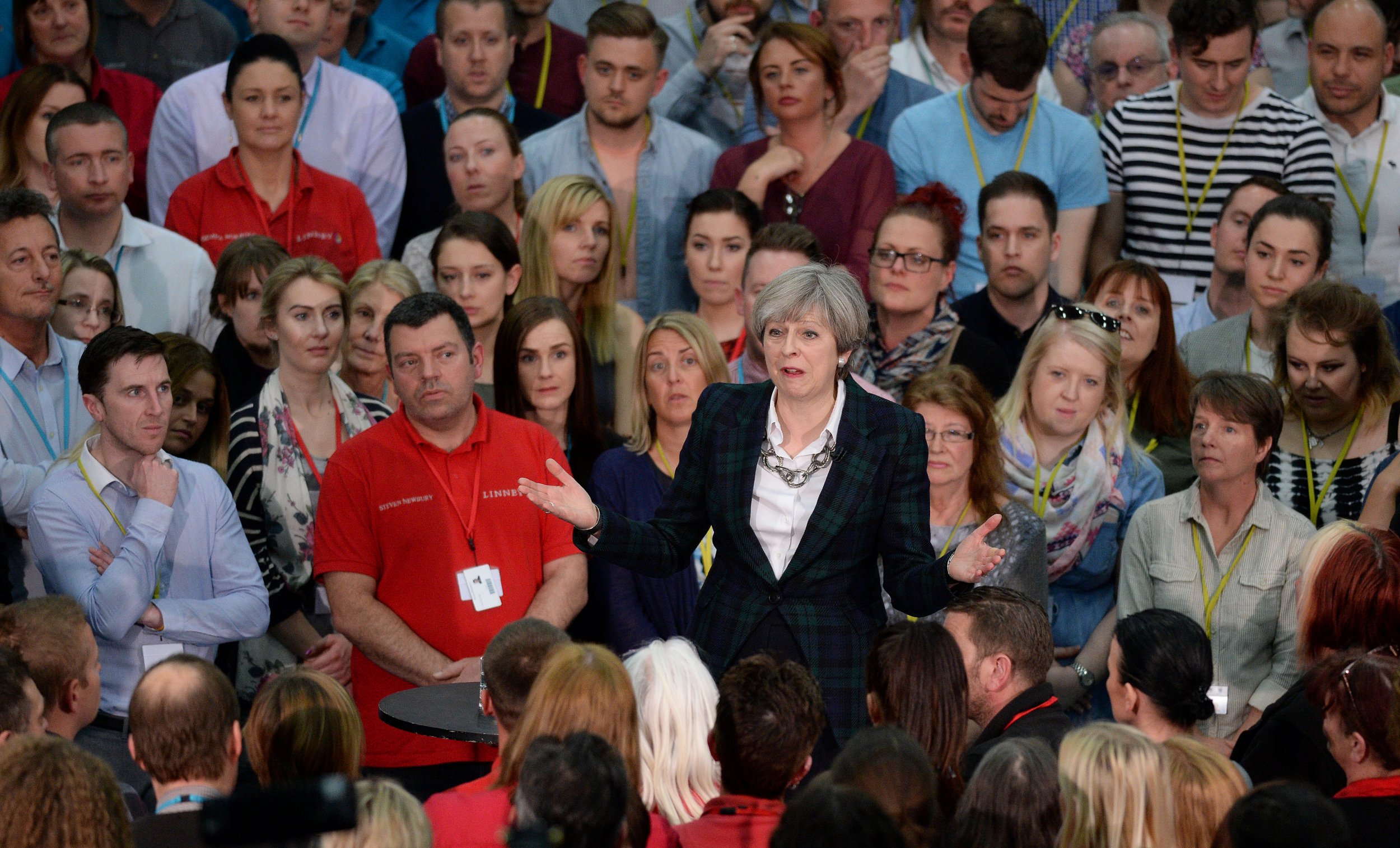 No talk of opinion polls and definitely no boasting—Britain's governing Conservative Party is under strict orders before a June election that it hopes will "destroy" the opposition.
The Conservatives, once criticized by Prime Minister Theresa May for being called the "nasty party," won seats from left-wing parties and from the right in local elections this month by capitalizing on the opposition Labour Party's divisions to appeal to their working-class voters and Brexit supporters.
The elections to local councils and a handful of mayoral positions were a dry run for the June 8 parliamentary election in which opinion polls suggest May's party is set to add dozens of additional seats, possibly reshaping the political landscape in Britain by ushering in years of Conservative rule.
The goal is nothing less than "to destroy Labour," one Conservative lawmaker said, by targeting the seats of up-and-coming opposition politicians to stunt its growth. This, the Conservatives say, would hand May the kind of commanding victory she needs to strengthen her hand in divorce talks with the EU.
But the message to Conservative lawmakers, members and activists is true to form for the risk-averse prime minister—do not take anything for granted. For her, the biggest electoral threat is not from other parties, but the risk of the Conservatives appearing over-confident.
"We must not be complacent and I am not complacent," May said just a week after she called the early election.
This month, after making gains in local elections, she told supporters: "I will not take anything for granted and neither will the team I lead, because there is too much at stake."
Opinion polls give the Conservatives around a 20-point lead over Labour, and the party won some seats traditionally supportive of the opposition party in the local elections.
They even won the mayoral contest in Tees Valley—part of Labour's heartlands in northeastern England, only one of two regions where Labour is ahead of the Conservatives but where May's party has reduced a wide gap to just two points.
"We're not allowed to talk about the polls, we've got to say they are notoriously unreliable," said the Conservative lawmaker, speaking on condition of anonymity due to the sensitivity of explaining Conservative strategy. "We are not allowed to crow."
The Conservative Party has struggled over the years with being portrayed as smug in some media and, under her predecessor David Cameron, packed with members of Britain's elite schools and top universities. In 2002, she herself chided members at a party conference for having too narrow a base: "You know what some people call us—the nasty party."
She has tried to shift her policies closer to the political middle ground, promising to build more houses and expand workers' rights to appeal to those who feel left behind by globalization and mostly voted to leave the EU last June.
But her strategists are betting on winning over voters by focusing on her personality, which those who have worked for her variously describe from "determined" to "intractable."
She rarely mentions her Conservative Party in stump speeches and her election posters say simply: "Theresa May for Britain" in an almost presidential campaign which pushes her promise to deliver a good Brexit deal.
The refrain for the Conservatives election campaign is that May offers "strong and stable" leadership, drawing a comparison with Labour leader Jeremy Corbyn, who the governing party characterizes as "chaotic."
Labour officials said they will fight on "policy, rather than personality," with one adding that the strategy did not mean "we've not got a great personality in Jeremy (Corbyn)".
But May's team is concerned the British leader could become the next victim of misleading opinion polls which had wrongly forecast that Britain would vote to remain in the European Union and Donald Trump would fail to capture the U.S. presidency.
Her commanding lead—and presumed victory—could also deter many from voting, and some veteran party officials say they are not sure the gains at local elections show that the Conservatives have really moved the dial enough to justify some predictions that they can win a 150-seat majority in the 650-seat lower house of parliament.
"It shouldn't feel too good because we can't slip into complacency," said a veteran Conservative Party member, involved in election campaigns for more than two decades.
"The safe Labour seats are still safe," the member said, predicting a much smaller majority of 50 seats.
Party sources say CCHQ, the Conservative Campaign headquarters, has drawn up a list of targets—seats where Labour has a majority of around 7,000 and 8,000 votes, sometimes even going after those with around 10,000.
By leaping on any split in his divided party, May's team is also using social media to undermine the opposition leader—sending a video of Labour supporters saying they plan to vote Conservative because of Corbyn to potential converts to try to make further inroads into Labour strongholds in central England, the north and in Wales.
In response, sources say Labour is operating a "lifeboat" strategy, funneling funds into seats it cannot afford to lose.
"It is game on," said the Conservative veteran party member, describing the June election as a once in a lifetime chance to change the political landscape in Britain for years to come. "But voters are fickle ... Once they've played away once, they can always play away again."