In Scotland, Politicians Are Using the British General Election as a Proxy War Over Independence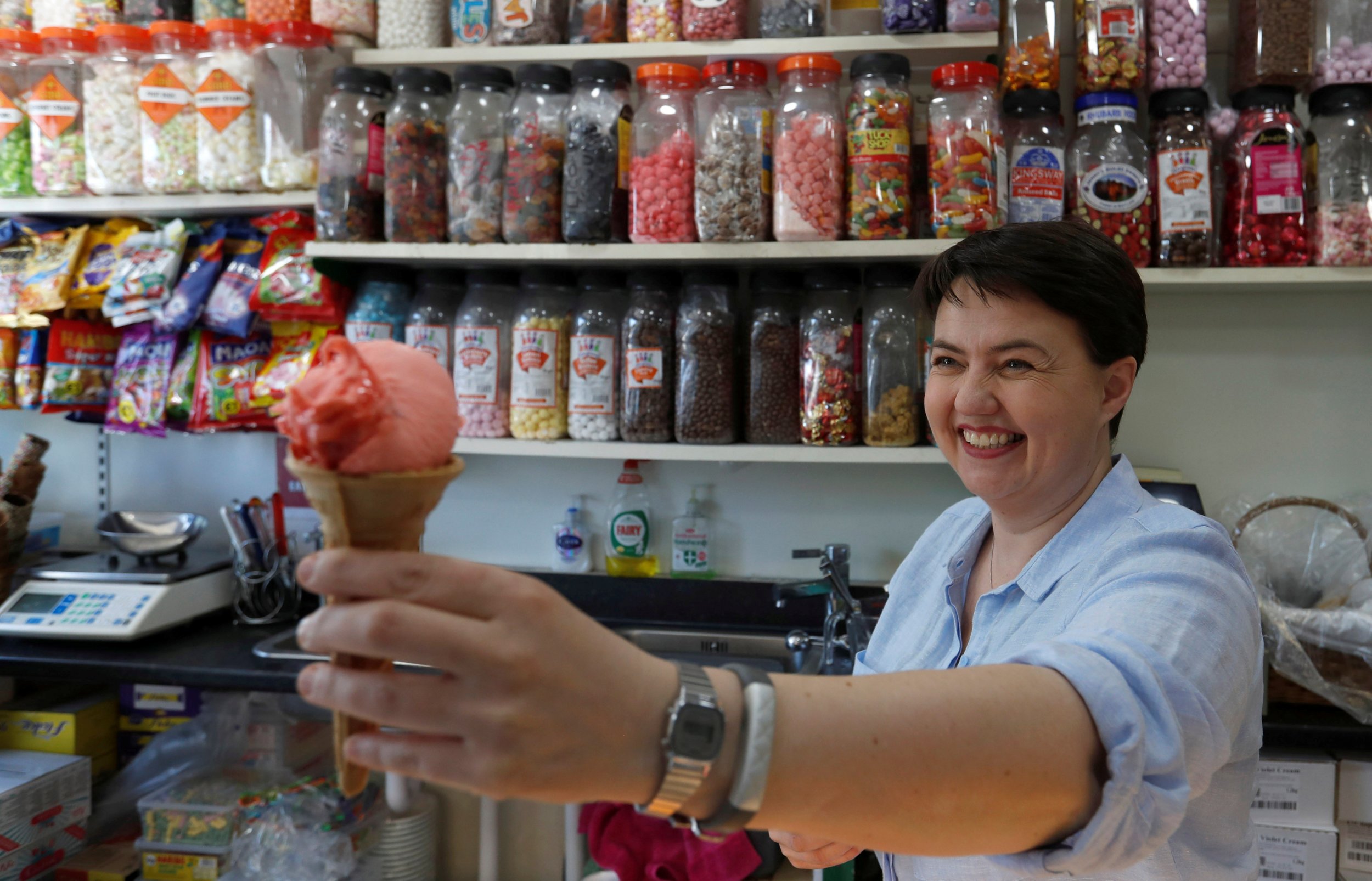 It's a gray, muggy day in a garden center in the South of Scotland, and Ruth Davidson, leader of the Scottish branch of Britain's governing Conservative Party, is astride a trestle laden with flowers, clasping two colorful blooms. "Lovely pair!" shouts Rachael Hamilton, the party's candidate for an upcoming regional election. Davidson, a small, solid, dark-haired woman who always seems to be moving somewhere at terminal velocity, throws back her head in a hooting laugh, forceful and maybe even genuine.
We're out on the general election trail, and we're a long way from the drudgery of the campaign in England. There, Prime Minister Theresa May, overall leader of the Conservatives across the U.K., plods toward a near-inevitable victory, meeting as few unvetted voters as possible and keeping journalists firmly at arm's length. But Davidson doesn't work that way. After watching her chat away with a young woman on work experience the local paper brought along for the ride, I point out that she's friendlier to the media than May is. She laughs the same laugh, but otherwise doesn't take the bait: "I'm friendly to everyone!"
Her openness might stem from the fact she has more to prove. Just a few years ago the Conservatives were a minor force in the northern nation. The party's new resurgence—some projections suggest it could increase its current single Scottish seat to as many as six or seven at the election in June—is a feature of the changed landscape following the 2014 referendum on whether the country should leave the U.K. Nowadays, most questions in Scottish politics ultimately come back to one big question: Are you for independence, or against it? The Conservatives have found a compelling new image as the most stridently pro-union party. And politicians here are painting the British general election as a crucial battle in this hard-fought constitutional war.
"The constitution defines everything in Scottish politics," says Pete Wishart, who since 2005 has represented the Westminster seat of Perth and North Perthshire for the Scottish National Party (SNP), which wants to hold another independence vote. The SNP has gradually grown in strength over the past decade and a half, and staged a landslide in the last elections to the U.K. Parliament at Westminster in 2015, winning 56 seats out of 59.
But where that rise was mainly at the expense of the center-left Labour Party, traditionally dominant in Scottish politics, now it's the Conservatives who are gaining ground and asserting themselves as the chief opposition. Wishart is worried: His seat is often talked up as a target, and while he'd usually spend some of an election campaigning around Scotland, this time he's had to focus all his attention on his home turf to shore it up.
If Davidson secures a good Conservative result in Scotland, May could well claim that the case for an independence vote has been weakened. Davidson won't put a number on how many seats she's hoping for—"I obviously want the best result we can get, so by the time polling day comes round I'll be looking for 59 seats out of 59," she jokes. But resisting independence is central to her pitch. Speaking to Labour voters at her party's manifesto launch on May 19, Davidson said: "Together, with your help, we can lead the fightback against the SNP and stop Nicola Sturgeon trying to pull our country apart."
At the same time, though, a failure to break through by the Conservatives could see the SNP emboldened. Tommy Sheppard, an SNP MP for the Edinburgh East constituency, tells Newsweek that the media's focus on his party's problems misses the big picture. "What's going to happen on June 8, and I am confident, is that the SNP will win the general election in Scotland by what anyone two years ago would have described as a landslide," he says. The Conservatives could reach a historic high and Sturgeon could still say her party is the choice of the vast majority of Scots.
After such a long absence, the return of Conservatism to Scotland might not be smooth; the political debate north of the border is noticeably more liberal. To win seats, the Conservatives will need to snatch voters off Labour. Davidson, a working-class gay woman, has proved a palatable spokesperson for the right. But personality and appearance cannot disguise the fact that her party has shifted to the right under May's leadership.
Nowhere is this more true than on immigration, which in Scotland is more often praised by politicians while in England is treated by most as a negative force. May is known for her tough stance on the issue, and among other policies ensured the Conservative manifesto included a pledge to keep counting foreign students in immigration figures, which are used as part of an overall target to reduce net migration to below 100,000.
Critics say this is unfair, as students tend to leave after their studies, and will risk limiting the number of foreign students coming to the U.K. to fuel its thriving higher education sector. In a TV debate on May 21, Davidson sought to defend her party's policy while also positioning herself on the liberal side of the debate, saying she wanted foreign students in Scotland, and that they would continue to come as their presence makes little impact on the net migration numbers. Sunder Katwala, head of immigration think tank British Future, tells Newsweek that the way the figures are counted means she is "incorrect." Asked about this, Davidson insists the number of foreign students has risen and "there is no limit on the number of international students that can come to the U.K," but she is likely to face continued questioning on the issue.
And not all Scottish voters agree with their politicians about the stakes at this election: They want a debate about something other than independence. In two contested constituencies, Edinburgh South where the SNP are trying to topple Labour's last remaining MP, and Berwickshire, Roxburgh and Selkirk where the Conservatives are trying to topple the SNP, I hear a plethora of other reasons for voting.
Peter Wright, 77, is switching from Labour to Conservative in Edinburgh, but because he thinks May will make a good job of Brexit negotiations ("forget all the other stuff… all this guff.") Phil Bowers, 75, down the road, disagrees: "I don't trust the Tories one little bit." He's Labour because "the local MP is so damn good." In a town in the Berwickshire constituency, Isabel Braithewaite, 82, is going for the Conservative, John Lamont, because "he's quite a nice boy." Others talk of the need for a discussion of health, education, and other policy areas run by the SNP Scottish government in Edinburgh.
So not everyone is Scotland is as cheery as Davidson about the vote. Hearing I work for an American publication, Victor Cunningham, 38, says: "Just tell them it's as bad as the Trump fuckin' elections; there's no winners." But like it or not, this election will set the tone for the coming years of haggling over independence. While across the U.K. the result might be more predictable, even small shifts in Scotland could have huge implications.