Thousands Defy Lockdown in Europe to Protest Outside U.S. Embassies Over George Floyd's Death
Thousands of people in the U.K. and Germany defied coronavirus lockdown measures to gather at rallies showing solidarity with protesters in the U.S. over the death of George Lloyd.
Both the U.K. and Germany have started to ease the lockdowns imposed to curb the spread of coronavirus, but public gatherings remain banned amid fears of a second wave of infections.
Despite the U.K. government's measures, people ventured outside for rallies in London and Manchester this weekend to support protesters in the U.S. following a week of unrest triggered by Floyd's death on Monday.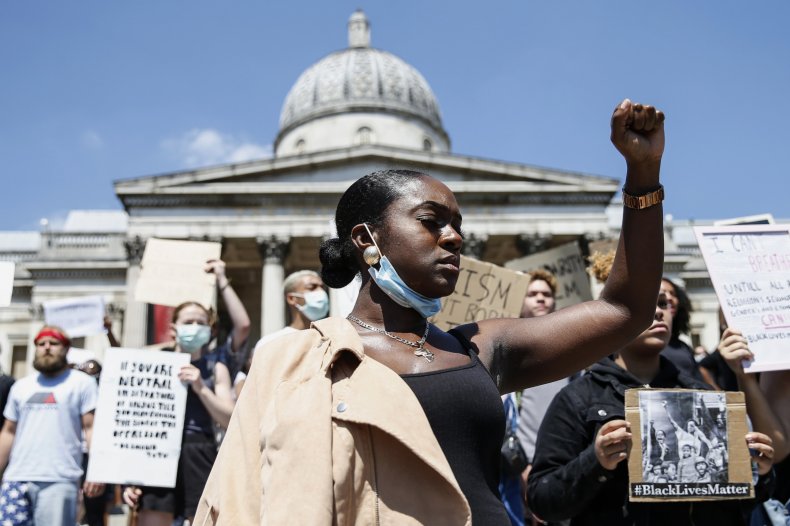 In London's famous Trafalgar Square, protesters on Saturday kneeled as they chanted Floyd's name and slogans including "No justice, no peace!"
According to Reuters, protesters then marched past the Houses of Parliament before ending up outside the U.S. Embassy.
London's Metropolitan Police tweeted that officers had responded to two locations in Westminster where protesters had gathered. Police said they made a "small number" of arrests at each location for breach of COVID-19 regulations and issued some fines. The force tweeted that it had an "appropriate policing plan" for protesters gathering outside the U.S. Embassy on Sunday afternoon.
At another protest in the London neighborhood of Peckham on Saturday, protesters chanted "stop killing the mandem" and "the U.K. is not innocent," according to a video shared on social media.
Twitter user Hope Worsdale said the protest was made up of "almost entirely of young people."
In Manchester, protesters—some of them wearing face masks—marched through the streets shouting "black lives matter."
Meanwhile, more than 2,000 protesters gathered in front of the U.S. embassy in Berlin, NBC reporter Carl Nasman tweeted. They chanted "black lives matter" and carried signs saying "I can't breathe," "Justice for George Floyd" and "no justice, no peace."
According to The Associated Press, police in Berlin said the rally was bigger than expected, but reported no arrests.
Floyd died on Monday after a police officer in Minneapolis was seen in widely shared footage kneeling on his neck for more than eight minutes as he gasped that he couldn't breathe, triggering protests in the city.
The officer, Derek Chauvin, was fired alongside three others—and was arrested on Friday and charged with third-degree murder and manslaughter.
But protests in the U.S., over long-simmering tension over police killings of unarmed black people, have continued raging in the Minnesota city and have now spread to dozens of cities across the U.S.
Some rallies have turned violent as demonstrators vandalized and looted businesses and set fires. Riot police in some cities have fired tear gas and rubber bullets during clashes with protesters.
Following months of lockdown due to the pandemic, some U.S. cities including Los Angeles and Chicago.