Why the U.K. Government Has Failed the Disabled Community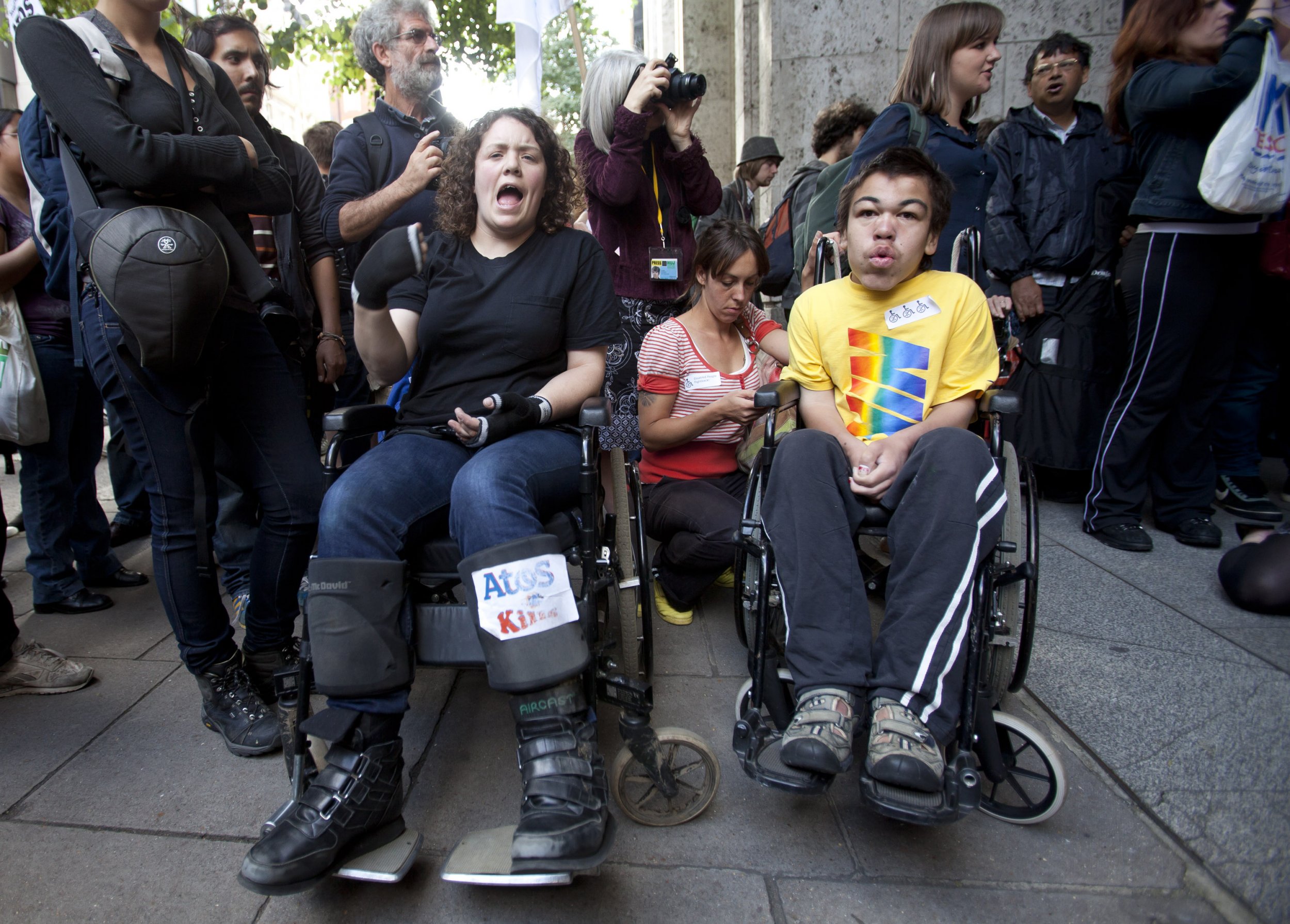 This is a time of great tribulation for disabled people in the United Kingdom. As a result of more than half a decade of austerity cuts and reform to the country's welfare state, hundreds of thousands of disabled people around the country have been left poorer and sicker due to a host of policies.
Disability rights have never been under such a sustained, prolonged attack in Britain since the very foundation of the welfare state in 1945. The then-prime minister, Clement Atlee, had proclaimed to a war-weary population—whose rallying cry in the general election that year was "No return to the 1930s"—that a new post-war vision of a society where citizens would be cared for "from the cradle to the grave."
And here we find ourselves again, 71 years on, returning rapidly to the Britain of the 1930s with no welfare state, no social security and where, if you find yourself unable to swim, compete or keep pace, in true Social Darwinism style, you sink. And it's nobody's your fault but your own.
According to Dr. Simon Duffy of the U.K. Centre for Welfare Reform, in the six years since the Conservative government came to power in 2010 following the global financial crisis, disabled people have been hit nine times harder than the rest of the population and, for those with severe disabilities, 19 times greater than the average person. This has been achieved through a combination of benefit, housing and social care cuts.
Just last week, the Daily Mirror reported that a man with half his skull missing, paralyzed down one side of his body and who has severe memory problems, was ruled by the Department of Work and Pensions to be "fit-for-work." The case sounds preposterous, but campaigners are no longer shocked to learn of such decisions—they have become commonplace. "Disability" for the purposes of receiving public assistance in the U.K. has been redefined by the government's Work Capability Assessment (WCA) disability testing regime to effectively mean that if you have a pulse and a digit on one of your hands with which to dial a telephone then you are, in the state's view, capable of some kind of work.
This will be familiar to many Newsweek readers in the U.S.—those "insureds" who became ill and disabled after paying in to their health insurance scheme for years only to have claims denied in their hour of need. It is likely that insurer, such as UNUM, acted as advisers to the British government in drawing up the new system in the U.K.
Then there are the cuts to social care—local services for people with severe disabilities, including seniors—sliced by 33 percent by 2015. To date, 433,000 people have missed out on adult social care services. This is the cause of the current crisis in NHS hospitals.
The Independent Living Fund has been closed down, meaning 19,373 people with severe disabilities lost their direct entitlement for money to support their independence.
The "Bedroom Tax" cuts in housing subsidies further impoverish disabled people and in many cases force them to leave their homes. Some 420,000 disabled people affected will each lose an average of £728 per year. Stephanie Bottrill, finding she could no longer afford to subsist, walked out in front of a truck on the highway. She left a note for her family specifically blaming David Cameron and the Conservative government for her despair.
The Disability Living Allowance (DLA) helps people who have serious health conditions and disabilities to live independently and includes people with arthritis, learning disabilities, psychosis, terminal illness and dementia. It is being replaced with a new stricter test under Personal Independence Payments (PIP)—500,000 people will lose individual entitlements worth an average of £3,000 per year.
Cuts to the Employment and Support Allowance (ESA)—an out-of-work sickness and disability entitlement, designed to save £2 billion by introducing means-testing—have removed the right of citizens who become disabled, after many years of paying taxes, to aid beyond a 12-month period, thus driving those with savings, and couples, into poverty. Those sick and/or disabled citizens in receipt of ESA, but found under the WCA assessment regime to be capable of some "Work-Related Activity," and therefore, allegedly, capable of a return to work at a some future date, are to have their meager income of £109.30 a week cut by £30 to remove "perverse incentives" to not to return to work, according to the government.
There have been many deaths of disabled people who were wrongly been found fit-for-work by the WCA, the most prominent of which are those of Stephen Carré and Michael O'Sullivan. In Mr. Carré's case, the coroner ruled in his Prevention of Further Deaths Report that the failures inherent in the WCA system led directly to Stephen's death. The ministers at the DWP at the time, Iain Duncan Smith and Chris Grayling, failed in their lawful duty to respond to the report. The deaths of Mr. O'Sullivan and three cases in Scotland over the three following years were identified, following investigations, as being down to the same system failing.
The actions of the Conservative Party have now earned the U.K. the dubious status of being the first government in the world to be investigated by the U.N. for "grave or systematic violations" of the fundamental human rights of disabled people under the United Nations Convention on the Rights of Persons Wwith Disabilities. The committee will report upon its findings next year.
Disabled people's lives in the U.K. are in crisis today. The Black Triangle campaign group entertains no hope of a change of heart from the British government, against whom we shall be unrelenting in our quest for justice and human rights. These are indeed sad days for us, and for Britain.
John McArdle is a co-founder of the Black Triangle campaign group. Follow the campaign on Twitter at @blacktriangle1 and on its Facebook page.