U.K. Health Secretary Encourages People to Avoid Black Lives Matter Protests After Country Hits 40,000 Coronavirus Deaths
U.K. Health Secretary Matt Hancock on Friday encouraged people throughout the country to avoid protests and other gatherings at which more than six people are present.
His advice came after the death of George Floyd in Minneapolis police custody prompted protesters with Black Lives Matter and related organizations in the U.S. and around the world to demonstrate on behalf of Floyd and call for reforms to policing practices.
"Like so many, I am appalled by the death of George Floyd, and I understand why people are deeply upset," Hancock said during a Friday news briefing. "But we're still facing a health crisis, and coronavirus remains a real threat."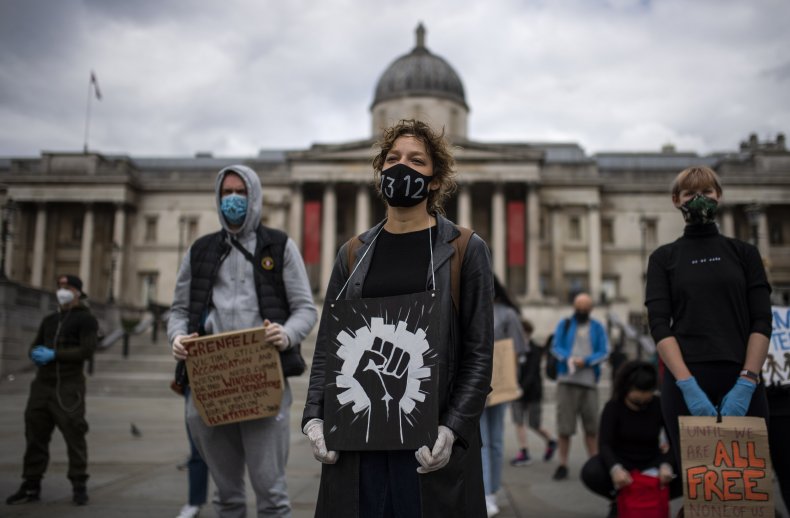 The U.K. ranks second, behind the U.S., on the list of countries with the most COVID-19 deaths. According to Hancock, the country surpassed 40,000 deaths on Friday and has confirmed a total of 283,311 coronavirus cases since the pandemic began.
The country began easing restrictions put in place last month, but Prime Minister Boris Johnson said earlier this week he and other politicians were concerned about how soon and how forcefully the virus might return. On Wednesday, the U.K. announced a 14-day self-quarantine requirement for all individuals traveling into the country, an attempt to prevent the virus from spreading further as other European countries nearby began reopening their borders.
As U.K. officials took steps to protect against new outbreaks, Hancock said the nation was observing an "encouraging trend" in decreasing case rates. Although he said the downward trend in new coronavirus cases reported throughout the U.K. was a good sign, he noted that it was still important for all citizens to continue practicing social distancing and wear face coverings.
"The reason that it's vital that people stick to the rules this weekend is to protect themselves and their family from this horrific disease," Hancock said, adding that he was aware of protest plans for the days ahead.
Earlier this week, Hancock invoked the "black lives matter" message while addressing a report on ways in which the pandemic has affected people of color.
"Black lives matter, as do those in the poorest areas of our country which have worse health outcomes," Hancock said during a Tuesday news conference, according to Women's Wear Daily. "This pandemic has exposed huge disparities in the health of our nation."
Hancock isn't the only one concerned about attendance at protests leading to spikes in new coronavirus cases. In the U.S., health officials warned that the lack of social distancing seen at many recent protests could lead to an earlier than expected second wave. In most states, government officials still have limits on gatherings in place, and the U.S. Centers for Disease Control and Prevention has discouraged mass gatherings of more than 250 people.
Even so, law enforcement officials in the U.S. and around the world have allowed most peaceful protests inspired by Floyd's death to proceed. Asked whether law enforcement would break up demonstrations at which seven or more people were in attendance, Hancock said the decision was "an operational matter" for police.
"Please, for the safety of your loved ones, do not attend large gatherings, including demonstrations, of more than six people," Hancock said. "We all need to stay alert, control the virus and save lives."
Black Lives Matter did not respond to Newsweek's request for comment before publication.