U.K. Labour Party Broke Law on Anti-Semitism, Watchdog Rules
A long-awaited report into anti-Semitism within Britain's Labour Party has ruled that the party acted unlawfully in its treatment of Jewish members.
The Equality and Human Rights Commission (EHRC) has today outlined the findings of an 18-month investigation into anti-Semitism within the party and its handling of complaints of anti-Jewish hate. It has ruled that the party committed unlawful acts of harassment and discrimination.
In its damning report, the EHRC states: "Our analysis points to a culture within the Party which, at best, did not do enough to prevent anti-Semitism and, at worst, could be seen to accept it."
It found Labour committed three unlawful acts including political interference in antisemitism complaints that "amounted to unlawful indirect discrimination against its Jewish members".The EHRC said that out of a sample of 70 complaint files, it found 23 instances of political interference by Labour staff, including in decisions on whether to investigate and whether to suspend.
It also said the party was responsible for two cases of unlawful harassment, where anti-Semitic tropes were used and complaints were branded fake or smears, naming former Mayor of London, Ken Livingstone, and a local councillor, Pam Bromley. Livingstone later released a statement, he was "deeply hurt" by the accusations and "fully rejects" them, calling himself a "life-long anti-racist".
The report said the acts of Livingstone and Bromley were "only the tip of the iceberg", and a further 18 borderline cases were found, while "in many more files" there was evidence of anti-Semitic conduct by an "ordinary" member of the Labour Party, who did not hold any office or role. These included social media posts which, among others, "diminished the scale or significance of the Holocaust, expressed support for Hitler or the Nazis, compared Israelis to Hitler or the Nazis and blamed Jewish people for the 'antisemitism crisis' in the Labour Party".
While it does not explicitly name former leader Jeremy Corbyn, the commission's report says its investigation: "Identified serious failings in leadership and an inadequate process for handling antisemitism complaints across the Labour Party, and we have identified multiple failures in the systems it uses to resolve them. We have concluded that there were unlawful acts of harassment and discrimination for which the Labour Party is responsible."
The anti-Semitism crisis dogged Corbyn's leadership and the EHRC investigation was triggered by fears that anti-Semitism was rife among his supporters and that he failed to tackle the abuse of Jewish members while he was in charge.
Responding to the report, Corbyn said: "Anyone claiming there is no anti-Semitism in the Labour Party is wrong. Of course there is, as there is throughout society, and sometimes it is voiced by people who think of themselves as on the left. Jewish members of our party and the wider community were right to expect us to deal with it, and I regret that it took longer to deliver that change than it should."
He described anti-Semitism as "absolutely abhorrent, wrong and responsible for some of humanity's greatest crimes" and said he was "determined to eliminate all forms of racism and root out the cancer of anti-Semitism" but that reform was "stalled by an obstructive party bureaucracy".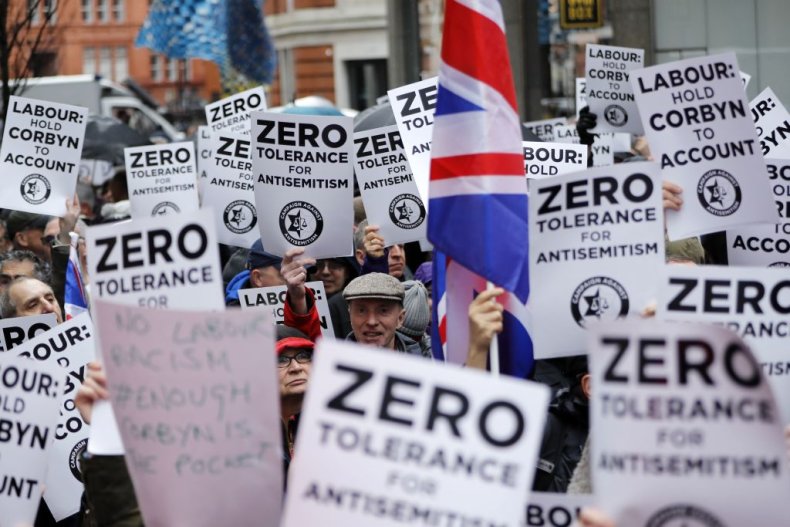 In his first statement after taking over the party in April, Corbyn's successor as leader Sir Keir Starmer said tackling anti-Semitism was his "priority" and he planned to "tear out this poison by its roots". He has already said Labour will work to implement the commission's recommendations and publish an action plan within six weeks.
Campaign Against Antisemitism (CAA) chief executive Gideon Falter said the report "utterly vindicates Britain's Jews who were accused of lying and exaggerating" to "smear" the Labour Party. "The debate is over," he said. "Under Jeremy Corbyn's leadership, the Labour Party became institutionally anti-Semitic. It drove almost half of British Jews to consider leaving the country. For five miserable years, every effort to compel Labour to reform failed. We were left with no choice but to refer the Party to the EHRC."
The CAA said it has submitted formal complaints against Corbyn, former shadow home secretary Diane Abbott and fifteen other sitting MPs and is calling on Starmer to "establish an independent disciplinary process so that those who put Britain's Jews in fear for their future in this country can, at last, be held to account for their deeds."
Labour Against Anti-Semitism (LAA) spokeswoman Fiona Sharpe earlier said: "The Jewish community will continue to carry the wounds of five years of institutional antisemitism within the Labour Party. Their pain will always be a scar on the reputation and conscience of the entire Labour movement."
The EHRC announced it was investigating Labour in May 2019 after it was contacted by several Jewish groups, including the CAA, the Jewish Labour Movement, and LAA, which made submissions to the inquiry. These submissions are believed to have included evidence from party members, staffers, and MPs.
The CAA claims it made a number of disciplinary complaints to the party between 2016 and 2018 about Corbyn, including about his defense on Facebook of an antisemitic mural in 2012. Corbyn later conceded he was wrong to support the graffiti artist whose "offensive" work was scrubbed off a wall in London's East End.
It also made a formal complaint about a Holocaust Memorial Day event hosted by Corbyn in 2010 in the House of Commons. In 2018, Holocaust Memorial Day Trust chief executive Olivia Marks-Woldman said it was "an appalling misuse of the Holocaust" and "trivialized the suffering of millions of Jews by making inappropriate and offensive comparisons".
The CAA argues that Labour "repeatedly refused to open an investigation" into its complaints, which led it to formally refer them to the EHRC. Corbyn has insisted he dealt with the issue of anti-Semitism during his time as leader and strengthened the party's disciplinary procedures. His former chief of staff Karie Murphy mounted a defense of the party's record earlier this week, where she said she was "proud" of efforts made to remove anti-Semites from Labour.
"Under Jeremy Corbyn's leadership, antisemites were removed from the Labour party more quickly, transparently and effectively than ever before. As his former chief of staff, I'm proud of that record," she wrote in the Guardian.
Senior Labour MP Jonathan Ashworth, the shadow health secretary, said on Wednesday that the party's anti-Semitism crisis had been "a shameful period in our history" before this report was released. "We will do everything we can to repair relations with the Jewish community who are understandably and quite rightly hurt by the Labour party's failure to deal with this in recent years," he said.
Veteran Jewish MP Dame Margaret Hodge, 76, said she felt "a sense of relief" at the report being published and hopes "this is the beginning of the end" of anti-Semitism within Labour. "This is a truly appalling day for the Labour Party," she wrote on Twitter. "This should never have been allowed to happen and this report must act as a watershed moment."