U.K.'s Largest Bird of Prey Returns to English Skies for First Time in 240 Years
The white-tailed eagle, the largest bird of prey seen in the U.K., has been seen in flight in England for the first time in over two centuries.
A small number of eagles were taken from Scotland, where they had already been reintroduced into the environment, by the Roy Dennis Wildlife Foundation and Forestry England and placed on the Isle of Wight. They have since been seen in Norfolk, Kent and Somerset.
It has a wingspan of up to 2.5 meters (8 feet 2 inches) and has not been seen in England since 1780.
The hopes are that the bird, which has a white-feathered tail, pale head and yellow bill, will come to breed on the Isle of Wight and rebuild the population of the species.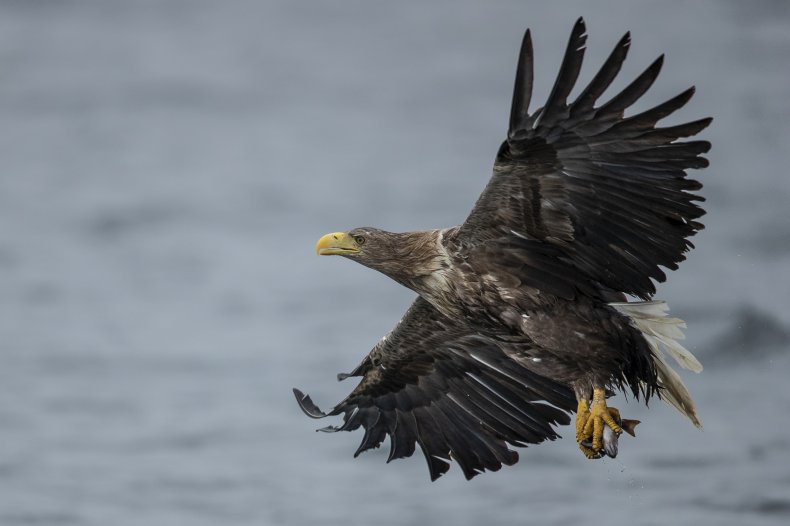 "Four of the birds have learned that the Isle Of Wight is their home," Roy Dennis, of the Roy Dennis Wildlife Foundation, tells Newsweek. "This week, they have proved they are catching [fish] so it's very encouraging.
"The two on the Isle Of Wight already behaving like a pair. If those two survive, they might breed on the Isle Of Wight. It's a long journey, they don't breed until they're four and they are truly wild birds so we're not in control."
Dennis says that the reaction to the reintroduction of the eagle has been well received:
"It's a huge eagle in a time when people have forgotten about all the evidence for them. People are overjoyed. They can see them from their homes. You shouldn't have to go to a nature reserve to see nature. To be able to see a white-tailed eagle on your way to work, that's fantastic.
"There's totally not any risk to humans. Sheep farmers are worried and we're talking to them. We've had no cases of any problems. There's such a lot of wild food."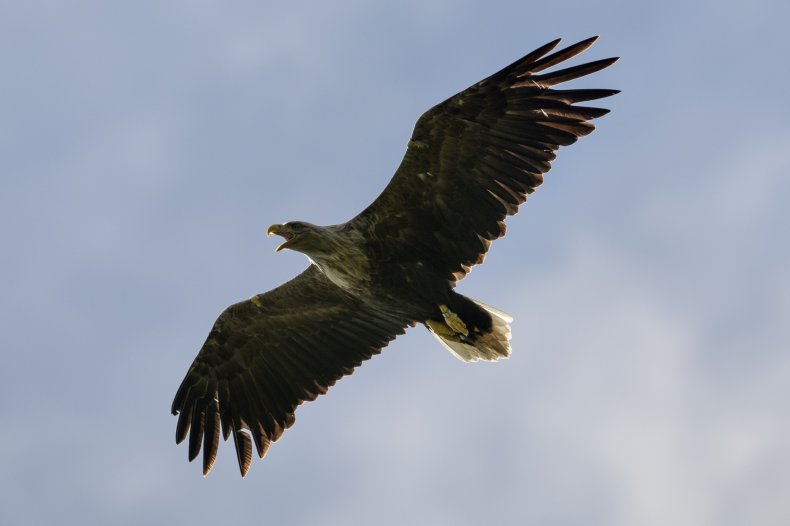 The birds are being tracked with GPS tags but are otherwise entirely unrestrained and are fully wild creatures. The general public is being asked to take photographs and record sightings of the bird and let the Roy Dennis Wildlife Foundation know.
For next steps, Dennis' foundation and Forestry England have plans to introduce more of the birds to England.
"You're lucky if half of [young birds] survive," he says. "We'd like to take down 12 more. We're taking it week by week at the moment because of coronavirus but we're hopeful we can bring more down from Scotland soon."