U.K. Minister Hits Back at Trump: Where Are Your Manners, Mr. President?
A minister in the British government spoke out against President Donald Trump after he gave an interview to a tabloid newspaper that undermined and humiliated Prime Minister Theresa May.
"Where are your manners, Mr President?" tweeted Sam Gyimah, a Conservative member of parliament and May's government minister for universities, science, research and innovation.
Trump told The Sun newspaper that May's current plan for Brexit would "probably kill" any potential trade deal with the U.S. by keeping Britain too closely aligned with the European Union.
"I would have done it much differently," Trump said of Brexit negotiations. "I actually told Theresa May how to do it, but she didn't agree, she didn't listen to me."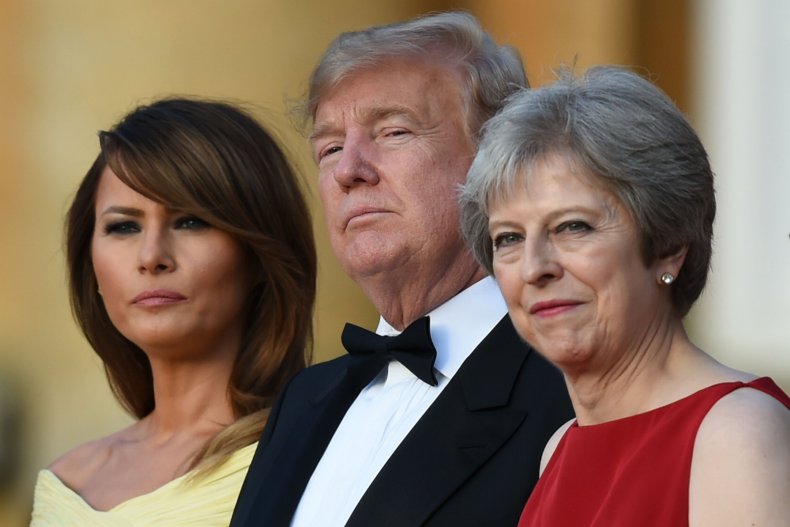 Live Updates: President Donald Trump in the U.K. To Meet Prime Minister May and the Queen
The president also said he thought Boris Johnson, May's old rival for the Conservative Party leadership and her foreign secretary until he resigned last week in opposition to her Brexit plans, would "be a great prime minister."
"Well, I am not pitting one against the other," Trump said. "I am just saying I think he would be a great prime minister. I think he's got what it takes."
Neither the White House nor Gyimah responded to requests for comment.
"The more @realDonaldTrump insults and undermines @theresa_may the more he enhances her credibility," tweeted Anna Soubry, a Conservative member of parliament and a former government minister. "#Trump is a guest in #UK because we respect the great office he holds. Yet again he diminishes the standing of the great country he is meant to lead."
Even May's opponents in the Labour Party have been taken aback by Trump's actions. Emily Thornberry, Labour's shadow foreign secretary, told ITV's Good Morning Britain show it is "extraordinarily rude of Donald Trump to behave like this.
"She is his host. What did his mother teach him? This is not the way you behave," Thornberry said, adding that May must "stand up to him—she is letting down our country by not standing up to him."
Mass protests are scheduled for Friday to coincide with Trump's visit. As many as 100,000 people are expected to turn out in central London for an anti-Trump rally. Even though Trump is deeply unpopular among the British public, a majority support his visit to the country.
Theresa May's fragile government divided over the issue of Brexit, with several ministers resigning over her plans for how Britain would leave the EU, saying they did not go far enough in breaking away.
Her authority as prime minister was severely weakened when she lost her parliamentary majority in the 2017 election, despite early polling suggesting she would win by a landslide.
Trump's comments come just after she secured a tentative agreement from a refreshed cabinet on her Brexit white paper, though she still faces a chorus of dissent from her own backbench in the House of Commons.
Many in the pro-Brexit camp say Britain should seek a trade deal with the U.S. at the earliest opportunity. Trump's suggestion that her Brexit plan would kill any such deal has given her opponents ammunition against her, and could potentially spark a chain of events that leads to her downfall.
In a statement issued overnight in response to backlash against The Sun interview, Trump's spokeswoman Sarah Sanders said: "The president likes and respects Prime Minister May very much. As he said in his interview with The Sun, she 'is a very good person' and he 'never said anything bad about her.' He thought she was great on NATO today and is a really terrific person. He is thankful for the wonderful welcome from the prime minister here in the U.K."
This article was updated to include more background information.