UK Must Confront Mexico on Torture, Activists Say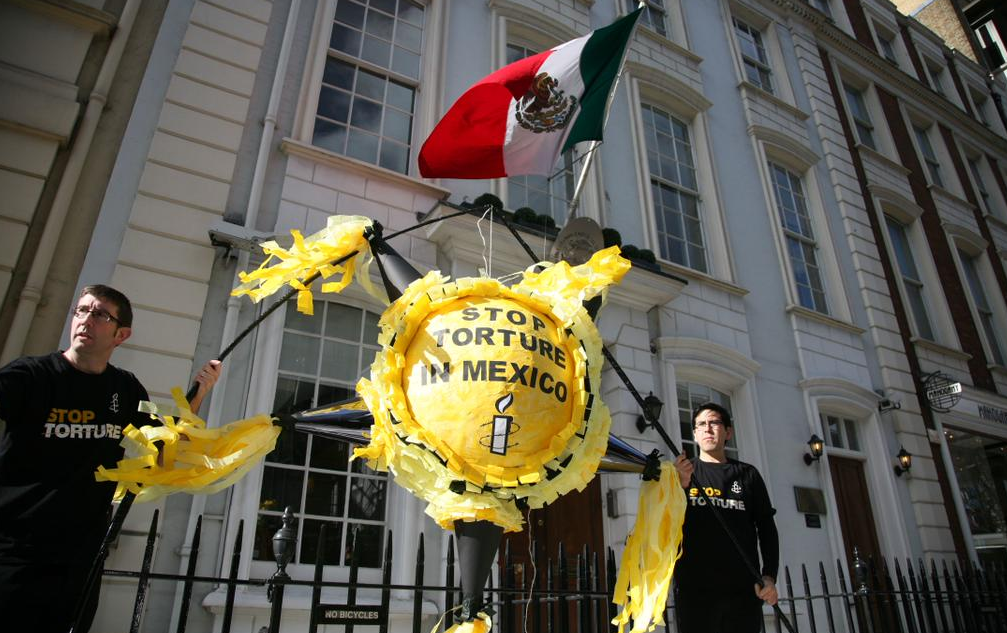 The UK should not be increasing trade links with Mexico without holding the country to account for its human rights record, according to activists.
Mexican president Enrique Peña Nieto arrived in the UK yesterday for a four-day state visit which will include audiences with the Queen, prime minister David Cameron and other high-ranking politicians. 2015 is also being promoted as a special 'dual year' of bilateral relations and trade between the two countries.
The visit has been met with disquiet by Mexican activist groups in the UK, who say that the country's torture record and the continued disappearance of 43 university students, who went missing in Guerrero state last September, mean the UK government must ensure that human rights is on the agenda for the state visit.
A September 2014 report by Amnesty International found that reports of torture in Mexico grew by 600% between 2003 and 2013 and that torture was widely used as an interrogation technique, along with arbitrary detentions and fabricated evidence.
Marisa Polin is a co-founder of Yo Soy 132 Londres, the London branch of a worldwide network of Mexican activists which sprung out of opposition to president Nieto and his Institutional Revolutionary Party (PRI) during the 2012 presidential campaign. She says that improving the human rights situation in Mexico should be a prerequisite to trade.
"The UK should only trade [with Mexico] if they really ask the government of Mexico to acknowledge the lack of human rights there, acknowledge the torture, the people who have been displaced."
Polin says that the UK is buying a false image of Mexico and fears that people are not aware of the situation on the ground.
"The government and the military just step on people. They cannot demonstrate, they are taken away and put into extreme security jails. I am afraid the UK government and citizens do not know this."
Yo Soy 132 are one of several groups participating in protests during the state visit, including a three-hour demonstration outside Downing Street today. Another is London Mexico Solidarity, whose member Denise Drake is not optimistic about the chances of the UK administration raising the issue with Nieto.
"He's come with his own agenda, promoting Mexico as a destination for private investment and tourism and we want people to think twice," she says.
"I don't expect the UK government will take a very hard line. They haven't shown themselves that human rights and social well being are very high on their agenda for their own people"
Yesterday, Amnesty organised a publicity stunt where a piñata was broken outside the Mexican Embassy in London, revealing a 13,000-strong petition addressed to Nieto, imploring him to address Mexico's 'torture crisis'.
Amnesty's Stop Torture campaigner Tom Davies says the message of the protest was that the UK government must not turn a blind eye to Mexico's human rights record.
"For the UK government, it's about when meeting President Nieto, and ensuring that human rights and particularly torture are part of the dialogue and that they don't just focus on trade, investment, tourism."
Davies says Amnesty have not received any response from the UK government as to whether the issue of human rights will be raised during the visit. Amnesty also recently submitted a written statement to the UN Human Rights Council, calling for public acknowledgement of the widespread use of torture in Mexico and independent investigations into allegations of ill-treatment.
A spokesperson for the UK Foreign and Commonwealth Office says: "The UK remains keen to help Mexico build its capacity to strengthen its ability to uphold its human rights obligations and tackle its security challenges. The state visit is an opportunity to strengthen our bilateral relationship, which in turn will allow for continued full and frank conversations between friends."
The spokesperson adds that the UK was currently funding various human rights projects in Mexico and that the issue of impunity in Mexico would feature in its human rights report this year.
UK Must Confront Mexico on Torture, Activists Say | World