Swastika Graffiti Found Inside U.K. Parliament Offices: 'Sickening'
A British Parliament member's aide who found a swastika etched in a lift within the parliamentary estate in London has called the graffiti "sickening."
Oliver Denton Lieberman posted the photo of the Nazi symbol on Twitter on Tuesday afternoon, shortly after noticing it scratched into the inside door of an elevator in the Norman Shaw North building.
"Unbelievably but true," Lieberman, who works for Labour Parliament member Tulip Siddiq, wrote on Twitter.
"Someone has scratched a swastika into the door of our lift in Parliament. Nazi graffiti in the Mother of Parliaments. A sickening act."
The incident, which Lieberman reported to the police, was made particularly puzzling by the fact the elevator that was defaced is situated in a part of the Norman Shaw North building not accessible to the public.
Along with its south counterpart, the building has been used as parliamentary offices for over four decades to augment the limited space in the Palace of Westminster, which hosts both the two houses of the U.K. Parliament.
Formerly known as New Scotland Yard, both the south and north Norman Shaw Buildings overlook the River Thames. They served as the headquarters of London's Metropolitan Police from 1890 until 1967.
A spokesperson from the House of Commons said the incident would be treated as a "matter of urgency" and vowed to remove the symbol as quickly as possible.
"We are aware of some highly offensive graffiti in a lift on the Estate and it will be removed as a matter of urgency," the spokesperson said in an official statement.
It is the second time in a couple of weeks that the British political scene has been affected by an incident of anti-Semitic nature.
Earlier this month, the Metropolitan Police launched an investigation after a 30-foot swastika was sprayed on the business headquarters of a Jewish politician.
The Nazi symbol was daubed on the wall of the H. Forman & Son factory in Hackney Wick, East London. The business, Britain's oldest salmon curer, was founded by Lance Forman's great-grandfather in the late 19th century, after he fled the Russian pogroms and settled in the British capital.
Forman, who in April announced he would run in the upcoming European Parliamentary election for Nigel Farage's Brexit Party, said he was left horrified by the attack.
"My dad fled the Nazis in Poland and is a Holocaust survivor who spent the war years as a child in a Siberian prison camp," he told The Jewish Chronicle.
"He worked with HET [the Holocaust Educational Trust] to teach children about the horrors of anti-Semitism. So the fact that we have been targeted in this anti-Semitic way is quite horrific and sick."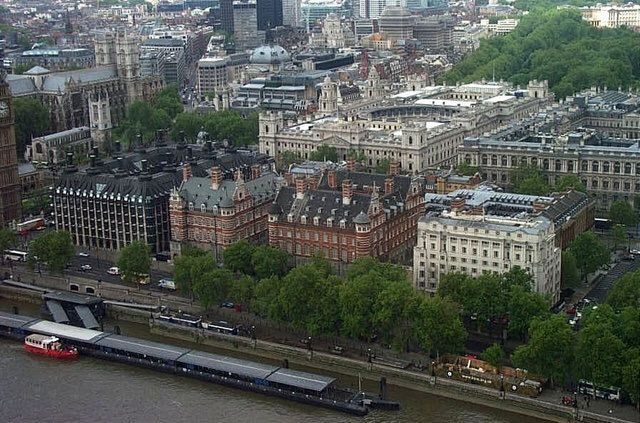 Swastika Graffiti Found Inside U.K. Parliament Offices: 'Sickening' | World