British Parliament Votes to Symbolically Recognise a Palestinian State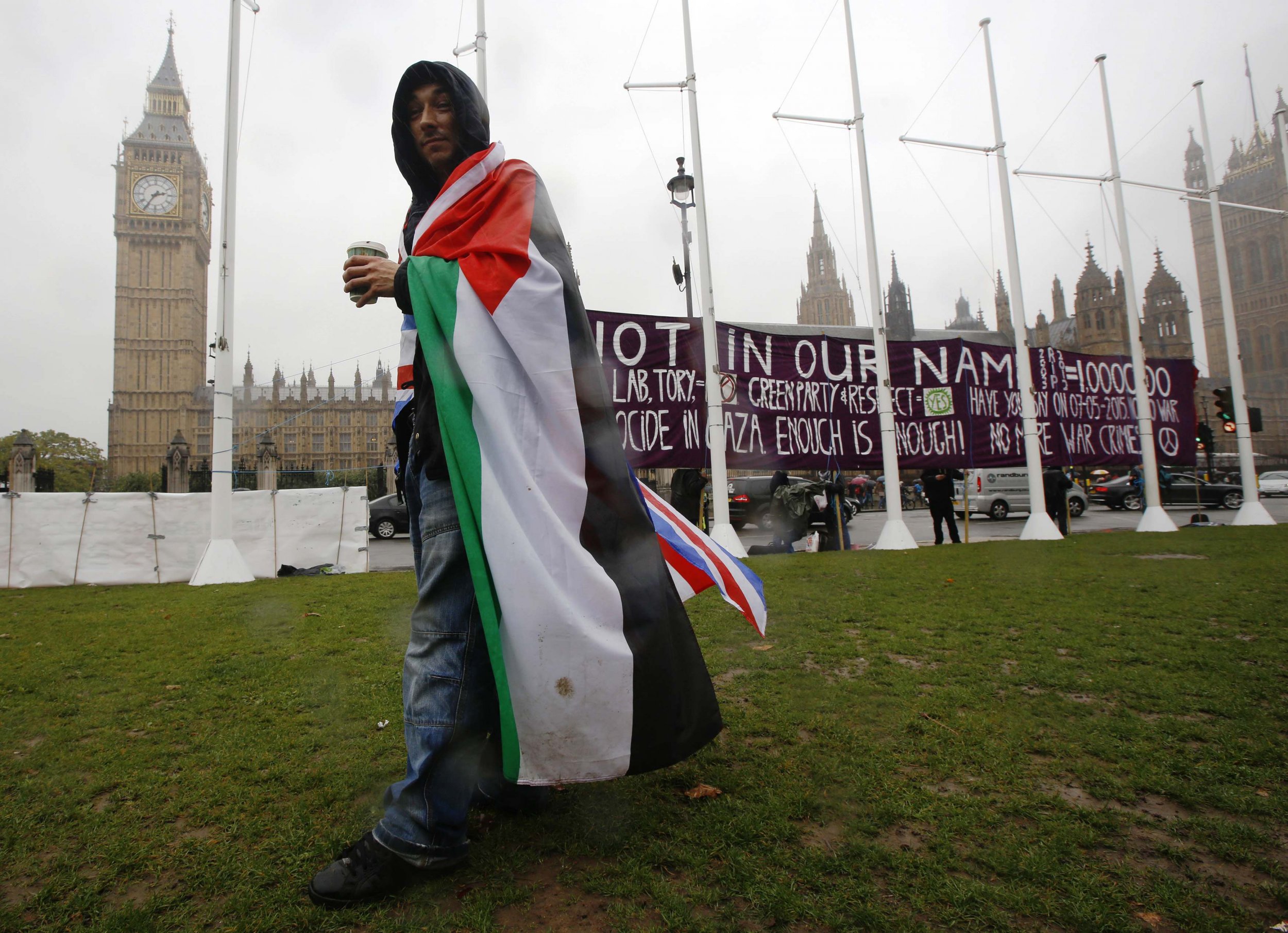 Britain's parliament voted in favour of a motion to symbolically "recognise the state of Palestine alongside the state of Israel" last night, with an amendment adding the words "as a contribution to securing a negotiated two-state solution".
MPs in the House of Commons overwhelmingly voted for the motion, with 274 in favour and only 12 against the motion, although fewer than half of all MPs attended, with all government ministers abstaining.
Although the vote isn't binding, and will not translate into official government policy, it has been seen as a significant step towards Britain joining the 134 nations that already bilaterally recognise Palestine - Sweden being the most recent to do so, earlier this month.
The motion was put forward by the MP for Easington Grahame Morris, who chairs the parliamentary group 'Labour Friends of Palestine'. Mr Morris presented the motion, adding that he would accept the amendment, which was proposed by former foreign secretary Jack Straw.
The result of last night's vote is likely to strengthen the UN's recognition of Palestinian statehood, from which Britain abstained in 2012. During his opening speech, Morris said that the decision to abstain from this vote "placed Britain not only at odds with the international consensus, but on the wrong side of history".
The debate triggered significant dissent, particularly within the Labour Party. Ed Miliband, the leader of the opposition, initially declared a three-line whip, forcing all Labour MPs to attend and vote in favour of the motion. However, after complaints from members of his shadow cabinet who took issue with the motion, Miliband switched to a one-line whip, which encourages but does not compel MPs to attend the debate.
In the event, dissenting Labour MPs such as Rachel Reeves, Luciana Berger and Jim Murphy, leading supporters of 'Labour Friends of Israel', abstained from the vote. Turnout was low, with many Lib Dems and Conservatives staying away.
The debate became heated at times - when Conservative MP Matthew Offord deemed "an affirmative vote" as "nothing more than a propaganda victory for those who wish to bypass the mediation peace process", fellow Conservative Sir Edward Leigh suggested that Offord had been reading from "an Israeli government hand-out".
Sir Gerald Kaufman drew a link between the actions of Israel and a spike in global anti-Semitism. Kaufman, the Labour MP for Manchester Gordon, said that the actions of Israel were "harming the image of Judaism, and terrible outbreaks of anti-Semitism are taking place. I want to see an end to anti-Semitism, and I want to see a Palestinian state," he added.
Richard Ottaway, the Conservative chairman of the foreign affairs select committee, made an emotional contribution to the debate, explaining that recent annexations of West Bank land by the Israeli government had appalled him, despite his long-held support for Israel.
"Looking back over the past 20 years, I realise now Israel has slowly been drifting away from world public opinion. The annexation of the 950 acres of the West Bank just a few months ago has outraged me more than anything else in my political life," he said.
Ottoway added that he was not yet convinced that Palestine was fit to be a state due to its continued refusal to recognise Israeli statehood. He said that he would have opposed the motion "under normal circumstances". But, he added, "such is my anger with the behaviour of Israel in recent months that I will not be opposing this motion. I have to say to the government of Israel: if it is losing people like me, it is going to be losing a lot of people."
Elsewhere, Sir Malcolm Rifkind, who served as foreign secretary of the UK under John Major, opposed the motion, deeming such a resolution "premature". He added that although he believed "strongly in a two state solution… recognising a state relies on a state to have the tenets of a state". He drew attention to the perceived instability of Palestinian governance, particularly the conflict between Hamas and Fatah, in arguing his case.
George Galloway, the controversial MP for Bradford West did not attend the debate, despite his high profile support for Palestinian causes. He said he could not support the motion to recognise Palestine as a state as doing so would "accept" Israel as one.
Last year, Galloway famously walked out of a talk in Oxford after he found out that the student he was debating with was an Israeli.