UK PM Boris Johnson Discourages Trump From Interfering In British Election: 'We Don't Get Involved in Each Other's Election Campaigns'
British Prime Minister Boris Johnson discouraged President Donald Trump from interfering in the upcoming election in the United Kingdom, despite the president having previously voiced praise and support for Johnson, as well as Brexit party leader Nigel Farage.
"What we don't do traditionally, as loving allies and friends, what we don't do traditionally is we don't get involved in each other's election campaign," Johnson said in an interview with British radio station LBC. The interviewer, Nick Ferrari, pushed back, saying: "yes, but he [Trump] did."
Johnson then reiterated: "We don't traditionally get involved in each other's elections."
The Conservative prime minister then pointed out, critically, that former President Barack Obama had weighed into the contentious Brexit debate ahead of the vote in June 2016, voicing support for the UK remaining in the European Union. Johnson said this happened "in a way that was not entirely conducive to that cause."
Earlier this month, Trump shared his perspective on the British election, voicing his support for Johnson as well as Farage.
"I like them both," the president told reporters at the time. "So I think Boris will get it right. They're both friends of mine. What I'd like to see is for Nigel and Boris to come together. I think that's a possibility."
"Boris is the right man for the time. He's really for the times. He's a great gentleman. He's a wonderful guy. He's tough, he's smart, and I think he's going to do something," Trump added.
Farage is not running in the election, but his Brexit party is fielding candidates. Although the Brexit leader suggested – like Trump – that he and Johnson should coordinate in the election, the Conservative prime minister has rejected the idea of working directly with Farage.
The British election will take place on December 12, less than six months after Johnson first took over as prime minister following the resignation of fellow Conservative leader Theresa May. Like his predecessor, Johnson failed to secure a Brexit deal with the European Union that satisfied Parliament. He even faced significant opposition from within his own party. Due to the deadlock, and after repeatedly losing significant parliamentary battles, Johnson convinced Parliament to call for new elections in hopes of shoring up a clear majority to move forward with his agenda.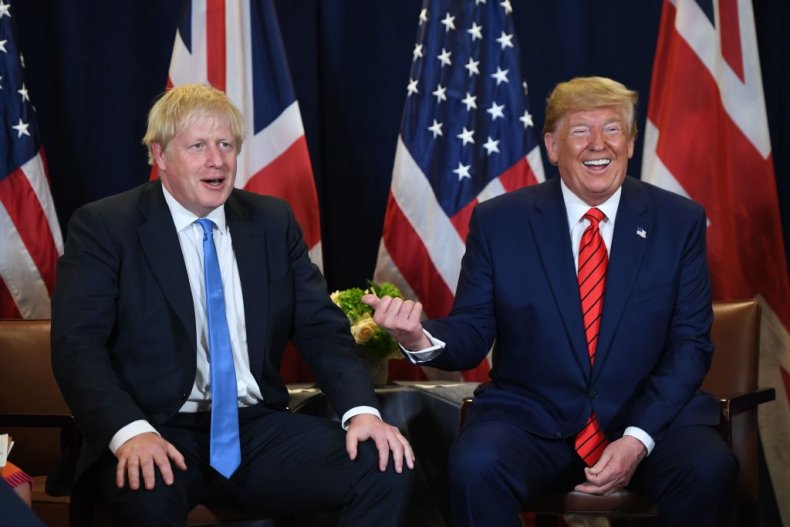 Although the left-wing Labour Party, headed by Jeremy Corbyn, had appeared to be making gains, with some suggesting Corbyn could oust Johnson, recent polling suggests otherwise. A survey released by YouGov earlier this week showed the Conservatives winning an estimated 359 seats, with Labour only taking 211. Farage's Brexit party was predicted to take zero seats.