U.K. Police Arrest Chinese and Tibetan Protesters During Xi Visit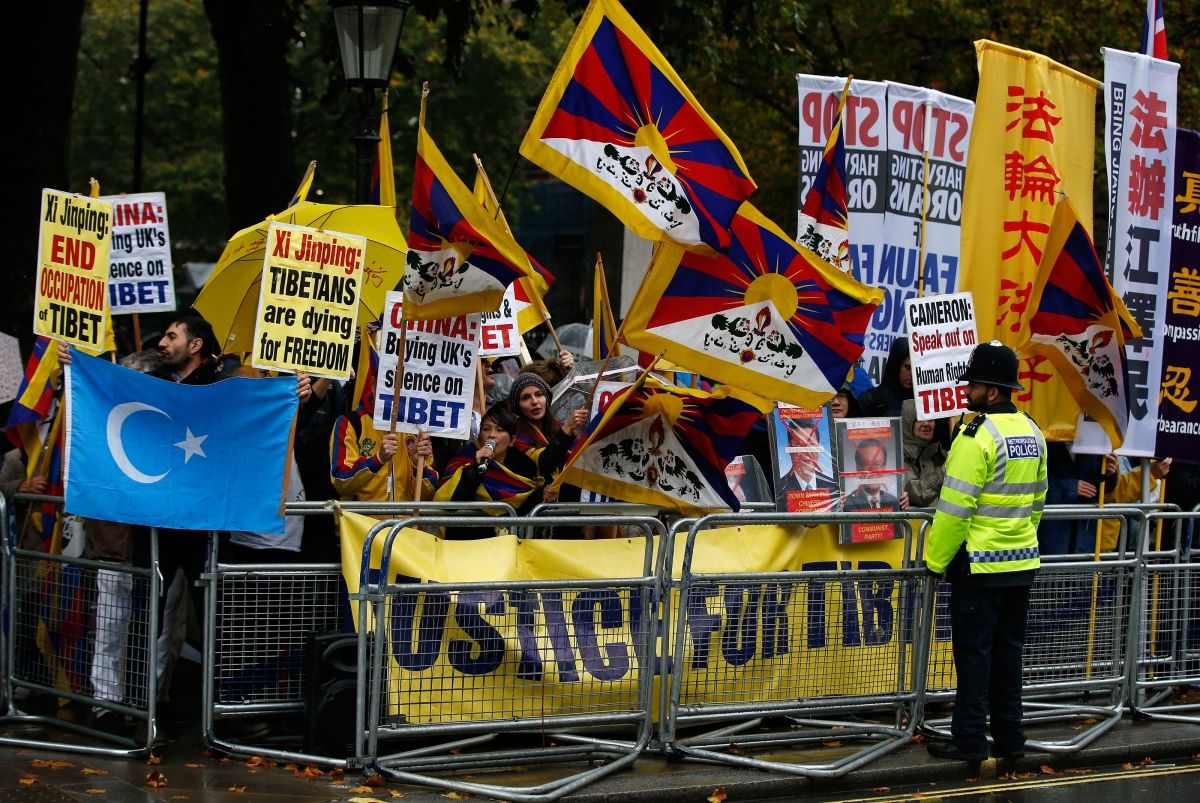 The homes of a Chinese Tiananmen Square massacre survivor and two Tibetan activists were searched and their computer equipment seized by U.K. police on Wednesday, after they staged peaceful protests over the visit of the Chinese president, Xi Jinping to Britain.
Chinese democracy activist Shao Jiang, 47, was arrested in the street outside London's Mansion House as President Xi's motorcade was about to pass. A video showed Jiang block the motorcade by standing in front of it holding two banners reading "End autocracy" and "Democracy now," before he was tackled and pushed out of the way by four members of the Metropolitan Police.
Police also arrested two Tibetan women, Sonam Choden, 31, and Jamphel Lhamo, 33, outside Mansion House on Wednesday, for waving Tibetan flags near Xi's car, according to The Guardian newspaper. All three had their homes searched and computer equipment seized while in custody.
A Metropolitan Police spokesman confirmed the arrest of three demonstrators to Newsweek and said that the three were initially arrested to prevent a breach of the peace but were later rearrested on suspicion of conspiracy to commit threatening behaviour.
Campaigners have condemned the actions of the police. Allan Hogarth of Amnesty International U.K., told the Independent, "This looks like a very heavy handed response to a peaceful demonstration. The police need to urgently explain to Shao Jiang why they entered his property and took his possessions, and when they will return them."
"This smacks of overreaction to a considerable degree," lawyer Bill Nash of BSB Solicitors, who is representing the two Tibetan women, told The Guardian. "Perhaps it is time that we should focus some of our concentration on our own civil liberties at the same time as we criticize others for their stance on human rights."
All three have now been released on bail and will return to a London police station at a later date while investigations continue, police said.
On Wednesday, Xi admitted during a press conference that there is "room for improvement" in China's human rights record.
"Coming to the human rights issue, China attaches great importance to human rights. We have found a path suited to China's conditions," he told reporters. "There is always room for improvement in the world. China is ready to increase co-operation with the U.K. and other countries over human rights."