Police in London responded to reports of several people protesting from the balcony of a London mansion owned by Russian oligarch Oleg Deripaska, who has been sanctioned by Britain for his connections to Russian President Vladimir Putin.
The squatters have reportedly been on the balcony outside the mansion negotiating with police for some time Monday, stating that they are doing work that should be done by the government in seizing the mansion, and proposing that the "massive" building be used to house Ukrainian refugees that come to London, according to the BBC.
Protests have taken place across the globe since the onset of Russia's invasion of Ukraine, with thousands of Russian citizens arrested in their home country for protesting against the war.
Several countries, including the U.S. and U.K., have sanctioned influential Russian businessmen and oligarchs, which has also led to the seizure of yachts and other property.
The protesters were seen on the balcony with several banners that read: "This property has been liberated," "Power breeds parasites," and "Putin go f*** yourself."
The BBC reported that several protesters have been on the balcony since late last night.
Police entered the London home and found no damage or anyone inside, and have continued to negotiate with the four protesters who remain on the balcony, the BBC reported.
The protesters are from the group London Makhnovists, according to the BBC, named for a Ukrainian anarchist who revolted against Russian forces in the early 1900s.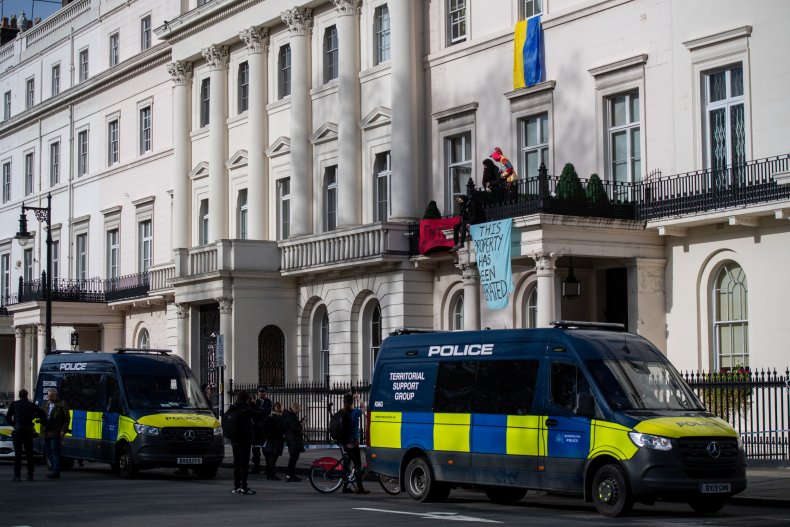 The protesters have told police and media at the scene that the mansion has hundreds of rooms that they got lost in, including a home theater, and several expensive works of art, describing the mansion with "so much stuff a normal human being would never need" as "filthy fancy," the BBC reported.
"We're doing the government's work for them and we're doing it for free, so I expect a significant rebate on my tax bill later on in April," one protester reportedly said.
Deripaska, sanctioned in 2018 by the U.S. government for allegations of money laundering and threatening business rivals, among other things, was sanctioned along with six other Russian oligarchs by the U.K. last week. He has spoken out more than other Russian billionaires, encouraging peace in Ukraine and calling for more serious negotiations, according to CNN.
Properties in New York City and Washington, D.C. that the FBI said belonged to family members of Deripaska were searched by authorities in October, according to NBC News.
The London incident is the latest example of people protesting against the oligarchs.
Earlier Monday, at least two people were arrested for a similar protest, entering a home in France owned by a former son-in-law of Putin with the intention of providing it as a residence for Ukrainian refugees, according to Reuters.
Update 3/14/22, 4:03 p.m. ET: This story has been updated with additional context and information.