U.K. Politician Calls for Fans Who Booed William To Be Held 'Responsible'
The booing of Prince William at a soccer match should lead to "the necessary action" being taken against "those responsible," a former government minister said.
The Duke of Cambridge was booed at Saturday's FA Cup Final, in which Liverpool beat Chelsea on penalties.
Boos could be heard as the words "president of the Football Association [FA], His Royal Highness the Duke of Cambridge," rung out from the announcer at Wembley Stadium in London.
The reaction triggered a backlash that reached Britain's political class, with many blaming Liverpool supporters.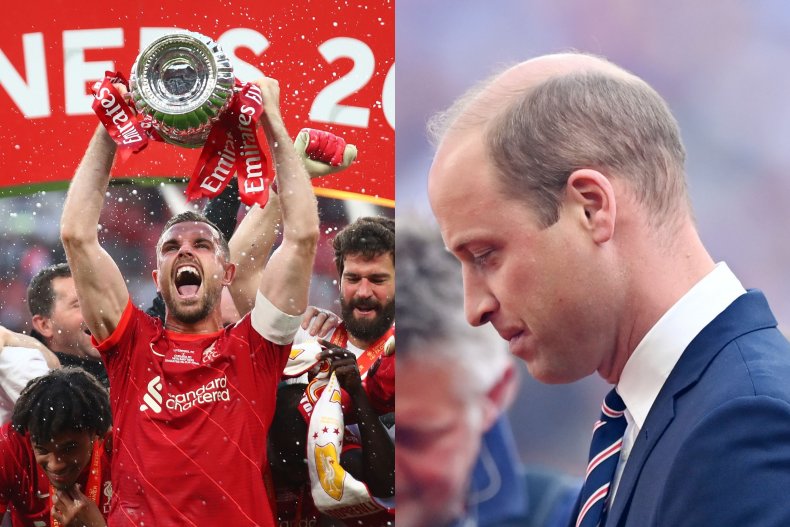 U.K. lawmaker Karen Bradley, the former Conservative Party culture secretary, told the Daily Mail: "It is utterly unacceptable and disgraceful that fans booed Prince William. I would urge the FA to take all necessary action and pursue those responsible."
William, who is president of the FA, English soccer's governing body, was not the only one to be booed.
Fans started to show their displeasure during a rendition of Christian hymn "Abide With Me," performed by the B Positive Choir, whose singers either have sickle cell disease or are close to someone with it.
The national anthem, "God Save the Queen," was also booed noisily by some supporters in the stands at Wembley.
Quoted by The Independent, Sir Lindsay Hoyle, speaker of the House of Commons, also condemned the booing: "The FA Cup final should be an occasion when we come together as a country. It should not be ruined by a minority of fans' totally shameful behavior."
He added: "In this year of all years—the Queen's Platinum Jubilee—this is dreadful."
This year will see celebrations to mark the 70th anniversary of Queen Elizabeth II's accession to the throne, which will culminate over a long weekend from June 2 to June 5.
U.K business secretary, Kwasi Kwarteng, condemned the booing but stopped short of calling for any sanction against the fans responsible.
He told radio station LBC: "I don't understand what these people were thinking but we are a free country. People can express their views, we're not Russia, we're not a totalitarian country, and if they feel like that I think its regrettable and I'm very sad that people feel like that."
Good Morning Britain host Richard Madeley defended fans, suggesting they were booing William and "God Save the Queen" as symbols of the establishment rather than owing to any personal animosity.
Madeley said: "I think, in many ways, it's quite a healthy disrespect for the establishment. Yes, when it comes out like that, it looks a bit ugly, but it's part and parcel of Liverpool and the way that proud city is. And the way it isn't cowed and it won't be beaten down."
Kevin Maguire, associate editor of the Daily Mirror, linked the reaction in the stands to the Hillsborough disaster, when a crush at an FA Cup semi final match between Liverpool and Nottingham Forest led to 97 deaths.
Liverpool fans were wrongly blamed, including, famously, on the front page of tabloid newspaper The Sun.
Maguire said: "There is a long tradition of Liverpool fans going back to the 1980s and [former U.K. Prime Minister Margaret] Thatcher and they're not booing the queen, it's booing the establishment.
"You've got to remember at the end of the period you had Hillsborough when Liverpool fans and people were treated appallingly by the establishment."
For more royal news and commentary check out Newsweek's The Royal Report podcast: