U.K. Prime Minister Boris Johnson Discharged From Hospital, Will Recover at Country Retreat
British Prime Minister Boris Johnson thanked the St. Thomas medical staff in Central London as he was discharged Sunday to continue his recovery from Chequers, his country retreat, after contracting the coronavirus.
The 55-year-old prime minister is set to recuperate at his official country retreat in Buckinghamshire after spending nearly a week at the St. Thomas Hospital when his coronavirus symptoms worsened. Johnson was first admitted to the London hospital last Sunday night for testing and then moved to intensive care Monday afternoon. But on Easter Sunday, his office issued a statement revealing his emergence from hospital care.
Johnson released a video Sunday again thanking National Health Service workers for "saving my life" and commending the "utterly brilliant doctors" at St. Thomas and across the NHS system battling COVID-19.
"The PM has been discharged from hospital to continue his recovery, at Chequers," a 10 Downing Street spokesman announced in a statement Sunday. "On the advice of his medical team, the PM will not be immediately returning to work. He wishes to thank everybody at St. Thomas' for the brilliant care he has received. All of this thoughts are with those affected by this illness."
Foreign Secretary Dominic Raab has been filling in for Johnson during his absence and is likely to continue standing in for the prime minister as he is not advised by his health officials to return to work immediately.
Johnson issued remarks through his spokespeople while at St. Thomas, thanking the National Health Service (NHS) doctors and staff for the "exemplary" care they provided. "I owe them my life," the British lawmaker said.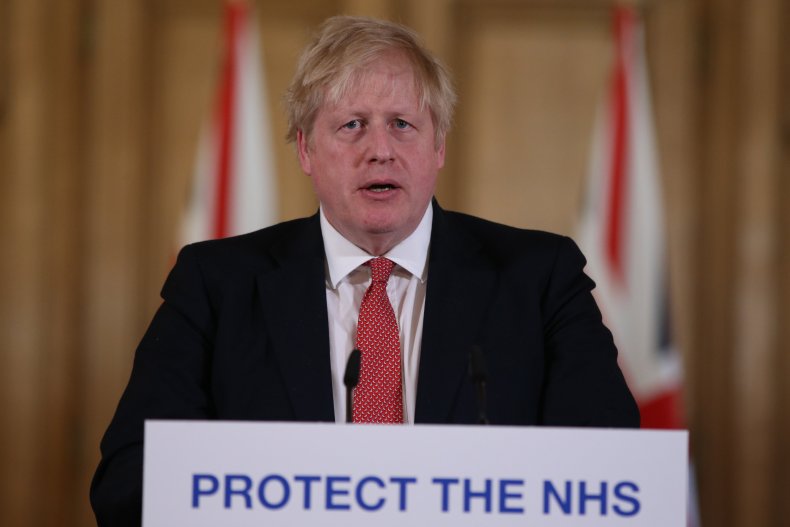 Johnson has promoted the "#StayHomeSaveLives" social media campaign as he himself battled the COVID-19 pandemic which led to more than 1.6 million positive cases worldwide. The U.K. has reported 60,733 cases and have recorded 7,097 deaths tied to coronavirus since the disease was first detected there in February. Health officials have stated they intend to increase COVID-19 testing to 100,000 tests per day by the end of April.