U.K. Prime Minister Boris Johnson Out of Intensive Care After Hospitalization for Coronavirus
The United Kingdom's Prime Minister Boris Johnson is no longer in intensive care after he was hospitalized due to coronavirus this week.
Johnson, 55, had been transferred to intensive care at St. Thomas' Hospital in London on Monday after his symptoms worsened. He had been hospitalized over the weekend. The British prime minister had delegated Dominic Raab, his government's foreign minister, to be his stand-in while he remained in intensive care.
"The prime minister has been moved this evening from intensive care back to the ward, where he will receive close monitoring during the early phase of his recovery. He is in extremely good spirits," a statement from Johnson's office said Thursday.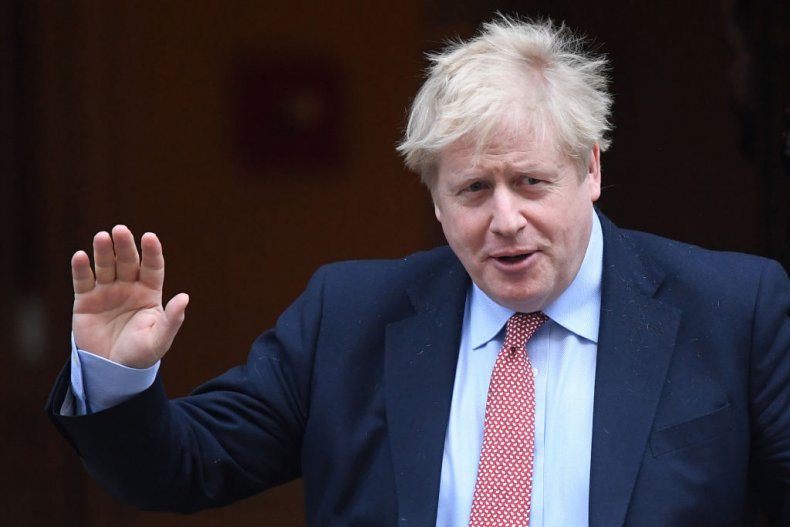 Earlier on Thursday a spokesperson for Johnson told Newsweek that the prime minister's condition was improving.
"The Prime Minister had a good night and continues to improve in intensive care at St. Thomas' Hospital. He is in good spirits," they said.
While Johnson has reportedly been given oxygen during his time in the hospital, he was not put on a ventilator. He also did not have pneumonia, which often develops in severe cases of COVID-19, the disease caused by the coronavirus.
Johnson is the highest-profile world leader to date to be confirmed to have contracted the novel virus. President Donald Trump publicly wished him well following his hospitalization.
"I want to express our nation's well wishes to Prime Minister Boris Johnson as he wages his own, personal fight with the virus," Trump said at a press briefing on Sunday. "All Americans are praying for him; he's a friend of mine and a great gentleman."
The British leader's fiancée Carrie Symonds, 32, who is pregnant with their child, also contracted the coronavirus. She tweeted about her illness on Saturday, saying she'd spent the past week in bed. She and Johnson had not been together while he was quarantined.
As of early Thursday afternoon, the U.K. had more than 61,000 confirmed cases of coronavirus, according to a tracker updated by Johns Hopkins University. Of those, more than 7,100 people have died while 357 others have already recovered.
This article has been updated with additional information.