Twitter Reacts to Photos Revealing Boris Johnson Rally To Be Much Smaller Than Portrayed
British Prime Minister Boris Johnson began his re-election campaign in Birmingham, U.K. on Wednesday night. While Johnson appeared to be speaking to a giant audience, new photos from the event by Bloomberg reporter Tim Ross, reveal that attendance was much sparser than photos and videos posted from the rally would cause one to believe.
The New European reported that many media outlets have shared photos that make the event seem much more crowded than it actually was. The Daily Telegraph featured an image with Johnson surrounded by supporters with the headline, "After a day of dead cats, Johnson gets his bounce back among the Conservative faithful."
Ross tweeted, "One Tory source says there are 1,200 people here. I estimated about 500."
As Johnson promised his audienced he'd finalize Brexit, many Twitter users were quick to call out the prime minister for using clever camera angles to inflate his audience's apparent size. Musician Billy Bragg shared Ross' photo alongside The Daily Telegraph cover and wrote, "He was actually speaking to a small, invited audience in a vast echo chamber." Another user tweeted, "You and @Conservatives are just a bunch of deceiving charlatans." One responded to Johnson's tweet from Thursday morning where Johnson announced the start of the second day of his campaign with, "Great launch rally" and the behind the scenes photo.
Other users were snarkier in sharing their disapproval. One person called the rally, "A literal waste of space." Another user compared it to "a scene from Close Encounters of the Third Kind." Another criticism read, "The Tory Party is an illusion."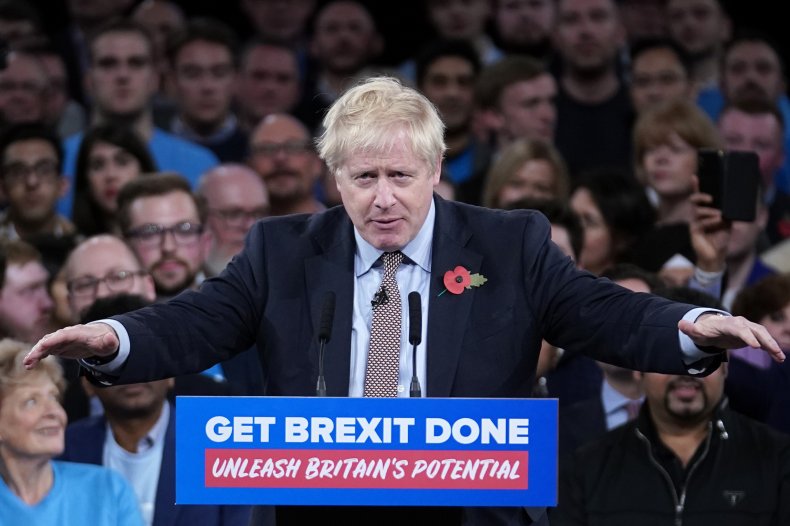 Financial Times correspondent Sebastian Payne noted that this is "What a carefully managed campaign launch looks [like] behind the scenes." Deputy Huffington Post U.K. editor Arj Singh also noted that Johnson's crowd was "hand picked."
A few commentators compared the ruse to President Donald Trump's inauguration, where photos had to be edited to make the crowd gathered to watch him seem bigger. One tweet read, "This makes Trump's inauguration crowd look huge." Another user replied that the big empty TVs were "a Trump spin off."
Johnson has been the subject of much criticism for his approach to Brexit. Trump has been accused of trying to interfere in the U.K.'s upcoming election, by Johnson's opponent Jeremy Corbyn. "Donald Trump is trying to interfere in Britain's election to get his friend Boris Johnson elected," Corbyn tweeted after Trump appeared on Brexit Party Nigel Farage's radio show.