UK Prime Minister Health Update Live Stream: How to Watch Tuesday's Coronavirus Press Conference
.K. Prime Minister Boris Johnson's office is expected to hold its latest press conference Tuesday addressing both the country's ongoing efforts to slow the coronavirus pandemic as well as Johnson's own fight with COVID-19.
The office of the Prime Minister's official YouTube page will feature a 5:30 p.m. (UK Time) and 12 p.m. (Eastern Standard Time) Tuesday live stream about the latest developments in the government's fight against COVID-19. Johnson was admitted into an intensive care unit Sunday night after he suffered conditions consistent with coronavirus which "worsened," the prime minister's office announced Monday.
"Last night, on the advice of my doctor, I went into hospital for some routine tests as I'm still experiencing coronavirus symptoms. I'm in good spirits and keeping in touch with my team, as we work together to fight this virus and keep everyone safe," Johnson tweeted Monday.
On Tuesday afternoon, Johnson's office released an update on his personal treatment and condition while he is under care of doctors at London's St. Thomas' Hospital: "He's been stable overnight and remains in good spirits. He is receiving standard oxygen treatment and is breathing without any other assistance. He has not required mechanical ventilation or non-invasive respiratory support," BBC News' Vicki Young reported.
Monday's press conference was led by Jonson's temporary stand-in, Secretary of State for Foreign Affairs Dominic Raab, England's Chief Medical Officer Chris Whitty and Chief Scientific Adviser for the Ministry of Defence, Professor Angela McClain. 10 Downing Street has held a live press conference every day for the past week. The U.K. has more than 52,000 confirmed cases of coronavirus and a total of 5,373 deaths tied to the COVID-19 illness.
The Prime Minister's official 10 Downing Street government website published a statement Monday regarding Johnson's health: "Since Sunday evening, the Prime Minister has been under the care of doctors at St Thomas' Hospital, in London, after being admitted with persistent symptoms of coronavirus. Over the course of this afternoon, the condition of the Prime Minister has worsened and, on the advice of his medical team, he has been moved to the Intensive Care Unit at the hospital."
"The PM has asked Foreign Secretary Dominic Raab, who is the First Secretary of State, to deputise for him where necessary. The PM is receiving excellent care, and thanks all NHS staff for their hard work and dedication."
More than 157,000 people in the U.K. have been tested for coronavirus and were found not to have the virus. England's Department of Health announced 439 new deaths tied to COVID-19 on April 6, as well as 3,802 new cases.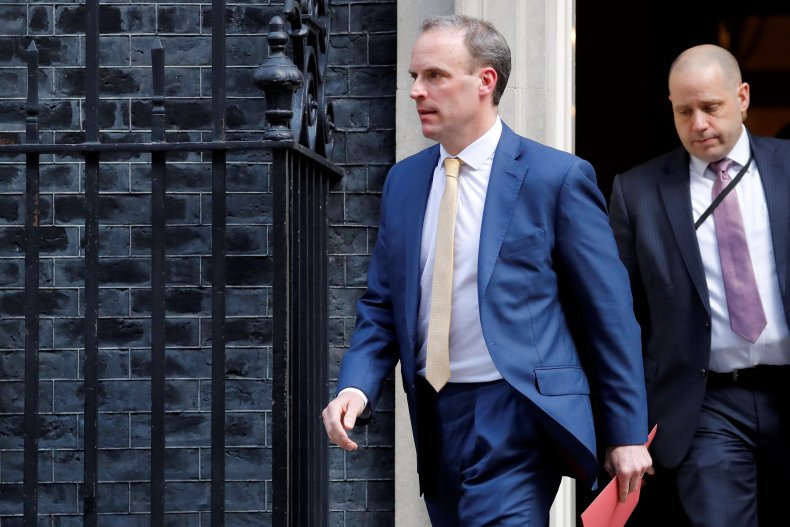 UK Prime Minister Health Update Live Stream: How to Watch Tuesday's Coronavirus Press Conference | World