British Elementary School Bans 'Sexist' Phrases, Including 'Let's Go, Guys' and 'Bossy'
An elementary school in England has banned teachers and students from using certain phrases and words in an attempt to fight sexism. If a teacher is heard using comments the school considers sexist, any student who reports them is awarded a certificate.
The public school, Anderton Park Primary, told students to report teachers for saying such things as "man up," "grow a pair" and "boys don't cry." The banned list also includes less obvious sayings, such as "let's go, guys" and "boys and girls."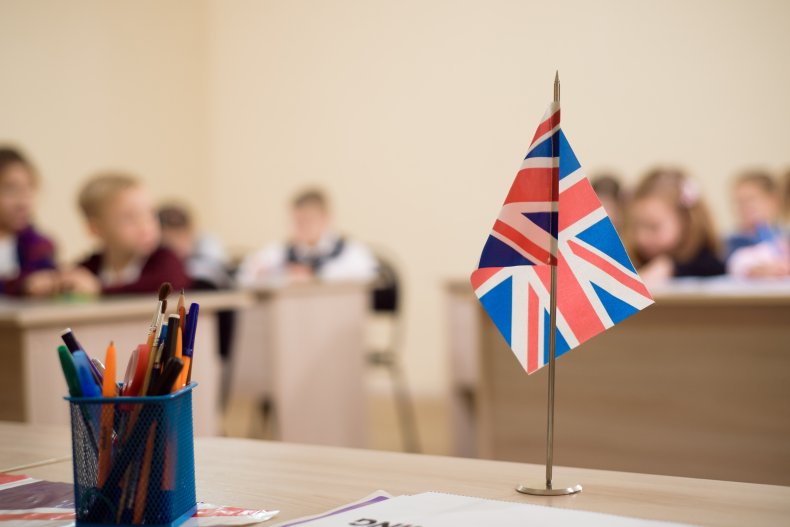 Anderson Park Primary is located in Birmingham, a city about 130 miles north of London. The principal, Sarah Hewitt-Clarkson, came up with the anti-sexism program at the school, which has around 500 students. She's also trained more than 80 teachers at other schools in England in how to use the program.
Along with the language ban, there are certain procedures that the program—which has been derogatorily referred to as "woke weaning" by some—doesn't allow. This includes lining children up for assemblies according to gender or having separate teams for gender during sports.
"The phrase 'Good morning, boys and girls' is not used in this school. Instead all teachers say, 'Good morning, everyone'," Hewitt-Clarkson told The Times recently while discussing her program. She continued, "'Guys' is an interesting example of how a word that signifies men has come to be used for everyone."
Along with receiving certificates for notifying Hewitt-Clarkson when a teacher uses offensive language, children have been taught to look for examples of sexist stereotypes in their schoolbooks and worksheets. The students who find the "most telling examples" of sexism in their schoolwork are also given certificates.
During class time, students keep posters nearby, which they hold up whenever a teacher slips up by using words like guys or bossy. Hewitt-Clarkson described to The Times a meeting held with a staff member who told pupils "boys don't skip." That person no longer works at the school.
"We need to be horrified at sexist words and phrases," Hewitt-Clarkson told the newspaper. "That was a serious issue for that member of staff. I held a professional conduct meeting with the supervisor, and I made it clear that you must never say those things ever as an adult working in a school."
Hewitt-Clarkson received death threats on social media after Anderton Park introduced picture books that taught children tolerance about same-sex families. This resulted in the school going to court in 2019 to ask that protesters be banned from coming too close to the school. The court then allowed Anderton Park to become the first school in the U.K. to have an exclusion zone where demonstrators are not allowed to enter
Newsweek contacted Anderton Park Primary for further comment but did not hear back before publication.