U.K. Tabloids Defend Queen, Denounce Meghan Markle's 'Self-Serving' Oprah Interview
The British tabloid press responded with predictable contempt for Meghan Markle and Prince Harry after the couple's explosive tell-all interview with Oprah Winfrey on Sunday.
Hours after the Duke and Duchess of Sussex's one-on-one interview aired, in which they partly blamed the "constant barrage" of negative publicity for the reason behind their U.S. move, the U.K. media hit back with a slew of headlines denouncing the pair.
The royal couple have a famously frosty relationship with the British tabloid press—evident in the six lawsuits launched in just over a year and the onslaught of alleged attacks launched against Meghan since the pair began dating in 2016.
Harry even went so far as to credit the media for "destroying" their mental health in an interview with The Late Late Show host James Corden last month.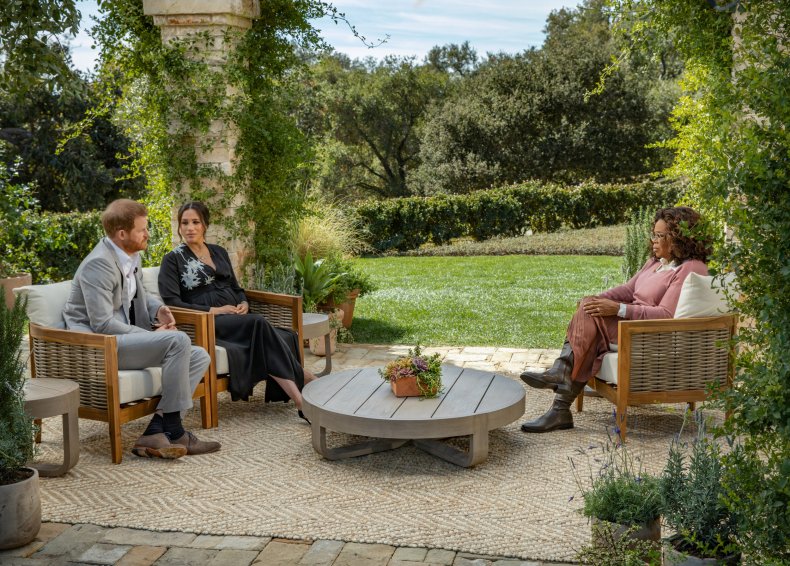 And in Sunday's tell-all Meghan candidly described feeling suicidal following a relentless negative press campaign against her, admitting: "I just didn't want to be alive anymore."
However, by Monday morning a raft of British papers appeared less understanding.
Leading tabloid The Daily Mail set the tone with a decidedly monarchist stance, it's front page reading "Duty means everything" alongside a snap of the Queen and Meghan Markle pitted side-by-side.
"Queen tells Commonwealth what real service is," the headline continued before detailing the "powerful message" delivered by the monarch regarding the royal family's "selfless dedication to duty."
The Daily Express followed suit with a similar front page reading "Queen: Duty and family unite us" before throwing a jab at the couple that read, "That's public service for you, Harry and Meghan .... NOT a self-serving TV chat with Oprah."
The Daily Star opted for a more dramatic angle with a front page bearing the words "Fights.. Camera.. Action!" In a particularly frank and unapologetic recap, the paper read: "We had planned to stay up and watch that interview but then we couldn't be arsed. But it appears an American actress and her well-spoken dope think they're doing Notting Hill 2...."
Whereas The Mirror focused on the consequences for other members of the royal family, with its front page reading "Oprah interview fallout: Charles and William's 'immense sadness.'"
Bucking the trend, The Sun used Meghan's own words with the front page quote "Meg: I Felt Suicidal." However, another front-running story uploaded to the website on Sun Online seemingly placed the blame on Meghan for the couple's break away from the royal family. "Prince Harry says William and Charles are 'trapped' in Royal Family – and he'd never have quit if it wasn't for Meghan," one story read on Monday morning.
British conservative broadcaster and former CNN host Piers Morgan gave his two cents, describing the interview as nothing more than a "whine-athon" and "self-serving nonsense."
"This interview is an absolutely disgraceful betrayal of the Queen and the Royal Family," Morgan tweeted on Sunday. "I expect all this vile destructive self-serving nonsense from Meghan Markle - but for Harry to let her take down his family and the Monarchy like this is shameful."
The Sunday tell-all was broadcast to a global audience in the biggest royal interview since Princess Diana and Prince Charles separately discussed the breakdown of their marriage in the 1990s.
The couple spoke of Meghan's entrance into the royal family, their marriage, the birth of Archie and their decision to quit royal life and build a new family in America.
Their private and public life has filled the pages of Britain's newspapers over the past four years, with tabloids taking aim at Meghan and hurling accusations ranging from making her sister-in-law Kate Middleton cry to fueling deforestation with avocados.
Harry explained: "It was a constant barrage [by the U.K. media]. My biggest fear was history repeating itself. Add race in, add social media... something happening in the same kind of way [as my mother]. To receive no help at all and be told, 'This is how it is.'
"No one from my family ever said anything over those two years... that hurts," the royal told Oprah while describing their relationship with the British press and an apparent lack of family support.
"I am actually aware of where my family stands and how scared they are of the tabloids turning on them," he revealed, adding: "There is this invisible... the invisible contract between the institution and the U.K. tabloids ... There is a level of control by fear that has existed for generations."
Harry spoke just last month in a one-on-one interview with The Late Late Show host James Corden, saying: "We all know what the British press can be like, and it was destroying my mental health. I was like, this is toxic. So I did what any husband and what any father would do."
Meghan added that press coverage escalated to include racial overtones, changing the threat levels against her to include increased death threats.
"I'm not going to live my life in fear," she added. "I don't know how they could expect that, after all of this time, we would still just be silent if there is an active role that the firm is playing in perpetuating falsehoods about us."