U.K. Tells France to 'Get a Grip' Amid Fallout With U.S. Over Submarine Deal
U.K. Prime Minister Boris Johnson has told France to "get a grip" during an ongoing diplomatic spat over Australia's decision to ditch a $65 billion contract for French-built submarines in favor of American and British technology as part of a new security agreement known as "AUKUS."
The U.K. prime minister spoke outside the White House on Wednesday following a 90-minute meeting with President Joe Biden. He was asked about lingering feelings of hurt in Paris and among European Union officials in Brussels.
"What I want to say about that is I just think it's time for some of our dearest friends around the world to prenez un grip [get a grip] about all this and donnez-moi un break [give me a break]," Johnson said in a form of Franglais.
Just two days earlier, he sought to dispel concerns of any further strain in relations by describing Britain's love for France as "ineradicable."
Johnson, who was reportedly trying to secure a post-Brexit trade deal with the U.S., said of the new defense pact with Washington and Canberra: "This is fundamentally a great step forward for global security. It's three very like-minded allies standing shoulder to shoulder and creating a new partnership for the sharing of technology."
"It's not exclusive; it's not trying to shoulder anybody out. It is not adversarial towards China, for instance," he added.
The prime minister said he found it "very hard to see in this agreement anything not to like."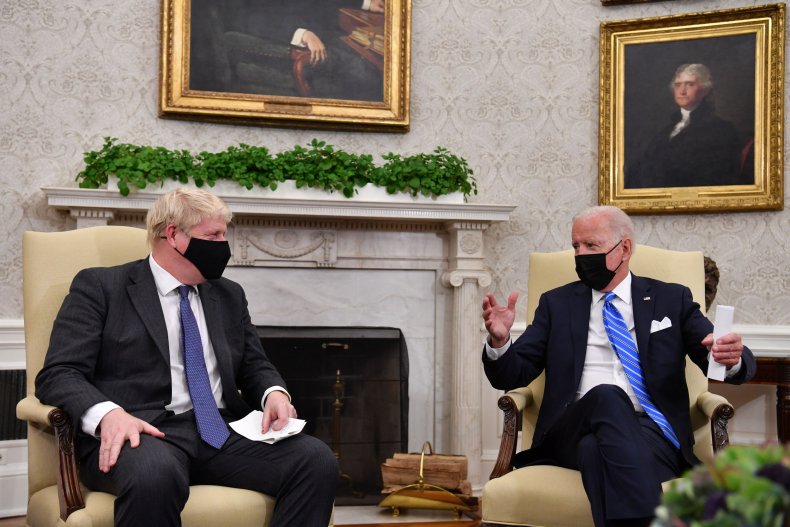 Biden's meeting with the British officials included a first face-to-face with the U.K.'s new Foreign Secretary Liz Truss—appointed in a recent cabinet reshuffle—who now has the task of managing the continuing diplomatic fallout over AUKUS's supplanting of Australia's contract with French shipbuilder Naval Group.
French frustrations, which appear mostly directed at the U.S. and Australia, peaked last week when Foreign Minister Jean-Yves Le Drian compared Biden to former President Donald Trump, saying the secretly negotiated three-party security pact felt like "a real stab in the back."
Paris claims not to have been notified prior to Australia's decision to scrap the contract with Naval Group for 12 diesel-electric ships, a deal signed in 2016 but plagued by cost blowouts and delays, which France says were the result of specific Australian demands.
Under AUKUS, senior Biden officials say the U.S. is taking the "exceptional" decision to share its highly sensitive propulsion technology with Australia to help its navy field its first fleet of eight nuclear-powered submarines.
According to interviews conducted by AFP, France was aware of Canberra's apprehensions about the existing deal with the French contractor. In particular, intensifying security concerns related to China and its rapidly expanding maritime ambitions forced Canberra to make what Prime Minister Scott Morrison has termed a "strategic" decision to ensure Australia's naval assets were ready to face the threat of the next decade—when the vessels could conceivably be launched.
France and its president, Emmanuel Macron, have rallied supporters in the EU this week, with the U.S.'s European allies seemingly expecting an apology.
In Asia, meanwhile, where Australia's future submarine fleet will have the greatest impact, AUKUS has been met with optimism, concern and—in the case of Beijing—staunch opposition.
Indonesia and Malaysia worry that the defense arrangement could trigger a further militarization of the region. The Philippines, Japan and Taiwan—countries traditionally aligned with the U.S.—have welcomed the new development in collective security.
Last week, China's Foreign Ministry spokesperson Zhao Lijian said AUKUS "undermines regional peace and stability and intensifies the arms race."
He suggested the security pact could "harm the interests of third parties by building exclusionary blocs" and warned the three countries risked "shooting oneself in the foot."
Zhao spoke on AUKUS for a second time on Wednesday, saying Asia "needs growth and employment, not submarines and gunpowder."