Alton Towers Launches First Ever Virtual Reality Rollercoaster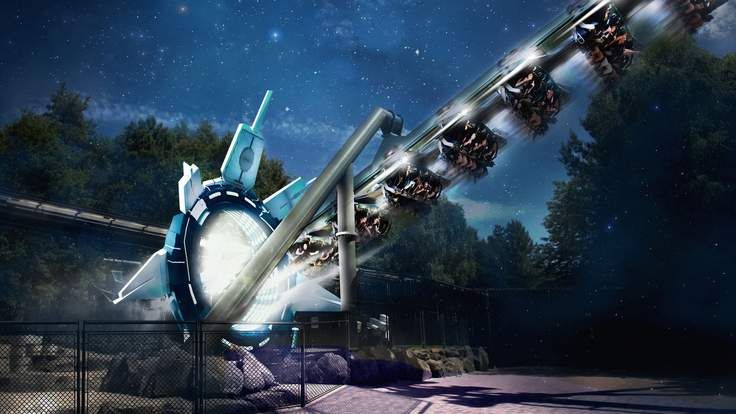 Anyone who ever wanted to be an astronaut as a kid will soon be able to feel what it's like to blast into space, no training necessary. U.K. theme park Alton Towers has announced it's opening the world's first virtual reality (VR) rollercoaster in April, combining a physical ride with headsets that allow visitors to experience virtual space travel.
The Galactica rollercoaster is part of a growing wave of VR technologies and experiences launching in 2016, even though many experts claim that the world's digital infrastructure isn't ready to take VR to a wider consumer audience.
Alton Towers claims Galactica will be a "complete game changer," allowing passengers to experience similar sensations to those felt by astronauts. During the two-minute ride, passengers will experience a maximum g-force of 3.5gs, even more than the 3gs astronauts experience during a real rocket launch.
It's the first major ride Alton Towers has announced since one of the park's rollercoasters crashed in June, leaving five people seriously injured. Alton Towers can only be hoping that Galactica will improve visitor numbers, which plummeted following the accident.
"Galactica uses groundbreaking technology to give riders a breathtaking and completely unique rollercoaster experience," said Gill Riley, marketing director at Alton Towers Resort. "Tim Peake captured the imagination of millions of Brits last year when he set off on his mission to the International Space Station—and now our visitors can become astronauts too.
"There is nowhere else in the world that people can experience the feeling of a flying rollercoaster combined with soaring through the universe."
Following the launch of Samsung's Gear VR in December, Facebook and Sony both plan to launch their own VR headsets in 2016. The surge of interest in VR has been countered by warnings that less than 1 percent of personal computers used globally are powerful enough to support VR technology.
Graphics-chip firm Nvidia estimated just 13 million out of 1.43 billion PCs worldwide in 2016 will have the graphics capabilities to run VR headsets like Facebook's Oculus Rift.
"Immersive VR requires seven times the graphics processing power compared to traditional 3D applications and games," Jason Paul, general manager of Nvidia's VR business unit, told Bloomberg. "Delivering VR is a complex challenge."