U.K. TV Interview Warning About Heatwave Deaths Compared to 'Don't Look Up'
A clip of a British television interview with a meteorologist warning about the excessive heat waves in Europe has gone viral as many on the internet compare it to a television interview scene in the Netflix film Don't Look Up.
Countries in Europe, including the U.K., Spain, Portugal and France, have seen sweltering temperatures, as some places have reached 104 degrees Fahrenheit. The heat waves have resulted in wildfires around Spain and an excessive number of heat-related deaths in the last several weeks.
A conversation between a meteorologist and a TV host, in which the host ties to downplay the severity of the situation, has invited comparisons to a similar scene in Don't Look Up.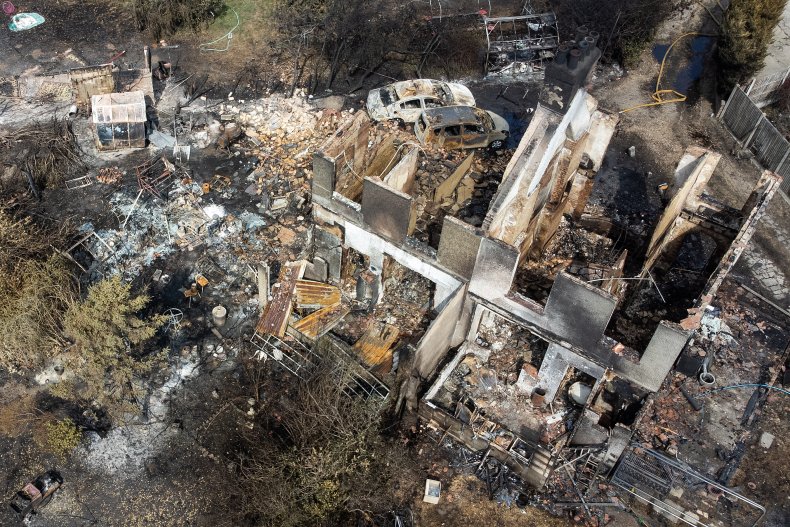 On a GB News segment with host Bev Turner earlier this week, meteorologist John Hammond wanted to warn viewers that the heat might cause "hundreds if not thousands of excess deaths early next week."
"The charts that I can see in front of me are frightening," Hammond said. "So, we all like nice weather, but this will not be nice weather. This will be potentially lethal weather for a couple of days. It'll be brief, but it'll be brutal."
Rather than take the warning seriously, Turner argued, "Oh John, I want us to be happy about the weather. I don't know whether something has happened to meteorologists to make you all a little bit fatalistic and harbingers of doom."
She continued to say that every time she turns on the television, "anyone's talking about the weather, they're saying that there's going to be tons of fatalities, but haven't we always had hot weather?"
The interview, and particularly Turner's reaction, has sparked comparisons to Don't Look Up, a black-cloud comedy about two astronomers, played by Leonardo DiCaprio and Jennifer Lawrence, who warn the world about a massive comet threatening to destroy Earth.
In the movie, TV anchors Brie Evantee (played by Cate Blanchett) and Jack Bremmer (played by Tyler Perry) downplay the threat to the planet that the astronomers are trying to warn about.
A clip posted on Twitter by author Ben Phillips shows the interview scene from Don't Look Up before showing the scarily similar interview with Hammond on GB News. The clip has amassed 3.3 million views as of publication time.
"We're trying to tell you that the entire planet is about to be destroyed," Lawrence's character, Kate Dibiasky, says. Blanchett replies, "Well, it's, you know, just something we do around here. we just keep the bad news light."
Many on Twitter have said that the GB News interview is exactly what the film had been trying to warn about.
"A lot of people were very so-so on Don't Look Up because it wasn't very subtle and then interviews like this come along and highlight why it didn't need to be subtle at all," one user wrote.
Another said, "Funnily enough the most frightening thing about Don't Look Up wasn't the fact that a world-ending asteroid could legitimately come hurtling towards Earth at any time, it was how close to reality it depicted the reactions of governments and media to life-threatening scenarios."
Newsweek reached out to GB News for additional comment.