Ukrainian President Volodymyr Zelensky has denied that the country had surrendered to Russia after an alleged hacking of a Ukrainian TV channel.
Ukraine 24, a 24-hour news channel, said it was the victim of a hack after an alleged statement from Zelensky was broadcast on the channel.
In the written statement that was broadcast, Zelensky allegedly said he was "capitulating" and would surrender. He also asked the Ukrainians to "give up arms," according to a Daily Mirror report.
Zelensky released his own video that Ukraine 24 put up on its YouTube channel on Wednesday.
In the video, Zelensky seems to refer to the hack as a "childish provocation," according to a Newsweek translation.
He also insisted the only people he can ask to lay down their weapons were the Russians.
"This was a childish provocation about supposed agreement to "lay down our weapons." I can say that the only people I can ask to lay down their weapons are the Russians," Zelensky said in his message.
"But we are defending our land, our children, our families so we are not planning on laying down any weapons, until our victory."
Ukraine 24 took to its Facebook page to say that it had been hacked.
"The running line of the 'Ukraine 24' TV channel and the 'Today' website were hacked by enemy hackers and broadcast Zelensky's message about alleged 'capitulation.' THIS IS FAKE! FAKE !" the Facebook post read, according to a Google translation.
"Friends, we have repeatedly warned about this. No one is going to give up. Especially in the circumstances when the Russian army suffers losses in battles with the Ukrainian army," it continued.
No one has publicly claimed responsibility for the alleged hacking.
Newsweek has contacted the Russian Foreign Ministry and Ukraine's Ministry of Foreign Affairs for comment.
Zelensky has become a source of inspiration for his nation's citizens as Ukrainians attempt to repel Russia's invading forces. He has repeatedly called on other countries to put pressure on Russia.
On his Twitter page on Tuesday, Zelensky reaffirmed the message that countries and businesses should not trade with Russia.
"All trade with Russia must be stopped. So that it can't sponsor the killing of our children," he wrote in the tweet.
"Ukrainians all over the world! Contact politicians, talk to journalists, put pressure on businesses to leave the Russian market. So that their dollars and euros aren't paid for our blood."
He followed up this tweet by writing: "The price for this war against [Ukraine] must be extremely painful for Russia.
"This pressure is a task for all Ukrainians at home and abroad, as well as for all friends and partners of our country.
"Everyone in the world must take a moral stand, not only the state, but also companies."
Follow our live blog for updates on the Russia-Ukraine conflict.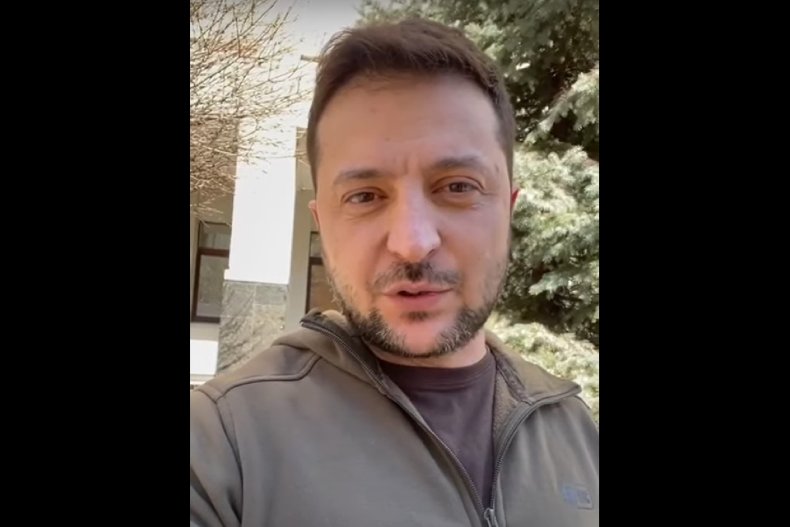 Update 03/16/22, 10:07 a.m. ET: This article was updated to include additional information.