Olympic Games are typically seen as a way to unite countries and bridge divides among people and governments. They are a way for athletes to use sport as unification, just as the five Olympic interlocking rings imply.
As war tensions mount between Russia and Ukraine, officials in Ukraine hope their athletes aren't locked arm in arm with their Russian rivals.
The 2022 Beijing Winter Olympics begin next week, and Ukrainian officials are advising their athletes to try and avoid social interactions with Russian counterparts. That would mean no photos. Ukraine has also reportedly asked its athletes to not speak Russian during media interviews.
The Beijing Winter Olympics begin February 4 with the Opening Ceremony. Russia will not send an official team because of a four-year doping ban in which the country can't compete under the Russian flag at any major international event. However, there are expected to be more than 200 Russian athletes who have proven themselves clean of illegal substances, and they will compete as an independent team.
While Russia sends 200 or more athletes, Ukraine is expected to send only 45, according to the Odessa (Ukraine) Journal.
The Olympics are historically a time when athletes from countries set aside the differences of their governments and compete as friendly rivals. These upcoming Games have seen politics tossed around as the U.S. and other Western countries have declared a diplomatic boycott of the Olympics, meaning they won't send high ranking officials, as a way to protest human rights issues in China.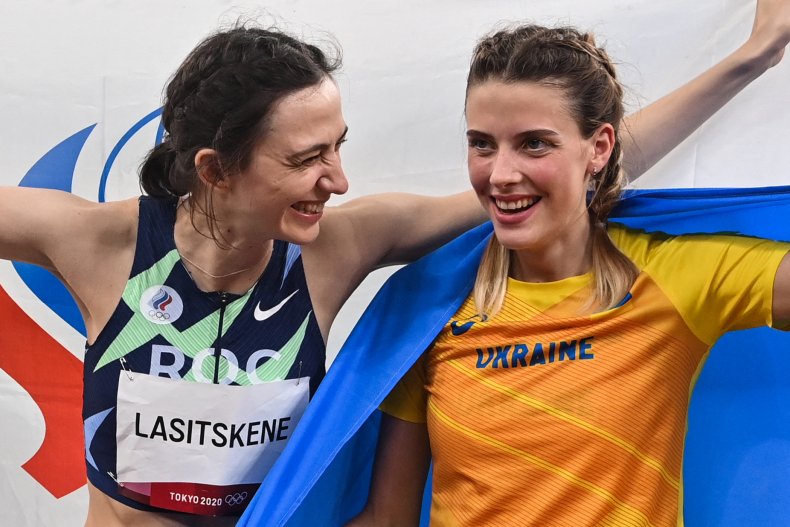 Ukraine's standoffish sentiment doesn't stem merely from a longstanding and current skirmish, but also a recent Summer Olympics photo in Tokyo during 2021.
As for Ukraine and Russia, tensions have mounted for several decades. Then, at the 2020 Tokyo Summer Games last year, Ukrainian high jump Olympian Yaraslova Mahuchikh—the bronze medalist who's a junior army sergeant, was spotted embracing Russian Maria Lasitskene, the Olympic champ.
Top-level Ukrainian officials immediately called a meeting with Mahuchikh.
Ukraine Deputy Defense Minister Anna Malyar called the embrace by her country's athlete with a Russian star "careless behavior" and perhaps a way for Russian intelligence to infiltrate Ukrainian military.
A Russian military spokesperson dismissed the notion of targeting the Ukrainian army sergeant/Olympian.
"Our athletes show a world class [approach], demonstrating pure sport without politics and intrigue," said Maria Zakharova of the Russian Foreign Ministry, according to RT.com.
Ukraine and Russia are in a heightened standoff as Russia has amassed thousands of troops along the eastern border of Ukraine. It has garnered international attention and fractured some regional partnerships within NATO.
The Russian government has indicated there would be no invasion of Ukraine during the Winter Olympic Games, which run February 4-20. However, Russian President Vladimir Putin and other high-ranking members from Moscow said they have discussed sending weapons to Russian-led militants who are already embedded inside the eastern Ukraine border.
Uncommon Knowledge
Newsweek is committed to challenging conventional wisdom and finding connections in the search for common ground.
Newsweek is committed to challenging conventional wisdom and finding connections in the search for common ground.
About the writer
Scott McDonald is a Newsweek deputy night editor based in Cape Coral, Florida. His focus is assigning and writing stories across all topics, from news to politics, business, weather, sports and international news. Scott joined Newsweek in 2018 after a lengthy career of print journalism in Texas, including The Dallas Morning News, where he was a sportswriter, and he's a voter for the Heisman Trophy. He has been a newspaper editor-in-chief and also a newspaper publisher. He is a graduate of The University of Texas at Austin. You can get in touch with Scott by emailing s.mcdonald@newsweek.com. Languages: English